Using Hashtags In Twitter (The Twitter Hashtag Game)
Note: This post was part of the "Marketing That Works" Ideas Contest, showcasing 20 of the most innovative marketing ideas from the blogosphere's up and coming marketers. We've since picked a winner – check out this post for the details! 🙂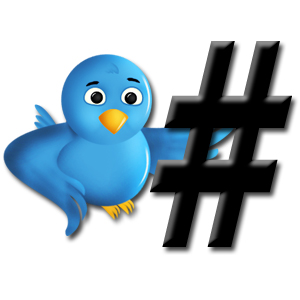 For my marketing idea, I created something called the "Hashtag Game."
Like Naomi Dunford said: "It's the shit that we do to get people to buy our shit." There are many things we can do to attract potential readers and customers such as: producing powerful content; word of mouth; Facebook marketing; free eBooks to lure people in; and guest posting.
There are also the little, effortless things that we forget to do that can add up overtime: adding hashtags at the end of our tweets.
For example: If I were tweeting "Engagement From Scratch" . . . and let's just say I don't have 50,000 followers but I want to spread the word about it. By adding hashtags that are relevant to the subject of the book or who the book is targeted to, it can:
increase the chances of people searching on Twitter to find your eBook
begin creating a brand name hashtag for product, service, etc.
create hype or buzz within your niche or tribe.
Something like: "Pick up @DannyIny new Engagement From Scratch FREE eBook #eBook #marketing #bloggers"
Too many hashtags will make it look like spam, but have about one to three, and I believe it would make the tweet much more effective than if it didn't have any hashtags.
Take a look at media
When a popular T.V show airs, or Sunday Night Football is on, the media has incorporated their own brand hashtag to allow the audience to give feedback and be part of the conversation on Twitter.
American Horror Story, during commercials, displays a hashtag for users on Twitter to add to their tweets, either at the beginning or the end. Something like #AHS
What does this do?
It lets the audience be part of a world-wide conversation. Anyone who clicks on that hashtag will be brought to the search results. You can read what other people said about the show, the episode, a character, the plot, etc. From there, if you say something brilliant or remarkable enough, people will retweet you, follow you, or reply to you.
So why aren't bloggers and online businesses doing this?
Imagine when "Engagement From Scratch" during the launch had their own brand hashtag. Imagine Guy Kawasaki, Brian Clark, and all the other famous authors who contributed, tweeted the link to the book and used a specific hashtag to create a buzz or some hype — something like #EFS or #FPMarketing.
All those authors and Twitter users combined will equal over a million loyal readers, customers, and followers.
Imagine a million people using a specific hashtag. Could that trend on Twitter? Maybe. Would it go viral in the blog world? I absolutely believe it.
If traditional media is using hashtags to let audience or their tribe be part of the conversation, or other reasons, then why aren't us bloggers doing so with our content, product, or service?
Tweeting your content with a link is one thing. (Almost feels incomplete, half-ass, no effort, just tweeting it just to feel that fulfilling duty of participating in social media).
Tweeting your content using a few hashtags for either your tribe or for search purposes definitely strengthens your chances of new readers to find you.
Why do people love using hashtags?
It's like the punchline at the end of a joke.
It also helps categorize what the tweet is about.
Have you ever noticed what's trending on Twitter? It's quick, witty and short phrases or sentences that people use at the beginning or end of a hashtag.
For search purposes, people search hashtags because it's like searching for a specific keyword. Typing in a term is very broad, but put a hashtag before it, and you will find specific tweets dedicated to that specific hashtag.
A common one that I see in the morning is #riseandgrind. For those that do not understand the lingo, it means to wake up early and grind — to hustle, to get to work, start early, etc.
On friday? #TGIF: Thank god it's friday. Or the obnoxious one that yielded me no results , #FF (Friend Follow, means to follow people you shout out because they're your friends).
It also helps people search for something. If you type in "eBook" in the search term, you'll get every tweet ever posted with the word eBook in it. But be more specific about it, such as using #eBook, and you will get all tweets with the hashtag #eBook in it.
Let's take a look at some results regarding the terms #eBook vs eBook, and #bloggers vs bloggers. Just to remind you, my name is Paul Jun (@junhax), so I tweeted: "Be sure to pick up Engagement From Scratch by @DannyIny insightful and packed with info #bloggers #marketing #eBook."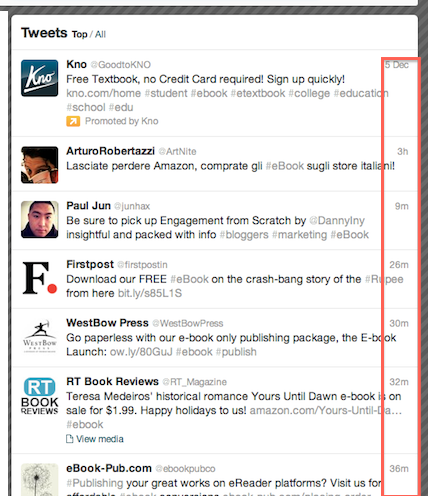 Okay, so notice when I search the term #eBook, my tweet is up there. In order to get the latest tweets, you have to hit search a few times so it refreshes.
Now let's search for the term eBook, without the hashtag.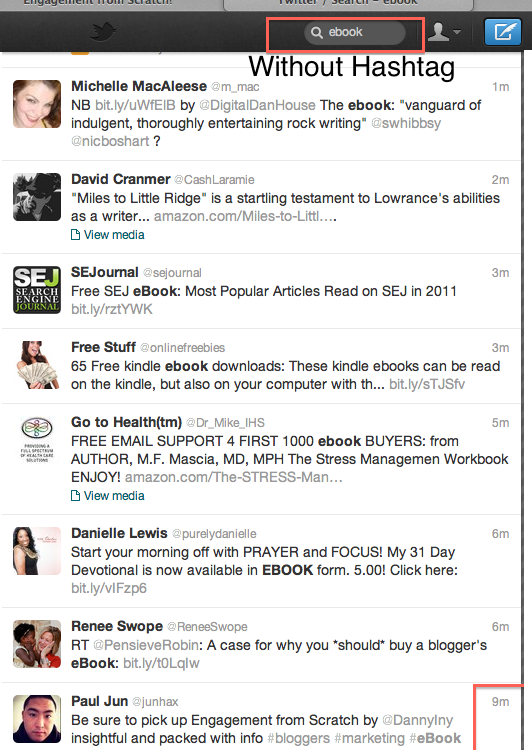 Notice how far down my tweet is? Do you think anyone searching for ebooks on Twitter would ever see my tweet unless they scrolled down far enough? Probably not.
What's my point?
Well, let's take a look at the tweet I just sent, but 11 minutes later.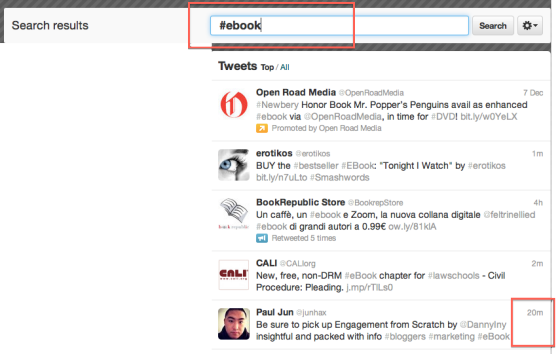 Notice how 11 minute later my tweet is still up close to the top of the search bar?
But let's take a look at the search without the hashtag.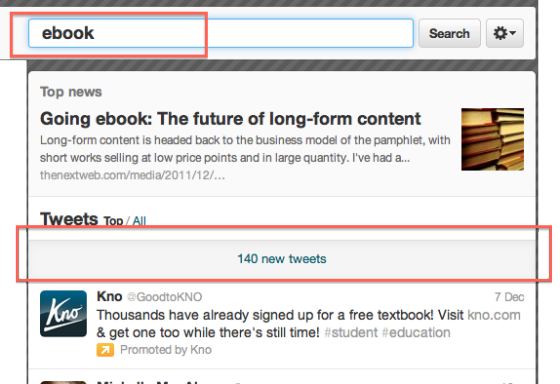 140 new tweets . . .  so basically my tweet is invisible in the search.
What's the point here?
If I tweeted the Engagement From Scratch without hashtags and only said to pick up his free eBook, do you think anyone would be able to see it? Probably not.
The fact that my tweet with the hashtag is still close to the top of the page even after 11 minutes went by (11 mins is a lot in the Twitter world), that still gives us a window of opportunity for people to see it and click on it.
Now imagine a whole tribe of a 1000 followers, maybe 10,000 . . . or 100,000, started tweeting your product, service, or eBook with a specific hashtag? Does that not make it remarkable? Will that make people wonder, hmm, what is this hashtag about? Let's click it — then boom, they get results, see familiar faces, relevant interests, etc.
The fact that I see bloggers tweeting their content without using hashtags, it seems like they're only tweeting to their followers. Add a hashtag or two in there, you're appealing to search results and creating a brand name hashtag for your audience to be a part of.
Let's take a look at #bloggers vs bloggers.
Remember what I tweeted earlier? "Be sure to pick up Engagement From Scratch by @DannyIny insightful and packed with info #bloggers #marketing #eBook."
That felt like a long time ago, right?
Okay, let's search for it.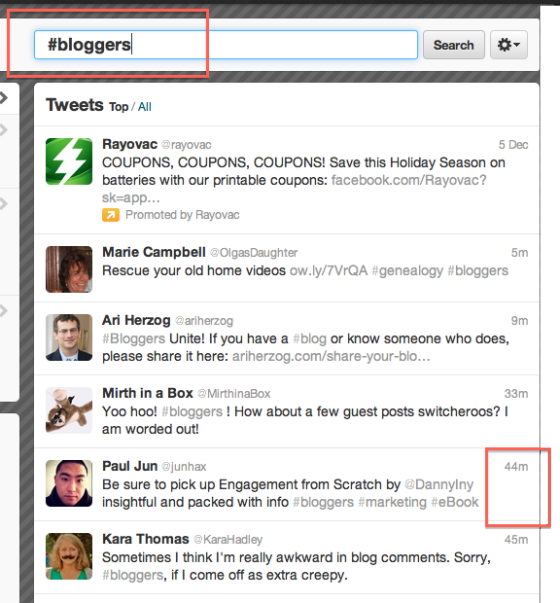 Even 44 minutes later, my tweet is still up there.
That's a lot of visibility for a long period of time.
Now let's search for my tweet with just the word blogger in it.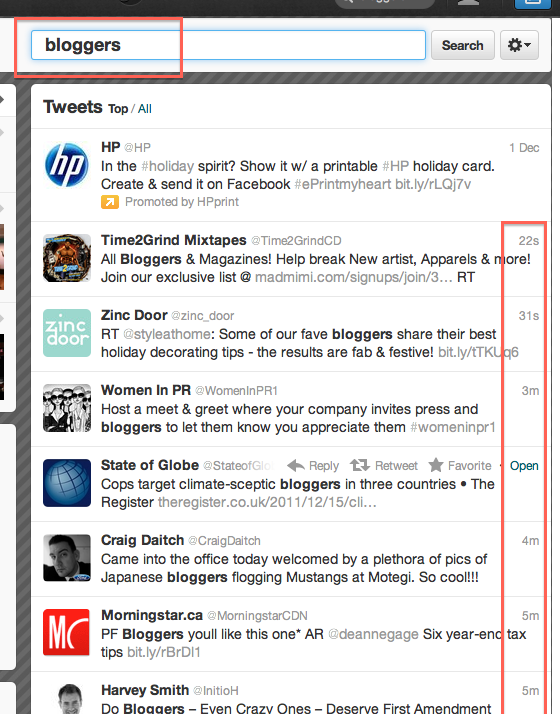 Of course, my tweet is nowhere to be found because the search results show that the word "blogger" gets tweeted just about once every minute by someone different.
All in all
You don't have to use three hashtags — you can use one. One that is specific to your brand, business, service, product, or what have you.
Popular TV shows do it, traditional media does it, so as a blogger why aren't you doing it?
Adding a hashtag to your tweet is one shortcut away. It will strengthen your tweets and help them be found and searched for in the Twitter search (about 1.6 billion search queriers per day).
You can also begin by creating a brand name hashtag for your audience to use.
Let's say you're known for tweeting a massive amount content everyday. Now imagine you organized those tweets with a specific hashtag. Wouldn't it be easier for your audience to search on Twitter for all your tweets regarding a specific topic or category, instead of scrolling down your whole list?
For crying out loud, Twitter has their own section that has trending topics. That clearly shows the importance and impact the hashtag has on Twitter.
The "Hashtag Game" is simple, effective, can be played by everyone, and can teach you much about how to use twitter for marketing. Use too many hashtags and you'll be looked at as a spammer or bot, but be smart and effective with them and you'll create something remarkable, just off a Shift + 3 shortcut.