The Ultimate Twitter Guide to Crush Your Competition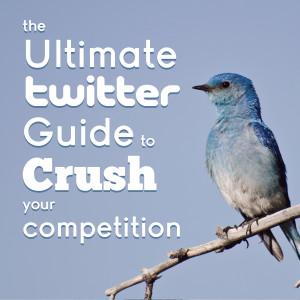 This post is a finalist in our Ultimate Guides Contest. Show your support for this, or any of the finalists by commenting, sharing and joining the conversation!
Every day, millions of people connect on Twitter. In its infancy, it was predominantly used for personal reasons like letting friends or followers know what they had for breakfast, but now it has developed into a powerful tool to engage with your customers and grow your business. You don't have to be a big brand; the average Joe can be a brand on Twitter, and the best part is that it's FREE to market your products and services.
Twitter gives you an opportunity to listen to what people are saying about your business so you can get constructive feedback. Additionally, since you can respond to anyone on Twitter that has an account, it's a simple way to answer questions from customers or potential customers. Your posts are broadcasted to everyone on Twittersphere, so other users benefit from seeing your answers to questions. Search engines like Google are now putting Twitter posts in search results, so when someone searches for your business, they'll also see what you're tweeting about.
Typing out a 140 character message is quick and can even be done from your Smartphone or through a variety of third party applications so you don't have to spend hours a day on Twitter. (Unless you want to!) At the end of the day, once you have engaged and helped your customers (your followers) on Twitter, they will be loyal to your brand for a long time.
Most importantly, remember to always be kind, be professional, and tweet responsibly.
Steps to Set Up Your First Twitter Profile
(If you've already got a twitter account, you can skip this section!)
If you're an absolute, never tweeted so much as a hashtag newbie, you will need to start at the very beginning and decide on what name you will use as your Twitter handle. You can either choose your name if you are the brand and/or sell different products, or you can select the brand name. The good news is, as long as the username isn't already taken, Twitter allows you to change the profile name as often as you please. #Phew!
Go to Twitter.com
Add a good quality professional picture or your logo.
Add an interesting bio, make it catchy so it stands out and people want to follow you. Take a look at your competitors or guru's profile to see what they wrote.
Use a few keywords with a #hashtag for example #author in your bio.
Include one link in the bio description and also your website URL in the website section (or any other one of your links).
Go through your settings and make sure under your profile "Protect My Updates" is NOT checked.
Change the background to brand yourself:
Create your own background for free at FreeTwitterDesigner,  ColourLovers.com/Themeleon/Twitter or get customized backgrounds at TwitArt or Fiverr.

Add a Header image that shows up as the background on smartphones.
I don't suggest using services like TrueTwit validation, which requires users to have a profile validated by phone, because the whole point is to engage with other tweeps (people on Twitter. I know, it sounds silly – you get used to it!). If you make someone validate their profile in order to be able to tweet with you, this might discourage followers. Personally, I never validate anyone's profile that uses this service – it's too time consuming.
TIP: Don't click on suspicious links in your DM stream that urge you to "See what they're saying about you", or ask "Have you seen this photo of you?" or "Did you see this crazy tweet about you?". These are malicious viruses meant to steal your password.
Finding Friends and Key Followers
One of the things that I #LOVE about Twitter is that you can view anyone's list of followers as well as who they are following. This makes it easy to get laser-targeted industry or interest specific people to follow by finding someone in your niche – a guru or a competitor – and following all the same people they do. Then, you can target their followers! This is a process, and it does take time, but a lot can be automated… so check out the tools I've provided to help with this task.
Only follow people you are really interested in reading tweets from – and don't be afraid to follow people based on your non-professional interests! It's all about connecting with people/
Use Twitter's search engine to find accounts for gurus within your industry. Follow them and all of their followers. Also try searching in the hashtag section.
Use Twellow to find people to follow in your niche or of similar interest.
Use Local Tweeps to find people in your local area to follow.
Twitter Follow Limits
When you first begin, every account can follow 2,000 users total. Once you've followed 2,000 users, there are limits to the number of additional users you can follow. This number is different for each account and is based on your ratio of followers to following; this ratio is not published. Like Google, Twitter keeps some things secret.
This doesn't come up very often, because you're only following people you're really interested in, and so getting to 2,000 takes a LONG time. 😉
It is considered a little "low-brow" if you'll forgive the expression, to be following more people than are following you – which can be a bit of a pain – but don't worry too much about it initially – just follow people you're interested in and engage with them as I'll describe below.
How to Un-Follow Tweeps
Some people choose to unfollow people who don't follow them back. I'm not a fan of this technique, because your twitter account is not all about YOU – it's about learning new things, finding new information and making awesome connections – but if you want to keep your list filled with people following you you can use the following services:
UnTweeps to unfollow tweeps who don't tweet often enough.
Note: If there are certain profiles you want to follow even when they don't follow you, use a program that allows you to create a whitelist. A whitelist is a list of Twitter usernames that you want to follow no matter if they follow you or not.
What the Bleep is a #HashTag and @Mention?
An @ symbol means that you are mentioning that particular person or brand. For example, if someone tweets @carolmortarotti, I will see that they mentioned me in their tweet and it can help start a conversation. The @mention tweet comes up in the feeds of users who follow both you and the person you are directly mentioning. You can @mention several people in one tweet, but always keep in mind that you only have 140 characters!
TIP: Use Twit Longer for when 140 characters just isn't enough!
A #hashtag is a keyword, subject, or phrase used on Twitter with the # symbol used in front of it. The #hashtag ties the conversations of different users into one stream. The cool thing about a hashtag is that your tweet will not just go to your followers, but to everyone following the #hashtag. You can search by #hashtag as well, and sometimes, they're just used for a little emphasis.
How Often, Best Days and Times to Tweet
Everyone's Twitter style is different, but the most important thing is to be consistent.
You can tweet up to 1000 times per day; don't worry about over-tweeting! (If you ever hit that limit – tell me how!)
The best times to tweet are when your ideal audience is paying attention! To figure that out of course, takes plenty of trial and error. Look at when your industry icons tweet the most, and mimic their behavior, and make note of when your tweets get the most attention.
Some tweeps say Friday afternoons at 4:30PM EST is best for retweets. It is important to prompt people to 'please retweet' – studies show you will get your tweet retweeted 4 times more using a call to action. Use this technique sparingly! You don't want to look like a spammer.
Longer tweets have been shown to get more attention and click than shorter ones. It is suggested that placing the link about 25% into the 140-character tweet is optimal.
Ideally leave 20 characters blank so someone can retweet your tweet – this is a great way to find people who are interested in what you have to say, and whose followers might be interested in you, too!
Something else to consider is your own personal tolerance for Twitter. If you know you've only got enough interest for a handful of minutes a day, spread them throughout the times when you know people are online, and login and do a few actions, posting, scheduling, favoriting and retweeting, then get the heck out of dodge. Just make it part of your daily habits.
Finding Content and Topics to Tweet About
Here are some tips for those of you wondering what you should be tweeting about. (And we've ALL been there – especially when just starting out.)
Follow the 80/20 rule, which means you should provide free helpful content 80% of the time and ask for something only 20% of the time.
Use AllTop to discover the top stories being blogged about.
Mashable has a large variety of topics people are discussing.
Add an announcement about what is happening in your business. Were you in the press? Do you have a new product or service coming out?
Make your followers curious by sending out a sneak peek about upcoming promotions, products or events. It will generate buzz, and people will be more likely to share your tweets.
Tweet about trivia related to your brand or industry. Interesting facts are fun and informative.
Ask for input. People enjoy sharing their skills, knowledge, and preferences.
Share upcoming seminars, conferences or any event you will be attending or hosting. Talk about the venue or registration link, and once you are there, tweet about what is going on.
Offer quick tips or information. They can help others be more productive and you have provided added value.
If you are experiencing a problem, ask for advice.
Promote another person or business if they have impacted you. This is an EXCELLENT relationship building strategy.
Ask for feedback and testimonials. Invite customers to share their experience; this is a great way to get people involved as well as tackle any issues you weren't aware of.
Post blog updates along with the link to the full article and remind people to visit the blog to learn more valuable information about the subject.
Set up bit.ly account to shorten your links and track them.
Add a #FF (Friday Follow) or create a fan of the week and offer an incentive or discount to the winner. Create a list of great people to follow and squeeze as many Twitter handles as you can into one tweet, with the hashtag #FF. Alternately, tweet about a single person if you wish to compliment them.
Thank those that @mention you and re-tweet one of their helpful tweets.
Create a poll or survey using TwtPoll and post the results in follow-up tweets.
Interact with key influencers – retweet their posts, respond to their questions.
Get a little personal! Share your interests, favorite things, funny insights – you're a real person – let your twitter show it!
Re-tweet insights from your key influencers, leaders, and top followers and they will be more apt to re-tweet your tweets.
Promote your opt-in link with the benefits of why followers should opt‐in.
Ask followers to 'like' your Facebook page, connect on Linkedin, subscribe to your YouTube channel, and so forth.
How to Participate in a Tweet Chat
Twitter (or tweet) chats happen when a group gathers on Twitter at the same date and time to tweet about the same topic using a specific #hashtag. These can be very strange looking before you get the hang of how they work, but once you understand the conventions, they're a lot of fun!  Here is a quick overview of how you can participate:
Watch a chat or two to get a sense of the conventions within a particular group.
If you weren't already provided the info for a scheduled tweet chat you can browse the listing of scheduled tweet chats by interest at Twubs or Tweet Reports.
Login in to your Twitter account and go to TweetChat or Twubs at the time and date the tweet chat is being held to join in.
Follow their instructions if there are any, look around to see who is also in the chat room, who is monitoring it.
You can add to the conversation by saying hello, post a tweet on the topic, retweet someone else's tweet, ask a question, add a comment, or ask the moderator a question but do NOT promote your own products or services or add your own links unless asked to.
Often an Q1, A1 format will be used, where a question might be formatted: Q1 – What is your favourite color? and the responses will be A1: Yellow!
There you have it. Hopefully you will learn something new and meet some interesting tweeps. The more you participate, the more exposure you gain and you never know you might grow your own audience or get more customers. #sweet!
Hosting Your Own Tweet Chat
Now we're getting into the big leagues!
Hosting a Twitter Chat can help build your business because it allows you to connect and engage with your audience on a more personal level.  You can discuss a particular topic, inform them of a new product or service, and answer questions they have, all while building your brand.  It also makes you stand out as the top authority in your niche.  Change it up by inviting a guest expert that will add value to your audience; an added benefit is their followers will attend as well.
Choose a hashtag that correlates to your event. Make sure you choose something that can be easily typed. Keep it short; remember that people will be live‐tweeting and it takes extra work to add numbers on a mobile device.
Confirm your hashtag is available. Perform a quick search on Twitter Search, HashTags.org and Twubs to make sure no one else is using your hashtag – that could get confusing fast!
Register it. Once you've decided on a hashtag and researched to make sure it's not already being used, you need to register it. This will place ownership on the hashtag. Try Twubs for this.
Create a quick live or scheduled event using TweetChat. Send people to TweetChat.com, and provide them the hashtag to enter that will direct them into a live chat room to converse in real-time. On the same site, either click on 'Calendar' at the top or go to Blog.TweetChat.com/Calendar where you can post your event and submit it to their calendar. Send out the event link to your list and promote it on all your social media profiles.
Create a scheduled event using Twubs (with branding!) I like Twubs because you can brand your profile and chat event. To schedule a live event go to Twubs.com and be sure to watch this helpful tutorial video that shows how to setup a Twitter chat.
Promote the #hashtag as early as possible. After you have picked a date and time, Tweet about the event mentioning the #hashtag and time zone on all of your social media sites. If you start using the hashtag before the event, you'll have a better chance of getting more people to show up to the event. Email the event information to your email list. If you are having a guest, write the copy for them to send to their list as well.
Ask for help. It is best if you ask 2-3 people to help promote and monitor the chat event. Explain what their responsibilities are so it is clear what they need to do before and on the day of the event.In order to get the ball rolling and off to a good start, create a list of tweets ahead of time so you are prepared with  what you want to discuss, and which questions you want to ask. You will have a much more successful Twitter chat event if you engage the audience quickly.
Run the Twitter chat:
Get on a few minutes early and let people know you will be starting shortly.
Tell them what will be discussed and how the chat will go.
Let them know when they can ask questions and how they will be answered.
Have your monitors retweet tweets and respond to comments if needed.
Summarize the important items at the end of the chat.
Announce the date and time for the next chat event.
Thank everyone for attending and let them know how to get in touch with you should they have any questions.
Provide a transcript of the hashtag activity. If you want to provide a transcript or get analytics on your tweet chat, check out these two paid services: Tweet Reports and Hash Tracking.
Setting up Automation
If all of this sounds like a lot of work, know that much of your Twitter activity can be automated – especially the boring stuff!
For an auto reply message after someone follows you and for scheduling tweets:
Go to SocialOomph.com and register (formerly Tweetlater.com) Click the +Twitter button to set up a new Twitter account and follow their instructions.
Set up your account to auto follow.
Next, add an auto direct message. Here are a few suggestions for your direct message and you can try rotating them (following their instructions):
"Thanks for the following! Check out my free tips and tools at <your link>."
"Thanks for the following! Check out my new blog at <your link>"
"Let's connect on Facebook/Linkedin/YouTube/Google+ <your link>."
Schedule tweets at different times throughout the day for maximum impact.
To schedule tweets use Hootsuite or BufferApp.
Tackling Twitter Overload With a Dashboard
One of the most convenient ways to stay on top of all your tweets is to use tools such as HootSuite or TweetDeck. Using these services, you can sort tweets into replies, groups, top followers, and keywords. You can also see who has sent you a direct message. No matter which one you use, you can establish multiple columns by social network, search term, Twitter list or hashtag as well as other features including overnight updates while you sleep.
Cool Twitter Tools
To wrap up, here are some miscellaneous Twitter tools that I recommend:
ClickToTweet is a link generator to promote your stuff on Twitter
GroupTweet helps you send public tweets simultaneously to a select group of people. For instance, sending updates to your office team or to members of your family.
Twtvite helps you organize events and create buzz for them
OneKontest helps you engage and reward your Twitter followers through contests.
Tweet Grade lets you see how influential you are on Twitter. It also suggests a few people you should follow based on your profile.
TwitterCounter lets you enter your Twitter name and receive stats that span a week, as well as allows you to chart your progress in acquiring followers. They offer a chicklet counter that can be added to your website or blog.
TweetStats provides detailed stats of your tweets, density, who you interact with the most and when, and interface used.
Twitaholic provides a list of the top 100 Twitter users.
Fakers.StatusPeople allows you to check to see how many fake followers you have.
BufferApp allows you to schedule tweets.
I hope you have found this guide useful and will take action to start growing your Twitter following.
Feel free to contact me if you have any questions or need help managing your Twitter account to save you time.
See you in Twitterland!
Please note this Twitter Guide is for your benefit. It is a resource and there is no assumption for its use or guarantee of its accuracy. I give you permission to share this with anyone you feel would benefit because sharing is caring!