How to Make a Podcast That Grows With Your Blog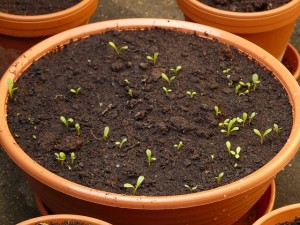 The promises of podcasts are pretty great: through the medium of audio you can interact with your audience and provide tons of value in a refreshing way. Podcasts provide you with the opportunity to catch and engage with your audience even when they are away from their computers; they also help to humanize your brand through the sound of your voice.
Unfortunately, when little interaction takes place between you and your audience, you may find yourself singing Pink Floyd: hello, is anybody out there? The preparations and hard work that are necessary to run a podcast can leave you feeling exhausted without an actively engaged audience.
You need them to keep you motivated.
The question is: how do you get them?
The answer may be right in front of you in the form of your blog. Like a lot of situations in life, this is a case where two is better than one. By figuring out how to make your podcast really work with your blog you can increase not only the attention the podcast receives but the satisfaction it warrants. Audience members will appreciate a complimentary source that dives deeper and/or offers twists in perception.
Here's how to make it happen…
Use Your Blog's Soil to Plant Your Podcast
Running a successful podcast comes with some universal truths, two of which are: provide valuable content people can use and streamline it into an appropriate niche. This is why one of the worst things to do would be to underestimate the power of your blog. More than likely your blog already is providing take-aways to a centralized niche, so it only makes sense to build on that audience and your own expertise.
One way your blog can help promote your podcast is by simply pairing it with related articles. Before adding a new post to your blog, consider ways in which you could expand on the topic (or offer a different perspective, or indulge in a related question) in a podcast.
If you can find a way to build on a post, then you can add a link to your podcast at the end explaining to your readers that: Writing this post got me thinking about X and made me want to learn more about Y, tune into my podcast to discover the details of Z.
By positioning things this way, people are getting the opportunity to take things to the next level and expand their education. The beauty is that you've already captured an engaged audience with the blog post, so the chances of them finding your relative podcast interesting are much greater. This has the additional benefit of increasing your perceived expertise – wins all around!
Create a Call of Action
Your audience does more than motivate you to keep creating; they are the main measurable factor of your success. The people who are subscribing, commenting, interacting and telling their friends, "You've got to listen to this" are the people you should be catering to. The more useable, related content you can create that speaks directly to your audience, the better. Find out how to peak their interests by posing a call of action that urges them to get involved so their curiosities can be featured and explored.
With a bit of effort your blog can help you collect content and promote your podcast.
First, explain to your blog readers that you are now opening the discussion to their specific questions; consider adding an "ask me" tab to your site where questions can be collected neatly. Then, on your blog, feature the most interesting questions and post only the short answer (one sentence – tops). Finally, add a link to your podcast under the short answer with the promise to dive deep into the topic and breakdown the reasoning behind your answer within the episode.
Once again you are branding yourself as an expert in your niche and engaging with your audience while providing the free service of direct and in-depth answers to their questions. When possible, take the time to thank your audience members by name for their participation for foster a more personal connection, and encourage others to contribute as well.
Keep in mind that a podcast's audio offers a deeper level of intimacy than most other communication portals. Do not underestimate the power of podcasts when it comes to relationship building. Gaining an audience is one thing, invoking a sense of loyalty within them is a whole other obstacle. Build a bond with your audience by revealing something appropriate and relevant about yourself in each episode (i.e. a past experience, character quirk or a lesson learned).
Expand Your Reach with Win-Win Relationships
The beauty of podcasting is that the world is your oyster; experts around the globe can be reached and recorded. Welcoming outside guests is a fantastic way to keep things fresh for your listeners. Having another person (and presumably, another perspective) on the microphone will keep your audience engaged as it sets a climate for discussion and debate.
It may feel daunting to reach out to respected people in your field, but when done politely the worst thing that could happen would be that they tell you "no." Increase your chances of receiving a "yes" by providing them with something in return. If you offer them promotion via two different media channels (links and text on your blog and a featured interview on your podcast) chances are they will be they more attracted to your offer and willing to collaborate.
Brand each expert conversation/interview podcast with a featured profile post on your blog. In a short blog post, introduce the featured person, their contributions to your niche and then provide readers with a teaser take-away (i.e. their top three lessons, must-dos, advice, etc). Then, wrap things up with a link to a podcast that will cover an exclusive in-depth exploration with your featured expert.
Don't Get Caught Up on the Technicalities
Now that you know how to successfully market your podcast via your blog you are ready to get started right? …right? Do not let your hesitations hide behind technicalities. Yes, getting your podcast up and running will require some effort, but so did your blog. The experience here is the same, the sooner you get started and dive in, the sooner this will all begin to feel natural to you.
Luckily podcasting doesn't require much more equipment than a computer and the internet. Consider a professional microphone (usually runs around $100). While a lot of today's computers come with an internal microphone, you'll usually want something a little better – the quality difference is huge!
Be sure to brand your podcasts with music, logos and colors that compliment the rest of your online presence. Just like blogging, consistency matters here too, so pick a pattern for posting and stick with it. Also, remember to keep things short and sweet; aim to keep each episode less than twenty minutes.
After you've created and edited your podcast try to push a day between your episode and its posting. By taking a break you can return to your podcast with fresh ears. Listen objectively and make any necessary critiques or changes. Whether it is for the present episode or your next, continue to critique yourself honestly and as objectively as possible, the improvements will naturally follow.
Keep things fresh by mixing up your delivery with solo podcasts, co-hosted recordings, panel discussion, and interviews. Keep yourself sounding professional by slowing down your speech (to avoid fillers like "you know" and "um"). Also, polish things up by keeping a script close by that not only bullets your talking points, but provides you will a killer opening and closing which will guarantee starting and ending on strong notes. The most important thing when podcasting is to have fun; if you're enjoying the experience then there is a much better chance that your audience will too.
What other way can you promote your podcasts?