Take Action: Shit or Get Off the Pot Already!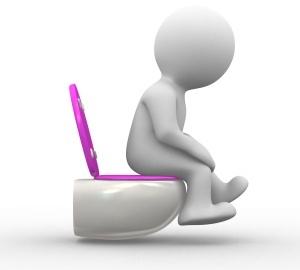 A few years ago, back when I decided I wanted to help small business owners prosper through exceptional marketing and small business coaching, I signed myself into a business coaching alliance.
One of the great benefits of this alliance was that it paired up the new coaching in a "buddy system". I was paired up with "Mike". As "buddies" we would call each other every week and check our progress.
It was during one of these calls where Mike let me have it and I learned a valuable lesson about getting things done.
I was fortunate enough to get paired up with exactly the sort of person I wanted. Mike and I were about the same age, both entrepreneurs and both excited about our new path…
Mike and I were also different in some ways. While I can be straight, I can also be somewhat of a diplomat if I think that's what the situation requires. I can tell you something you need to hear in way that won't require a band-aid for your ego (a very useful skill as a coach). Mike, on the other hand, was a shoot-first, tell-it-like-it-is, take-no-prisoners, blunt-as-hell, damn-the-torpedoes, duck-because-you-might-get-hurt, don't-forget-your-tissues kind of guy. If he had something to say it was probably going to make a grown person wince (arguably also a useful skill for a coach, on occasion).
During one of our weekly calls, I told Mike about a live training program I had been preparing. Well, to be more accurate, I told Mike for the umpteenth time about the live training I had been preparing. I had planned it for January, then March, then April and May, finally summer rolled around and it was August and there I was still talking about how great this program was going to be when I finally finished it. And when I did, look out, because I was going to fill that room with people and help them make lots of money. But first I had to finish it and set a date for it and book a room for it and and and….
Yada. Yada. Yada. It was always something. Not perfect enough. Not complete. I had to add this topic or that worksheet. Every week it was any manner of asinine things that prevented me from pronouncing the training "ready".
"Ready" is a insidious concept.
It's never "ready" if you never want it to be.
In fact, the more accurate term for these "things" that were preventing me from being "ready" is "excuses".
Finally, Mike had had enough. He interrupted me and said:
"For f***'s sake, Peter, I can't stand hearing you talk about this damn training anymore. You need to take action. Shit or get off the pot already".
Bang. Like the proverbial ton of bricks.
Thank goodness for that wake-up call. Mike made me realize that I had been holding myself back with a lot of stupid excuses that I wouldn't remember six months later when I'd be pissed at myself for failing to take action.
So after that realization, I resolved that I'd finish the training in a week, and market to deliver it within 6 weeks. I set a date and emailed it to Mike.
And that is exactly how it turned out. The training was a success, and the content has made its way into some modules of our super-stupendous (if I do say so myself) marketing program.
The lesson Mike delivered to me was very valuable. I've been a coach for years so I know all the signs of perfectionism and avoidance and taking action and all that stuff, but yet I was falling into the same damn hole every week. It took someone to shake me up to help me get out of my rut. I needed to be reminded that if crap isn't moving forward, the culprit's in the mirror.
So why am I sharing this with you today? Well, to ask you one simple question.
What is the big thing that you've been wanting to do this year, but haven't?
Listen up. It's the end of August, folks. Already everyone is in their back-to-work routines, kids will in school and next thing you know you'll have just barely 100 days left in 2011 to make this the year you were wishing for 8 months ago. If you've got stuff you want to do, you're running out of time. Now's the time to plan it out if you haven't already.
No, all is not lost yet – don't start thinking that way, that won't serve you. But if you want to see some change, you've got to get out of whatever rut you're stuck in and get on with it.
So today, I am challenging you to "shit or get off the pot".
Most of you reading this have a great project or goal that you've been flirting with for some time. Maybe you want to create a signature product? Fill out that autoresponder series? Run that webinar? Start guest blogging? Go through your customer list and send them an offer? Finally lay the foundation for a lifetime of success? Take action.
Whatever your goal, are you doing what needs to be done to move it along?
You can do it. I know you can.
If this strikes a chord and you don't feel like you've done enough to move your big goal forward, then I'd like to challenge you to seize this moment and commit to it now. Here's how:
1. Copy/paste this into a document:
I, the undersigned, ________________ state my intention to _______________________ I will spend a minimum of 15 minutes taking action EVERY DAY to further along and achieve this goal. I will complete this by ___________________.
2. Fill it in where appropriate and print it out.
3. Hang it so you can see it first thing in the morning and last thing at night.
4. This is the most important step of all: Read it when you wake up. Read it when you go to bed.
Fifteen minutes. Even the busiest of us have fifteen minutes. Fifteen minutes so that you don't hate looking at this paper every day, is all it takes. After that you are free to do other, ah, "things".
Want to know why this will work?
Because once you've done your 15 minutes, you're probably going to continue working on it anyway. And that's a big improvement over where you were yesterday, right? Even if you just do the 15 minutes, you're still ahead. Isn't that awesome?
Are you courageous enough to meet this challenge? Are you brave enough to share your intention and goal with us below? Are you fearless enough to see this to completion? Are you ready to take action? We will be rooting and supporting you all the way!