Three Marketing Systems Every Small Business Marketer Needs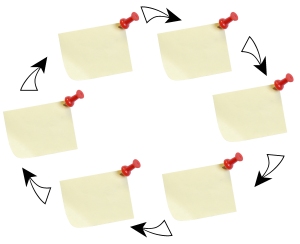 Psst – you over there, with the glazed-over peepers.
I know you.
You're frazzled.
You have trouble "switching off" at night.
You've got a nagging sense in the pit of your stomach that you're on a merry-go-round, and not the fun kind.
You, my friend, are on the verge of burnout, and if you don't get it together soon, you're headed for the ranks of former entrepreneur-hood.
I know this, because it happened to me. And it cost me dearly.
And ever since, I've made it my mission to understand it – and prevent it.
The solution, I've learned, is simple enough to convey in a single word: systems.
Marketing Systems: A Simple Overview
A system (in this context) is simply a routine sequence of tasks or actions that, taken together, produce a consistent result.
Now, I know without a doubt that nothing I've just written is news to you. Systems are all the rage in Solopreneur-ville.
But I noticed something kind of strange recently, and that's this:
For all the talk about systems, nobody seems to be telling any of us how, exactly, we're supposed to go about creating these awesome things.
So let's change that, starting now.
While you can build a system for just about any business task, three marketing tasks are commonly at the heart of complaints I hear from my consulting and coaching clients:
Content (blog posts, articles, infographics, podcasts, etc.)
Social media
Email newsletters
Systems for Generating and Publishing Content
To create a workable system for any project or task, start by getting clear on how you already approach those tasks. For content-related tasks, those are generally:
Generating and capturing ideas
Turning ideas into topics
Turning topics into outlines/drafts
Scheduling and planning content
Formatting content (including text, links, and images)
Publishing and promoting content
A system for content management (not to be confused with a "Content Management System") would optimally involve each of these component tasks.
I use Evernote and its clipping tool to save clips in separate notes, which I then tag (PJP for Pajama Productivity, SPM for my Stage Presence blog, etc.) with a suffix "-BF" (for "blog fodder").
Then, when I'm ready to work on my editorial calendar for the upcoming month, I search Evernote for the appropriate tag.
For my editorial calendars, I've developed a very simple Word document that serves as a template. (You can download that template right here – no opt-in required.)
Or you can use a plain text file, popular Mac software Notebook, Evernote by itself, Scrivener, or any word processing application you favor.
Once you've generated ideas, and then turned those ideas into scheduled topics, you can build out your content and schedule it to post automatically, according to whatever schedule you've selected.
Systems for Social Media Marketing
Social media marketing is a great place to institute systems, but the trick is that you can't rely solely on automation, since a large part of your success depends on your engagement with other users.
The better approach is to aim for a system that combines automation with a daily time-chunk (thirty minutes or so) dedicated to engagement activities.
You can easily get an entire month's worth of content scheduled and set to publish automatically in an afternoon. (It takes me about five hours to come up with a month's worth of content for Twitter or Facebook, at a rate of four updates a day.)
There are several worthwhile apps around that can help you automate and pre-schedule content "drips" to a number of platforms. Personally, I use and love the premium version of Buffer App for both my own platforms and my work for clients.
Use a clipping tool such as Notebook's or Evernote's to keep track of links and sites you'd like to share with your followers, using the tagging system described above.
Other components you could include in a social media marketing system:
A specific mix of content type (say, one self-promotional piece for every four curated or created pieces)
A set time or times to publish content to various platforms
A schedule of regular chats (Twitter) or "open page days" (Facebook)
A list of links to sites that can serve as sources for curated content
Systems for Creating and Publishing Email Newsletters
An email newsletter can be a powerful tool for small business marketers, but you have to know how to make an email newsletter that is valuable and that can take a lot of time and effort to do correctly.
To create a newsletter system, start by establishing some ground rules:
How often the newsletter will be published (frequency)
What day and time will result in better open, read, and click stats (publication schedule)
What types of content you'll be sharing (i.e., your recent blog posts, other articles and blog posts, original content just for newsletter subscribers)
What kind of content mix you'll be including in each issue (i.e., 20% blog posts, 50% original content, 30% other blogs/resources)
Next, set up a newsletter template that's text-based and free of extensive HTML code. Most autoresponder services allow you to do this relatively easily. Text-based emails seem to get a stronger level of engagement from recipients than emails with bright, complex designs.
Then outline how you'll store and retrieve content to share in your newsletters. Just as with your own content, Evernote works very well for this purpose with a unique tag and URL added to the note for later reference.
Set aside a few hours at least one day before each publication date to put your newsletter together. This will give you time to iron out any formatting kinks and test the email before scheduling it to be sent.
Systems Can Save Your Sanity – And Your Business
A lack of marketing systems means that procrastination and overwhelm have free reign to wreak some serious havoc. The results can be fatal to your business. This, I know from bitter personal experience.
But building those systems doesn't have to mean massive work or an administrative nightmare, if you follow a few simple steps:
Always start by outlining your current approach.
Then (and only then) brainstorm ways you can refine and revise that approach with an eye on reducing duplication of effort and saving time.
Aim to keep each system simple. The fewer steps and tools that are involved in a system, the more stable (and workable) the system is.
Look for ways to give your systems a psychological boost by chunking your time for similar tasks during the same "chunk" of time (i.e., one hour, one afternoon, etc), and by scheduling recurring activities on the same day and at the same time each week. Adding chunks and consistent scheduling help cement the system as a routine; your subconscious mind then helps keep you on track as the system becomes a habit.
Put your revised/refined system in writing. This helps you clarify and refine your system, and also serves as a training tool later if you decide to outsource or delegate these tasks.
Marketing systems don't have to be complex or burdensome. In fact, they work best when they're simple, direct, and easy to remember.
Yes, it takes a little effort and time at the outset, but taking that time and expending that effort now means you save a crapload of both later.