Change Your Business Attitude (And How To Start Being LOVED By The RIGHT People)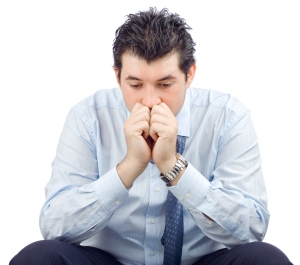 Do you try really hard to be liked by everyone; readers, customers, social media fans, your boss, family, friends, neighbours, colleagues, acquaintances, the postman…?
If so, you're behaving like a suck up..
And no one likes suck ups.
Ask yourself this: do you really perceive yourself to be worth less than other people?
Because that's how you are coming across. Now, I don't believe it's what you really want to be doing even if a small part of you believes it's true. (Falsely!) If you don't respect yourself, no-one else will be inclined to…
This kind of behaviour doesn't affect just your personal life, it plays a big role in the success or failure of your business.
Act like a suck up and you will be marking yourself as a pleaser and will come across as though you are desperate to prove that you and your product or service are worth someone else's attention.
Fear isn't attractive on any level, and suck-up behaviour in the form of self-deprecation, fawning over clients, willingness to take less than you need etc. rings loudly of fear.
Even if it's unintentional. Even if you're trying to be nice. Even if you really do just want everyone to like you, or do the best job possible.
It's no way to run a business.
QUALITY Always Wins Over Quantity.
You don't need everyone to like you. You need the right people to like you.
This may sound a bit tough, but honestly, do you genuinely like everything and everyone in the world? Of course not. Neither does anyone else.
So start valuing your time and energy, by looking to connect with only the right people, who are the perfect fit for you. Their opinion matters, and they are the people you should court.
If you're not totally sure you've got that part nailed, read on the Mirasee post on Finding your ONE Person because it's imperative that you identify the perfect audience for you.
Stop TRYING so Hard
Now that you have your perfect customer firmly in mind you can stop trying so hard to make them like you – because if you've done your job in identifying them correctly, they will naturally!
What do people really fall in love with?
In business? The right actions.
The right actions for your business are all about creating relationships by being upfront, honest, responsive and interested. (Not clingy, overbearing, or self-deprecating, remember?)
What people are really attracted too is confidence – and it may surprise you, but what they fall in love with is vulnerability.
Wait a second – didn't I just tell you not to be too subservient? Isn't confidence the way to go?
Yes – but look at it this way:
Vulnerability is your inner-child. Your inner child can be scared at times but also can be curious, playful, joyful, loving, courageous and adventurous. It isn't a weakness it's the magic ingredient that makes us human, accessible and able to bond with other people.
Once you've established yourself as an expert in your industry and started building relationship with the people who will be your perfect customers, you can let them into your confidence further by showing them other parts of your personality. The soft parts. The parts they will not only relate to – but respect you for acknowledging.
When we take responsibility for our vulnerability or inner-child instead of disregarding and shaming it (which is pretty much what suck-up behaviour is!) we can use it to our benefit to reach out and invite others to connect with us by truthfully and boldly sharing what we have to offer, because we have nothing to hide.
Harness the Power of Fear, Belief and Intention – Confidently
Recently, I went fire-walking barefoot across burning hot coals for charity. Although this may seem like utter madness to you, it does give a rather good example of what I'm talking about.
Walking across 5 metres of coal burning at 589 degrees with bare skin is not a trick and yes you can burn. To successfully achieve the goal I needed three important qualities; FEAR, BELIEF and INTENTION.
I felt fear that I would get hurt, it was a logical fear of course, but I knew I wanted to step out of my comfort zone. By acknowledging and accepting my physical vulnerability and the FEAR that I could get hurt and feel pain, I could harness it into excitement and desire.
My INTENTION to succeed was based on the confidence in my own instinct to know what's right for me, plus I was coached on the right ways to walk and breathe through it.
I chose to BELIEVE that I had what it took to reach the end goal and trusted that I was good enough for the challenge.
When my time came I was able to stride out into the fire with bold purpose, to fully enjoy the experience with a big smile and achieve success and yes it was amazing!
Remember YOU are great BECAUSE OF vulnerability and not in spite of it.
7 Steps to Changing Your Business Attitude from Neediness to Value
Accept your vulnerabilities and any fears. Understand that not everyone needs like you.
Be compassionate to yourself because often your fears and insecurities are based on real childhood sadness; even if you can't remember it.
Choose to respect and embrace your whole self; your INNER CHILD who wants to connect with other people and the ADULT you who has worked hard, has good skills and experience and can stand up and be counted among the people who are the best suited for them.
Say YES to opportunities to share yourself and what you have to offer.
Even if you can't always see other people's inner child or vulnerabilities, remember that they have them too, and you are meeting as equals.
Relax, listen and give the space for other people to show you what they have to offer too, you might find some similarity, so you can create a mutual equal connection.
If anyone does say NO – don't take it so personally it just means either you're just not the right fit for each other, or it's not the right time.
Bring your Best Self to Your Business
It is in our nature to want to connect with people who are confident and secure in who they are and we naturally want to join in with whatever they are doing and be inspired. It's true for other people, and it's true for you!
So use every interaction in your personal life and business as a marketing opportunity to promote yourself as the awesome, fun, interesting and valuable, incredibly skilled person you really are. You are worth getting to know and have a lot to offer. You don't need to beg for attention – the right people will be happy to give it to you freely.