Startup Failure: How to Survive When Good Ideas Go Bad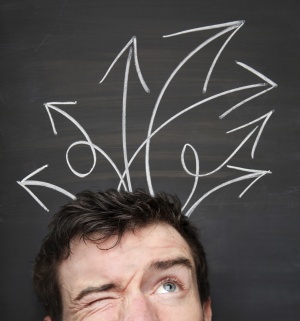 Ideas are the foundation of any business.
If the ideas are brilliant enough, they result in hours of Herculean effort, and eventually a thriving business.
But what happens when that revolutionary idea turns out to be an imposter? Good ideas go bad all the time, and for an infinite number of reasons. Forces outside of our control can change customer tastes but usually we latched onto an idea that was not a good idea at all.
How do you survive and thrive after going down the wrong path?
I recently faced this exact problem after a bad startup failure, and I've spent the last several months solving it.
If it happens to you, realize it's not the end of the world, and can even make your business better. And if you haven't launched your idea yet, my story might just save you some time!
An Idea is Born, and Built
Last August, the most amazing idea marched itself into my brain and laid siege to all logic and reason. Having been through this phase before, I decided to wait it out.
It refused to die.
A few months prior, I was interviewing small businesses about how they were using social media, and found that none of them knew how effective it was – they knew it was important, but had no clue what was working better, or where they should spend more of their precious time.
I reasoned that helping small businesses find their return on investment (ROI) from all their online activity would be a huge benefit, and they couldn't help but throw fistfuls of cash at me.
Sweet early retirement, here I come!
After spending a month polishing my idea, I was ready to get input from professionals. I spoke with a lawyer who specializes in startups, and reached out to graphic designers and developers. By the beginning of December I had a landing page up to collect email addresses but neglected to spend any money on marketing to see if I could generate interest.
That was my first mistake.
Since I'm a huge proponent of "Minimum Viable Product" or MVP, I decided to launch the most basic version of the idea that I could, just to prove the concept. By 19th, I launched a live version that automatically tracked a users Facebook Page activity, and visually compared daily sales using beautiful custom charts.
In theory, users would see spikes in sales, and easily determine what activity on Facebook helped make that happen. The application also displayed a few pie charts showing when people visited the Page and when most sales were made. It was definitely an MVP, but I hoped it would generate enough interest to warrant more investment.
Lessons learned from building the idea:
Create a landing page first and test sign-up rates, and pay for ads if necessary to drive traffic.
Bonus points for split testing (which you can do with our free split testing tool).
Talk with as many people as possible, don't be afraid they'll steal your idea.
Feedback Reveals the Truth
Immediately after launching I started asking for feedback.
Several people created free accounts and logged in once and never logged in again. I used what I learned to fine tune some features and add a few new ones, but the overall product stayed the same. A friend of mine convinced me to add the option of tracking unlimited number of Pages.
The big problem was that nothing really resonated with users. They liked how the service "looked" and thought the charts were cool, but ultimately the information did not produce any real valuable insights.
I was going in circles with nothing to show for it. Crap.
I decided to stop playing around and paid a service that offers online user testing for really affordable rates (for a startup). Turns out the users liked the graphs and found the application easy to setup but had no idea how to use it. Suspicions confirmed.
I knew that part of the problem was that the tool only tracked one platform. Most businesses use several tools to communicate with their customers and I only provided one network that was already available for free from Facebook. Tracking just one would be like using a penlight to navigate a dark room. You'll see a few things but completely miss the bigger picture.
The other problem was analyzing the data to provide useful information that a small business owner could actually act on. Most businesses have a website and use Google Analytics, so I figured that tapping into that data would really help. I made a few mockups and realized that I was only building a dashboard that showed activity on multiple networks. Sure it would save time, but probably wouldn't create that "holy crap" moment I was going for. Maybe it would make for a decent free tool, but I needed to charge for it.
I had two choices:
Keep adding services like a blind squirrel until I finally managed to find a nut.
Go back to the drawing board.
I went back to the drawing board.
Lessons learned from feedback:
Compare your idea against actual market needs.
Pay for user testing, I used UserTesting.com.
Never add a feature until you've received specific feedback about it.
Fixing the Idea
At this point, I finally realized that my idea needed some serious tweaking and I needed to do some serious learning.
I started following small business blogs to figure out what problems I could solve without starting over, so any solution had to be Facebook related. To find blogs, I searched through articles from highly respected topical bloggers and looked through blogs they referenced. I tried Google, but it wasn't very effective. Well-run blogs do a much better job of filtering, and I still follow this method today.
I stopped all development on the idea, and focused on learning and building relationships. I built a blog to promote my product while I was learning, and started writing about Facebook marketing. Networking took way more time than I ever thought it would. This just proved conclusively that I should have started a blog, slapped up a landing page and started engaging the small business community before I ever wrote a single use case for software development.
Just tracking blogs can be a serious pain and to save time I experimented with using an RSS reader to easily see which blogs had new posts. I eventually found that the easiest way to track 20-30 blogs I'm commenting on is to save them in their own folder in my browser and open them all at once in a new window. Takes a while, but I can easily comment on each new post. Using the RSS reader I still had to click through to the original post to leave a comment, and that gets annoying after the 10th time. I also reached out to a few business coaches and bloggers, and even joined two different paid niche community sites.
My first breakthrough came while driving down the freeway about two months into this process. My second breakthrough came two weeks ago while chatting with my business coach Fred Leo about business models. At one point in our talk, an idea popped into my head (yet again). I interrupted Fred and asked if "feature x" would be helpful. He stopped talking, his eyes lit up and he said "That would be incredibly helpful, I would gladly pay for that and I have in the past."
I finally found that "holy crap" moment I spent nearly a year working towards.
Lessons learned while fixing the idea:
Get someone you trust to act as a "sounding board"
Start searching for and commenting on blogs as soon as possible. Reach out to others.
You'll naturally gravitate towards some blogs and not others, don't force yourself
Paid communities – the more focused the community the more useful it is
When all else fails, or you're experiencing startup failure, step back and breathe for a few days or weeks