Starting An Online Business – All It's Cracked Up to Be?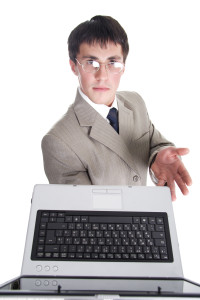 When I look back at my struggles to start a successful online business, it's incredible I stayed with it long enough to see profits.
Maybe I'm a late bloomer but I didn't make any money in my first year.  By the second year, although I was seeing a little income, it didn't begin to cover what I had spent to that point.
It wasn't until my third year that I hit on my first profitable niche business.
So why did I stick with it?  And was it worth it?
To know that, you have to know a little of my background.  I worked as an employee before starting a traditional self-employed business.  My family members weren't entrepreneurs.  I, however, got the bug early and invested in real estate and built single family homes on spec.
But why would I leave a lucrative home-building business (fyi, I still do a little investing when I find a super deal) …only to spend years, without pay, to try and start an online business?
On the face of it, it looks kinda dumb.
Well, to be perfectly honest, although I loved building houses the first few years, it was only a means to an end.  After the challenge wore off, I continued because it was profitable.  Then I married my husband.  He wanted to take over and I said "Sure Honey!  You want the headaches, go for it."
And there's the first clue.  Headaches.
But let's go deeper.  I want to explore how online business stacks up against traditional business and even employment.  Give you a "birds eye view" from someone who's done all three.
Obviously, these three income models have huge variations.  Owning a Dominos Pizza is different from selling Avon which is different from building houses.  And working as a waiter is different from upper management at Dell computers.  Yet, even with these diversities, there are still universal parallels.
Employment – Pros and Cons
The major benefit to employment is that you don't have to worry about where your next paycheck will come from, or how much it will be.  Even if you're salary plus commission, you still have an idea of what you'll make.
You probably don't take your work home.  Once you leave, you're done.  You can go home and chill without worrying about the business because it's simply not yours to worry about.
If your company goes under or you get laid off you might get severance pay or at the very least unemployment checks to tide you over.
The downside to employment is that… well, it's a job.
You give up ownership of your time and personal flexibility because you have to show up when your boss tells you to.  And where.. and do what you're told to do.  Children sick?  Or you want to attend an event during work hours?  It's an ordeal figuring out if you should even ask your boss for the time off, and if you should take a sick day or what.
If you are an awesome employee you might get promoted (with increased pay)  but not necessarily..
Bottom line: You are working for someone else's dream, not your own.
Traditional Business Ownership – Pros and Cons
Working for yourself certainly affords more independence than employment.
You can have free time while your employees work, but that's only if you have trusted employees to hold the fort down while you're gone, and have the money to pay them.
My husband and I considered a Subway Sandwich franchise at one point.  The number one deterrent for us was having to deal with employees.  You know that expression "It's hard to find good help?"  There's a reason for that expression.  And when your employees don't show up, guess who is standing in their place.  That's right. You.
More considerations:
Liability
Keeping customers happy
Possible order fulfillment
Fixed market pool – there are only so many customers in your local area
Then there's the cost.  A traditional business or franchise can cost several hundred thousand dollars and even millions.  If you borrow the money, you'll personally guarantee with your assets, so if your business goes down you could lose your home, investments, bank accounts, etc.
It often takes years to see a profit.
Not everyone has the personality for the unpredictability of traditional business.  Then that old paycheck starts to look pretty good.
On the plus side, it is your business.  You get to make decisions instead of ask permission.  You decide the direction of how your company grows.
You get to pick projects and clients you're interested in.. to an extent.  That depends on how much in demand you are, if you need to take undesirable projects or clients.
Still, with traditional business ownership, you do have a degree of personal choice and self-satisfaction. You're the boss.
Online Business – Pros and Cons
Ahhh, now we get to online business.  And yes!  It's my personal favorite but I won't sugarcoat it because the reality is that it's not for everyone.
Why I love online business (and why so many people get excited about starting an online business):
Super cheap to startup and maintain.  We are talking hundreds of dollars; not hundreds of thousands so there's low risk money wise.
You can start an online business in your spare time while holding down a job.  Then quit the job after you start making consistent income.
Work when you want; where you want.  As long as you have an Internet connection, you're good to go.  So yeah, you really can work at the beach.  In fact, I just got back from Panama City Beach and my income continued just as though I was at my home office.. and I actually did very little work the ten days I was there.
No employees.  If you want help, outsource as needed.
If you make your income via digital or affiliate products, Google adsense, selling ad space, or anything other than something you have to personally fulfil, you have no fulfillment issues.
With affiliate products you don't even have to worry about customer service.  If you have a diet site and sell Nutrisystem, the customer goes directly to Nutrisystem with questions or issues, not to you.
With digital products (like Write Like Freddy) you can multiply your success because you do the work once while reaping profits many times over as people continue to buy those products.
It's fairly simple to have multiple businesses online so you can enjoy many interests.  For example, I have a blog that helps people start their online business, but I also have music sites, and a minimal-living house website.
Now the downside:
OK, here's the truth of the matter.. not everyone can do this type of business.
If you have a hard time focusing, you'll find yourself aimlessly surfing the Net instead of working.  Or worse, jumping from one idea to another, never giving anything a chance to develop.
Sometimes, because it is so inexpensive to start online, people don't take it seriously.  You must put in time, work and effort.  Otherwise you're wasting your time pretending to have a business.
Your business can grow at a snail's pace if you won't spend money to get the training you need, or products and tools that will help your business.  You don't have to go into debt to invest in yourself, but come on!  Are you in business or is this a hobby?  Heck, sometimes people spend more on their hobbies, than they do on their biz.
There's a lot of moving pieces and much to learn.  It's easy to procrastinate if you're not careful.
It can be lonely at times.  Creating a mastermind group helps.  As does attending events and networking.
An online business typically takes a while to see profit.  Yes, this is also true with traditional business but unfortunately with all the hype, business expectations are often unrealistically high with an Internet biz.  You have to be willing to work hard without tangible results at first if you expect to reap rewards later.
Like I said, I am partial to online business. 've been an employee plus I've owned a traditional business.
Nothing compares to the freedom and opportunity of owning an online business.  I've found the stress to be minimal in relation to traditional business.  It's a level playing field with unlimited possibilities.. and a heckuva lot of fun.
So what about you…
Have you started your own online business?  If not, what's holding you back?
If you do have a biz online, please share your #1 challenge and your #1 joy.