Social Selling And What It Means To Your Business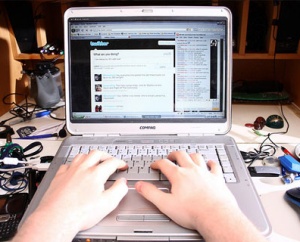 There's an old and overused quote in business that says "nothing happens until someone sells something". While it's obviously an oversimplification, there's something to say for sales being the very core of your business. No sales, no revenue, no business.
However, sales is a broad term and it has gone through a lot of changes throughout the years. From feature-based selling (this is what my product or service will do for you) in the 70's  and 80's  to a more consultative approach with value-based selling (this is what my product or service can mean to your business) in the 90's.
If you ask me what sales will look like in the years to come, social selling is the first word that comes to mind. Many will argue that sales has always been a social activity, and of course they're right. Building, developing and leveraging relationships has always been the strength of every top performer.
What's new with social selling, however, is that this social aspect has taken on a whole new dimension. With the adoption of web 2.0 and social media it has moved from industry conferences, trade associations and golf courses to the online world. For this reason many people speak of 'sales 2.0'.
Some call it a revolution, some call it a buzzword. The truth is that it's changing the way we sell and do business. Let's take a look at what Sales 2.0 could mean to your business:
Cheap market intelligence
Who remembers the old days when market intelligence came from expensive professional analysts or traveling sales people? Now it's as simple as setting up Google Alerts to monitor activity in your industry, keep an eye on your competitors and see what customers are saying about you. It's real-time and it's free.
Increased visibility
One of the first things I recommend salespeople and business owners to do is to build an online presence. This generally includes starting a blog, getting active on various social media platforms and producing video content. Present  yourself as an expert in your field and speak in a unique voice. It's the single best way to build trust and authority and make prospects come to you instead of the other way around. Put your online info on your business card and make it easy for people to find you. If you're not visible, you don't exist. It's not only who you know, it's who knows you.
New prospects
Did you know the world's largest sales database is free and accessible 24/7? It's called LinkedIn and it has all info you need to find prospects, research them and make the initial contact. Take a closer look at how you're connected. Do you have a shared background , any common interests or some mutual contacts? Maybe you can ask someone else to introduce you? Make sure to join groups where your prospects hang out, engage with them and provide value with every single visit. It only takes half an hour a day.
Better account management
Research has shown that it costs six to seven times more to acquire  a new customer than to keep an existing one, so most companies understand the value of customer loyalty and retention. Fortunately it has never been easier to keep in touch with your customer base and maintain, develop and leverage that relationship. Facebook pages, Twitter accounts and e-mail lists allow you to communicate and interact with your customers on a personal level and do it on a continuous basis, something past generations of business owners could only have dreamed of.
More Referrals
Referrals are everywhere on the internet. In fact, the internet is nothing more than a web of referrals. Every Facebook 'like' or link to another website is a recommendation, every positive tweet on your product a free testimonial. Word of mouth is probably the most powerful form of advertising and now is the best time to take advantage. Ask people to share your content and reach out to other people in their network.
Improved sales and marketing alignment
Sales and marketing used to be clearly defined and distinct activities. Marketing provided the leads, sales worked them. This has changed now that salespeople have joined the online conversation and participate in lead generation efforts. They have left their islands and have become part of the overall branding strategy. This leads to a better mutual understanding between sales and marketing and new creative input.
Now do I say older, traditional methods are dead? No. Postcards still work and I've just finished a report on a very effective cold calling method. Social selling doesn't replace the old way of doing business, it just makes things easier and offers extra opportunities. Don't leave them on the table.