The Ultimate Sales Funnel Template for Online Course Creators
Matthew Turner
What exactly is a sales funnel? And, more importantly, do you need one?
This isn't just a key question for online course creators, but online businesses in general. Generating leads is the lifeblood of any business, and converting these leads into sales is what determines your success. Yet there are so many ways to go about this… it can be overwhelming, right?
Facebook Ads
SEO
Content Marketing
Google Adwords
Influencer Marketing
Social Media
Traditional Marketing
Podcasts and YouTube Channels…
There are so many things you could do that it's hard to focus on what you should. Well, the good news is that a sales funnel involves all of these aspects (and more), yet doesn't rely on any one of them.
Confused yet? Don't worry, you won't be after reading this Sales Funnel Template Guide!
A sales funnel goes way beyond any specific tactic. It doesn't matter what the current must-have platform is. Your sales funnel can involve one of them or many. You can start small and grow it over time without having to rebuild it or reinvent your entire marketing strategy.
Because of this, every online business (including EVERY course creator) needs to create a sales funnel. Some people need a more complex version than others. And maybe that's what has put you off building one. You've read about sales funnels before and see videos of online ad gurus guiding you through their own. It's overwhelming, and you simply don't have the time or resources available.
So you put it off, even though you know you need one.
Maybe next year, you tell yourself…
Don't worry. A sales funnel doesn't have to be complex. In fact, the sales funnel you need is likely much simpler than you can imagine. Better yet, you likely already have some of the steps built.
You just need to tweak, rearrange, and optimize them.
In this Sales Funnel Template Guide, we'll show you how.
What is a Sales Funnel and Why Does it Matter?
A sales funnel is a series of steps that guide potential leads toward making a purchase.
That's it. It isn't about social media, email marketing, or Facebook ads. It may involve some or even all of these, yet the sales funnel itself is much more important than any single tactic.
It's what guides your audience toward becoming customers…
For this reason, the term "sales funnel" can be somewhat misleading because when you hear someone talk about "sales", you likely presume it's focused on making a sale.
Maybe this is another reason why you haven't already built a sales funnel. You don't like the idea of "selling" and creating one sales pitch after another. Maybe you don't consider yourself good at sales.
Again, do not worry!
Because although a Sales Funnel ultimately leads to a sale, much of the process involves nurturing your audience, building their trust, and developing a rapport. Sure, a sales funnel can be solely about sales.
Yet those who use this approach are easily forgotten in today's hyper-competitive world.
To stand out these days (and actually create consistent sales), your sales funnel needs to go way beyond the art of selling. It's the process that builds awareness, qualifies your leads, develops brand loyalty, and basically makes your entire marketing strategy work.
A sales funnel is important because, without one, you'll struggle to generate leads. Whether you're a course creator or not, lead generation is the lifeblood of your business. The choice you have to make is whether you gather those leads manually (wasting your time and limiting your growth), or build an automated lead generation machine that works while you sleep.
It's your sales funnel that fuels this, and it's is why the time has come to create a sales funnel for your own online course, program, product, service, or business as a whole.
How to Create a Sales Funnel
In this guide, we'll introduce you to a Sales Funnel Template that can work for any online business. We will, however, relate it to online courses, as this is our primary focus at Mirasee.
Yet whether you have an online course or not, this sales funnel template applies to you.
It centers around the following process.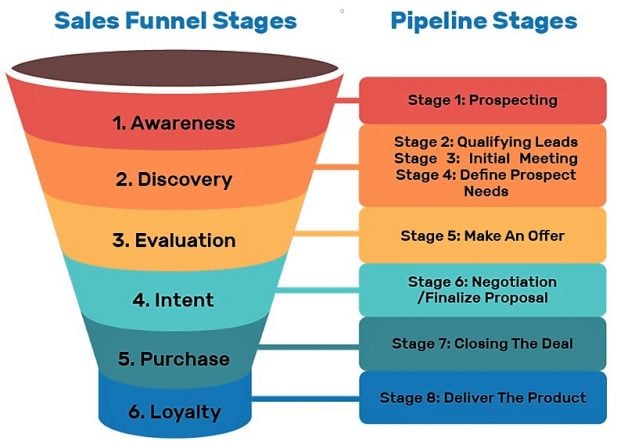 Your Sales Funnel must include:
Awareness: the stage where you build awareness and communicate with potential new leads.
Discovery: where you introduce your new potential leads to an initial offer (oftentimes a lead magnet or some other incentive to gain their email address).
Evaluation: where you begin to build their trust, often through emails and retargeting ads that teach them about you and your products while also introducing them to your story.
Intent: where you begin to introduce them to your main offer/product/service/online course.
Purchase: once you reach this point you're ready to close the deal (i.e. share your long-form sales page with them).
Loyalty: once they become a customer the sales funnel doesn't end. You not only have to deliver on your promise but continue to give them a memorable experience.
We'll now share our Sales Funnel Template that covers these main stages in more detail. Remember, although we relate everything to online courses and online course creators, this sales funnel template applies to almost any online business.
Study this guide and relate it to YOU and your audience. No two sales funnels are alike. The most successful ones are those that take a sales funnel template like this and tailor it around your own brand.
The Ultimate Sales Funnel Template for Online Course Creators
STAGE 1: AWARENESS
Your first step is to generate awareness for your product. There are two ways to achieve this:
Paid
Organic
For your sales funnel to effectively work, you'll likely need to fuel the fire with a stream of paid ads. Whether this is through Facebook, LinkedIn, Google, YouTube, or some other form of paid advertising (or all of the above), it's important to feed your sales funnel with fresh new leads.
This is how you create an automated lead generation machine. Once turned on, your ads drive awareness. You'll need to optimize your ads based on their results, but in general, paid advertisements like these are the most efficient and effective way to generate new leads.
Of course, it isn't the only way.
You can supplement your paid advertising with organic content marketing like:
Articles and/or blog posts
PR
SEO
Podcast and/or YouTube channel
Organic content marketing is a great way to drive new awareness. But it isn't as fast and reliable as paid ads. It often takes time to build momentum, and once you have you may see fluctuations in your results.
Paid ads offer a more reliable and predictable outcome. Yet where possible, you should always try to compliment your ads with organic content marketing.
What This Looks Like For an Online Course Creator
Let's say you plan to launch a new course that teaches your students how to bake homemade bread. You can fuel your sales funnel by creating a variety of paid ads and organic marketing.
YouTube Channel: a short series of videos documenting how to bake several types of bread.
Blog Posts: four cornerstone pieces of content that focus on some of the core aspects of breadmaking (embedding some of the videos from your YouTube channel into each one).
PR: a guest post on a friend's baking blog, as well as an interview on a baking-related podcast.
SEO: optimize your website so it ranks high for a selection of relevant keywords.
Social media: a new Instagram page where you use the "stories" feature to showcase your new creations.
Paid ads: Facebook and Instagram ads to promote your new videos, and Google Adwords to improve your SEO ranking and organic traffic reach.
People often worry about the commitment needed to fuel your sales funnel. Although regularly updated and new content is great, it's not always necessary. Three or four high-quality, SEO-optimized blog posts will often perform better than a short weekly blog.
You don't need 20+ videos on your YouTube channel. A handful will do for now.
Your aim is to fuel the fire and generate awareness. That's it. Less is often more.
But all this leads to the question of where you should drive this new awareness… should you direct your ads straight to your online course?
No! We'll look at why in Stage Two.
STAGE 2: DISCOVERY
Remember, one of the most important jobs of your sales funnel is to build trust. When someone new first comes across one of your blog posts, videos, or ads, they do not know you. If you're lucky, you'll capture their attention and make them curious to learn more.
If you achieve this, the last thing you want to do is turn them away by directing them to your course that costs $500+. Instead, direct them toward a lead magnet:
a gift
a downloadable guide
a video series
a free sample from your course
a free trial of your product
an online event or bootcamp
a book…
The lead magnet you need depends on you, your business, and who your audience is. It needs to provide them with value, but not so much that it overwhelms them. Remember, at this stage they do not trust you.
They're wary about investing either their time or money into you.
So your lead magnet should not only provide some quick, instant value but do so in a quick and easy fashion. Once again… less is more.
Once you have your lead magnet, you need to house it on a Lead Magnet Landing Page.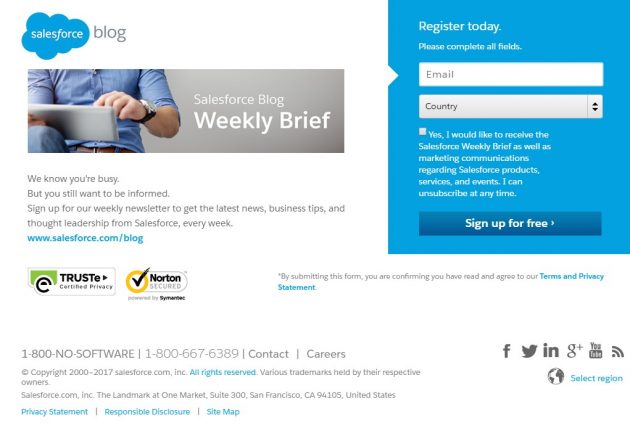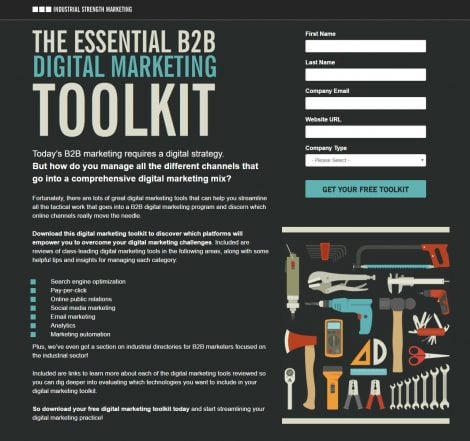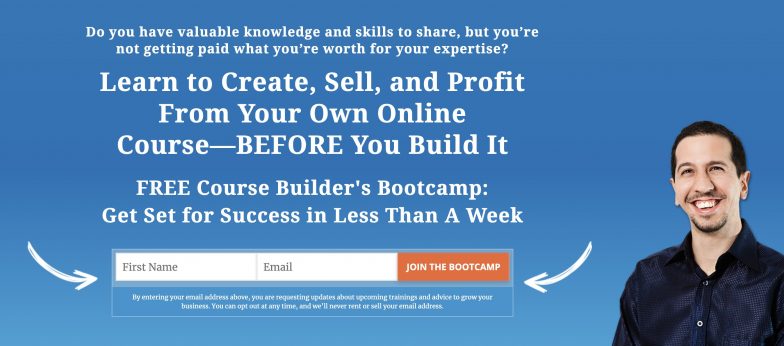 As these examples show, a lead magnet landing page should be neither long nor complex. Your aim is simple: capture their email address (and maybe a few other important details).
Now is not the time to produce a long-form sales page that talks about you or your product. Keep it simple. Highlight what your lead magnet is, who it is for, and the results it will offer. That is it!
Bonus Tips
1: Lead Magnet Landing Page Retargeting: Typically, someone will land on your lead magnet page after clicking on one of your ads (or having read a blog post or watched one of your videos). They were curious to learn more, so they took action.
However, that isn't to say they were curious enough to grab your lead magnet and give you their email.
This is where Retargeting comes in…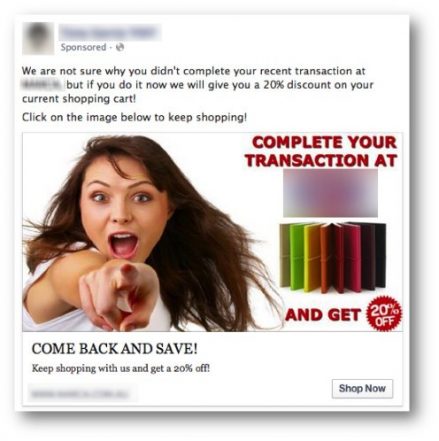 By adding a small piece of code to your lead magnet landing page, you can retarget those who visited your page but didn't take action with a series of paid ads.
The only people who see these ads are those who show some level of interest in you. Now is the perfect time to show up in their lives again, share more of your story, and remind them why they need your lead magnet.
2: The Thank You Page: Some people will take action when they land on your lead magnet page. When they do, they'll get redirected to a 'Thank You' page. Most of the time it will look something like this.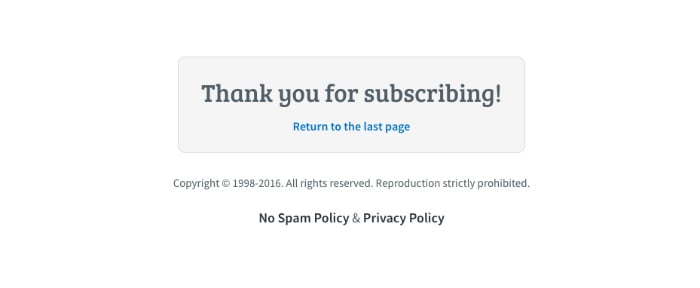 A huge missed opportunity. At this stage, they have just taken their first big step with you. They not only took the time to read your lead magnet page, but then gave you their email address. They're interested. They do not trust you yet, but they are beginning to.
Your 'Thank You' page is a great opportunity to thank them for this.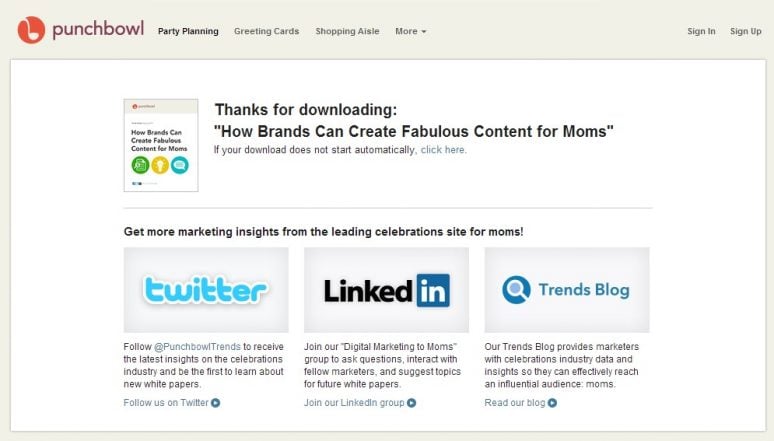 As well as saying thank you, use this page to share more of your story, invite them to join a free Facebook Group, offer a free gift that only new subscribers get access to, or anything else that will help build their trust.
Again, less is more. Do not overwhelm them.
But DO continue to provide value while you have their attention.
3: Thank You Page Retargeting: As before, you can add a piece of code to your 'Thank You' page and retarget new subscribers with a series of paid ads. These ads can range from a thank you message to extra content that tells them more about your story, how to best use the resource they just downloaded, or anything else that will build their trust and add value to their lives.
They have just made a small commitment to you. Now is the time to build a relationship with them.
What This Looks Like For an Online Course Creator
If we use our homemade breadmaking course as an example, there are several lead magnets you could create:
A guide with the tools and equipment you need
A short introductory video series (module 1 from your online course, maybe)
A recipe book…
There's no need to mention your course at this stage. Make your entire message based around giving them free value upfront. Give them the tools they need to make bread. Not so much that they won't need you later, but enough so they can get started today.
This is the best way to build trust.
In addition, set up a series of retargeting ads for those that visit your page and don't take action (and also those that do). It takes time to build trust in today's fast-paced world. You'll likely need to appear on their newsfeed multiple times before they take action.
Even if they do, it's no guarantee that they'll consume your lead magnet.
Retargeting them with specific ads helps improve your conversion rates. It's a tool we see few course creators use, but is one that can set YOU up for success.
STAGE 3: EVALUATION
At this stage of your sales funnel, you have a new lead that you now have to nurture. They are likely NOT ready to become a customer yet, so your job is to take them on a journey to get them to this point.
Much of this centers around an Email Funnel.
There are two important types of email funnel to consider here, which we discussed in great detail in a previous article:
(Click on the above links to open up the specific funnel guides in a new tab.)
It's during this stage of your sales funnel that you evaluate them and they evaluate you.
You need to evaluate your lead to see if they're a good fit for your product. Just because they liked your ad and downloaded your free guide doesn't mean they are.
Likewise, they need to decide whether you will offer them value. You must build their trust and begin a relationship. This is the difference between a high performing sales funnel and a low performing one.
Poor sales funnels do a great job at acquiring new leads, but then push the same sales message on everyone resulting in terrible conversions (which ends up costing you time, money, and loyalty).
A high performing sales funnel on the other hand generates great conversion rates because they magnify their message to the "right" people and exclude everyone else. It's your email funnel that achieves this.
Bonus Tip
1: Retargeting Ads: Once again, retargeting ads play a huge role in this process. In addition to the emails you send your audience, repurpose these into a series of ads that appear on their newsfeeds (and as they search Google).
Not everyone checks their inbox each day. Your email may get lost.
Yet if you get the same message in front of them across multiple platforms…
You begin to get your message across to them!
An omnipresent approach like this also helps build authority and rapport. They perceive you as an expert and someone with the power to reach them at all times. You become a go-to resource that remains top of mind, ready for the time when they are ready to make a decision.
What This Looks Like For an Online Course Creator
For our homemade breadmaking course, you could build two email funnels for your new subscribers.
A Welcome Funnel that introduces them to some of the core breadmaking basics (while subtly mentioning your online course).
A Nurture Funnel that drip feeds them with further content over the next 20… 30… or even 60 days. This funnel not only shares your own story, but constantly engages them with questions, surveys, and other interactive tactics.
Once again, this part of the process isn't about your online course. It's about them.
It's about YOU giving them value at a time when most other people "sell". Of course, at some stage you will need to sell, which is where we turn our attention next.
STAGE 4: INTENT
This stage of your sales funnel blends seamlessly from the last as you begin to build some intent into your messaging. In other words, this is the period when you start to introduce your product to your audience.
Once again this is largely done through your email funnel and retargeting ads, but you may complement this with other marketing tactics like:
1-1 Phone Calls
Private Facebook Group (or some other type of community)
Surveys/questionnaires
Your aim here is to introduce your audience to your product with a series of "soft sells". It's where you begin to talk about your product and the positive impact it will have, without forcing too many hard-selling sales pitches down their throats.
It can be a tough balancing act, but at this stage you've built their trust enough to begin testing the waters.
What This Looks Like For an Online Course Creator
If we revisit our homemade breadmaking course, there are several things you could do to introduce your audience to your online course:
A Free Weekly Group Call: where you walk your soon-to-be-students through a live breadmaking class.
A Private Facebook Group: with access to recipes, tips, and other resources.
1-1 Call: the chance to grab a short 1-1 call with you where you'll answer any questions.
Free Access: special access to the first module from your online course.
Your aim is to talk about your online course without focusing too much attention on it. You want your audience to know about it, but still get lots of free value that will continue to build their trust.
Taking this extra time before focusing on the purchase can be the difference between a good and great sales funnel.
STAGE 5: PURCHASE
The time has finally come to pitch your product. At this stage of your sales funnel you have built your audience's trust and drip-fed them with information about who you are, what you do, and how you can help. Not everyone will be ready to purchase from you right now, but a section of your audience will be.
It's taken until Stage Five of this Sales Funnel Template to actually get to the sale.
This may sound counterintuitive, but this is the way to stand out in today's crowded marketplace.
So, how do you pitch your course, product, or service?
There are four elements you need:
Long-Form Sales Page
Checkout Page (for those ready to purchase)
Email Follow Up Sequence (for those still unsure)
Retargeting Ads
Through your ongoing email funnel (and retargeting ads), you'll direct your messaging toward your long-form sales page.

How long your long-form sales page should be depends on you and your product. You have to paint your offer in all its glory, showing your audience what they get. The good news is, you've just taken them on a journey where you've built their trust and introduced them to the type of work you do.
They're no longer a cold lead, so your long-form sales page may not need to be as long.
However, there are a few important aspects you should include:
A Compelling and Memorable Headline (and sub-headline to reinforce it).
A Short Story that introduces the pain and problem.
A section that covers the main Pain Points and highlights your Solution.
A more in-depth section that dives into your Solution and the main Benefits on offer.
A Testimonial area where your existing customers share success stories.
A Social Proof section to reinforce these positive results and help build your authority.
A 'What To Do Next' section (i.e. the main Call to Action/Purchase).
An FAQ area to answer questions, overcome objections and reinforce the benefits.
However long or short your Sales Page is, these are the core elements it needs. The point is that you're now at a stage where you can go in depth with your audience. You're asking them to make an investment (both money and time), so a long-form page helps because it gives them greater detail.
Once on this page, your're audience will do one of two things:
Purchase…
Or Not!
If they choose to purchase, you should direct them to a simple, clean, and easy-to-navigate checkout.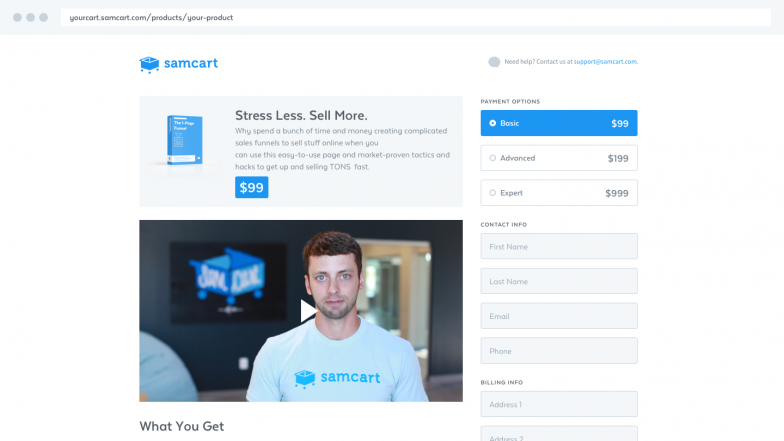 This is why tools like Samcart and ThriveCart are popular because you can create a simple yet attractive page that captures their payment details and reinforces their desire through social proof.
The point here is to NOT assume the work is done. They are not your customer until they become your customer. Make your Checkout Page count. Leave no reason for them to walk away without paying…
If they do (and some people will), you need to "retarget" them with a new set of ads and Email Funnel. Both these ads and emails are designed to remind your audience that they've yet to complete their purchase. Again, tools like SamCart and ThriveCart allow you to set these up.
What This Looks Like For an Online Course Creator
For our Homemade Breadmaking online course, you can clearly see the type of messaging you could use. Your emails go from value-driven to sales-centric, introducing your audience to your course and its main benefits.
This leads to a long-form sales page that includes:
A Compelling and Memorable Headline.
A Short Story that talks about the pain of buying bread several times each week only for it to go stale (meaning yet again you have to throw half a loaf away).
A section that covers the main Pain Points (i.e. wasting food, wasting money, having no idea how to make bread at home) and highlights the Solution (i.e. making bread at home is easier and cheaper than you think, and fun to do).
A more in-depth section that dives into your Solution and breaks down what your online course covers step-by-step (discussing each module, the resources involved, and other key features you get access to).
A Testimonial area where your existing students talk about how great you are.
A Social Proof section that highlights some publications you've written for and podcasts you've appeared on.
A 'What To Do Next' section that highlights your course's main features and has a big red "Buy Now" button.
An FAQ area that overcomes key objections and reinforces your course's benefits.
With a tool like SamCart, you can create a simple yet effective checkout page that converts your leads into customers and "retargets" those still unsure. Depending on your product, this stage of the sales funnel may have additional layers to it. The more expensive a product or service is, the more of an investment it is for your to-be customer.
You may need to include a sales call, a more in-depth email follow up sequence, and specific sales videos to drive people to take action. For online course creators, this part of the sales funnel process is often fairly clear.
A sales page that "sells" your course…
A simple, clear checkout page…
A simple retargeting plan (both email and ads)…
That's it.
Although it's not quite the end, because even when your customer becomes a customer, your job isn't complete.
STAGE 6: LOYALTY
Acquiring new customers is expensive and hard work. Retaining customers is not only cheaper, but provides you the freedom to scale your business in other areas.
With the right approach, your existing customers can become your most effective marketing tool.
They drive referrals, give you repeat business, and are excited when you release something new. However, loyalty like this doesn't just happen. It's an intentional process that YOU need to take control of.
So once the sale is complete, don't think your sales funnel is. What happens next may be the most important part of the whole process.
The journey you continue to give them is EVERYTHING!
Part of this comes down to delivering a great product and service. You need to deliver on your promise. Yet you must also communicate with them. So many businesses complete a sale and then leave their new customer to figure it out on their own.
No matter what your product may be, this is a risky business.
Instead, continue to provide value with an Onboarding Email Funnel. We've previously written a guide on how to write the perfect onboarding sequence (click here to open it in a new tab). The sequence itself is easy to build, but the intention to keep the process going isn't.
Yet the more value you give to your existing customers, the less need you'll have for new ones.
This gives you greater time, freedom, and resources. This is what sets an online course creator free to work on new courses, new projects, and new ventures. Yet it isn't just course creators that benefit, but just about any business owner in any industry.
Look after your customers. It's this final step that may be the most important part of this entire sales funnel template.
How to Make This Sales Funnel Template Work for YOU, Your Audience, and Your Business…
This Sales Funnel Template will help you no matter what industry you're in. Although we work primarily with Online Course Creators, we've seen this same process improve many different businesses.
The reason is simple: it focuses on your customer.
It's a sales funnel that's less about sales and more about people. It's about building trust, providing value, and giving what most of your competitors are too lazy to give.
A sales funnel is only as good as the trust it builds before the sale.
Does this take longer and require greater patience? Yes.
Is it worth it both in the medium and long term? YES!
A course creator that builds a sales funnel like this is one that builds enough momentum to create multiple courses, membership sites, and coaching programs. They become our most successful students.
It's time for you to make this sales funnel template work for YOU.
To help you do this, you may like to grab our free Customer Profile Template. Your customer defines your entire sales funnel, making it vital to understand who they are on a deep level. Click below to download it now.