Rock On, @CashMachineGal! (and 3 Lessons Learned…)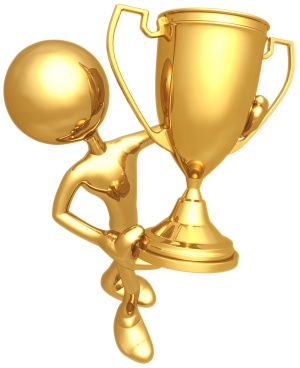 I'm going to share some lessons that I learned from the Marketing That Works Ideas contest that we ran in January. But first, a bit of fanfare…
We asked 20 marketers for their #1 innovative idea, and here's what they said:
These are just some of the innovative "marketing that works" ideas that were submitted in our contest. And honestly, there were some spectacular entries – three of which generated so much conversation that they made it onto our list of most popular posts!
We sent the top five finalists to our subscribers (you!), and asked you to pick the winner…
Congratulations, Cassie! Way to go!
When the votes were tallied, there was a clear winner: Cassie Hicks, ladies and gentlemen!
[applause, applause, applause] 😉
Cassie won with a post about her "Up, Close and Personal" Marketing Strategy (if you haven't read it yet, then go read it!).
And what does Cassie win?
She gets $250 in cold, hard cash (well, digitally, via PayPal)
She gets to be showcased to all of you (or rather, you get to hear about her!)
She gets incredible personal satisfaction
Way to go, Cassie, we're so proud of you!
For all those of you who want to learn more about Cassie and the wonderful things that she's doing, check her out at Women's Way to Wealth, where she discusses strategies and tips for creating Home Based Internet Businesses.
Now I'll get to the lessons I learned in just a moment, but first, I want to say thank you…
Thank you very, very much…
This contest was a phenomenal success; I got dozens of emails from people thanking us for putting it together, and traffic numbers were through the roof.
It wouldn't have been nearly this good, though, without the hard work of a lot of great people:
Topping the list, of course, are our amazing contestants. You all did a great job, and we're thrilled by how high you all set the bar for content on this site. Thank you!
My friend Karol, who designed the beautiful t-shirts that we sent out to our contestants.
My friend Jason Fonceca at Ryze, who designed the awesome "My Marketing Works" finalist badge that our finalists used to proclaim their excellence to the world.
And last but certainly not least, we are incredibly grateful to you, our readers. Mirasee is first and foremost about the community of entrepreneurs, business owners and marketers that engage with us on a daily basis. Thank you!
Okay, now, let's get to the lessons…
3 Lessons that I Learned from the Contest
At Mirasee, we try to see everything as a learning experience. That's part of the reason why we try so many different things, and why we tend to do the second time around so much better than the first.
So without further ado, here's what I learned from this experience:
Momentum doesn't just happen. Even with contestants as engaged and gung-ho as ours, momentum doesn't just happen. Like any event, you need to have a build-up, and you need to keep engaging along the way to maintain the momentum. I probably could have done a better job of doing that past the first week of the contest.
Keeping it fair isn't easy. This month's contest was probably the most rigidly committed month in the history of our editorial calendar, and having a new entrant every single day left very little room for error. We didn't do a perfect job, and the SOPA strike really threw us a curve ball (thank you Lain and Sherice for being so understanding). Not sure what to do about that next time around, but I've still got some time to figure it out…
Next time, try gamification. As happy as I was with the traffic and engagement numbers, I can't help but wonder what would have happened if we had stepped it up a notch with the game mechanics – what if we let people vote every day? What if we had a leaderboard? What if we sent contestants special emails when they passed different points thresholds? I don't know, but maybe next time we'll get to find out… 😉
All in all, I am absolutely thrilled with the contest, and with everything that it represents for us here at Mirasee. Thank you so much for being a part of it!
Now, over to you. What did you think of the contest? What did you learn? Please leave a comment and let us know…