Rock Band Marketing, or Field of Dreams – What's your approach to business?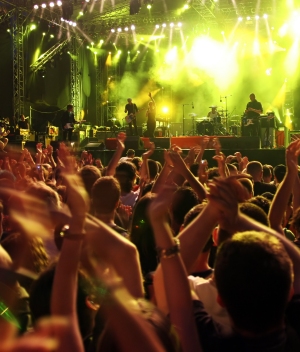 When I was a kid, I loved the movie "Field of Dreams."
So much so in fact, that when I started my first blog in 2010. As far as internet marketing strategies go, I took the Field of Dreams approach.
In Field of Dreams, Ray Kinsella (a very 1989 version of Kevin Costner) hears a voice that whispers "If you build it, they will come" and he mysteriously envisions a baseball diamond.
Ray's wife Annie is skeptical, but eventually allows Ray to plow under a large portion of his corn field to build a baseball diamond. The result? Well, Ray does nothing more than build it, and nothing happens. Ray and Annie face bankruptcy and things aren't looking good when all of a sudden Ray's daughter Karin sees a dude on the baseball field wearing a vintage style baseball uniform.
I don't know about you, but I think I'd be a little bit skeptical about it being an actual baseball player, but I guess Ray wasn't so skeptical.  Anyways, Ray heads out and realizes it is shoeless Joe Jackson, who eventually ends up bringing all his friends from the 1919 White Sox to play on the diamond, and all Ray's dreams come true.
It seems to be a heartwarming story of the convergence point between baseball and heavy hallucinations, but I've always enjoyed it nonetheless.
I've come to find that many, many bloggers and business owners use the Field of Dreams approach, just as I did in 2010. The "if you build it, they will come" approach; building a site and assuming that just because it's there, potential customers will magically appear in droves.
While this approach worked for Ray, it certainly didn't work for me, and it hasn't worked for anyone else I've ever talked to.
So what do you do instead? Well, you approach it like any successful rock band. I like to call the "Rock Band" approach…
The Rock Band Approach
When was the last time you saw a rock band get famous even though they never played outside of the drummer's mom's basement?
Never.
Get this though; the approach that a rock band has to take to get famous is extremely parallel to what a website owner or blogger has to do to build a strong audience. Let's take a look at the steps…
1. Practice, Practice, Practice
No one wants to listen to you if you suck. And let's be honest, most everyone sucks at first. While practice may not always make perfect, it does go a long way in determining the ultimate quality of the presentation. No matter if that presentation is a ballad, a blog post, or page content. As you continue to play, write, or create, your skills will improve, which will in turn result in your audience being more receptive, and more willing to share with others.
2. Specify Genre or Niche
I like a wide variety of music styles, but if I saw a poster up for a band that said "Well, we play pretty much every style of music, so you should definitely show up to our show because at some point we're destined to play a song you at least maybe sorta like!"
I'm pretty sure neither you nor I would be interested.
If the poster said "Acoustic Singer-Songwriter" or even just "Rock" we would at least have a pretty good idea what to expect, and would be much more likely to consider going to the show.
Let's say someone comes to the blog on your site and sees that your last three posts are about basketball, your favorite food, and blogging, respectively. Three topics that you've in no way tried to tie together. To be honest, unless it's your dear sweet mother, the lack of a clear focus will never drive someone to subscribe or come back.
You don't need to appeal to the food people, the sports, people, and the blogging people. The more specific your focus of your site, the more likely you will be able to gain a loyal following of people wanting more information in your specific niche.
3. Create and Give
If a band ever really wants to go anywhere, they have to create something. Whether it's a video or a recording of an original composition or a cover, something has to be created.
If you immediately stash away your creation and start asking people who have never heard of you to buy it, you're going to have some lonely sales numbers.
I know that I've personally never bought an album from a group that I had never heard play or heard any of the songs before. So the band uploads their video to YouTube, and their recordings to MySpace, and they give away snippets of their songs or even complete downloads for free.
They allow you to taste it just enough that you want some more.
Whether you are selling products, services, or anything else, you have to allow your audience to get enough of a feel for what you are doing, or they'll rarely even enter your sales cycle.  Don't be afraid to give things away for free. Karma does exist online.
4. Tell the world
So the rock band has a YouTube channel and a Facebook page, and they have some songs uploaded to MySpace. That's fantastic, but I'll still never find them unless they take action.
So they find where their target audience is, and they do whatever they can to get advertisements, posters, or any other way to get the word out and into that space.
As a business owner or blogger, finding your target audience online is an extremely important step. Find a niche forum or community that you can add value to. Get out there and make yourself known, and don't be shy. If you blog, write guest posts and get featured on sites where your target audience hangs out.
Make yourself known and tell the world about your product or service, and what it can do for them. Be bold.
5. Kick doubters (including yourself) to the curb
As the rock band tries to get into larger venues, there will undoubtedly be some people that tell them they can't do it. They might even doubt themselves and tell themselves they can't do it. The rock band that makes it learns to kick all the doubters and self-doubt to the curb and pushes through.
As you try to build an online presence, there will surely be people who scoff at the idea. They'll tell you that you can't do it. You'll probably get rejected for a guest post or two along the way as well. You might even get rejected over and over again.
Don't let anyone else tell you that you can't do it or that you won't make it. They're intimidated by the prospect of your success. Drive through the hard times and remember that it does get easier. If you quit though, you're just proving the doubters right.
Kick the insecurities to the curb and put yourself out there. You won't regret it.
6. Consistently Deliver
Once the rock band has practiced a lot, specified their genre, created music, shared that music, told the world, and kicked all doubters to the curb, they're on the fast track to success.
There is one last piece of the puzzle that is very important.
Consistently Deliver.
You have to continue to practice, create, and improve. If the rock band quits delivering quality content to their fans, they'll quickly fade into memories. If they keep generating content but at the expense of great quality, the same fate awaits them.
Strive every day to improve in some way. Learn continuously. Read books that inspire you. Pass on new thoughts, insights, and interesting content to your audience. Give your audience more than they expect. Be generous. Your generosity will come back to you in many forms, but only if you consistently deliver.
Rock Bands Win This Time, Kevin Costner
While field of dreams was a great movie, it doesn't work as a strategy. I've tried it.  I built it, and they didn't come.
It's time to take the rock band approach, who's with me?
How could you be more like the rock band in your approach? What other strategies have helped you succeed? Let me know in the comments!