Tips for Creative Writing – Even When You're Not Feeling Inspired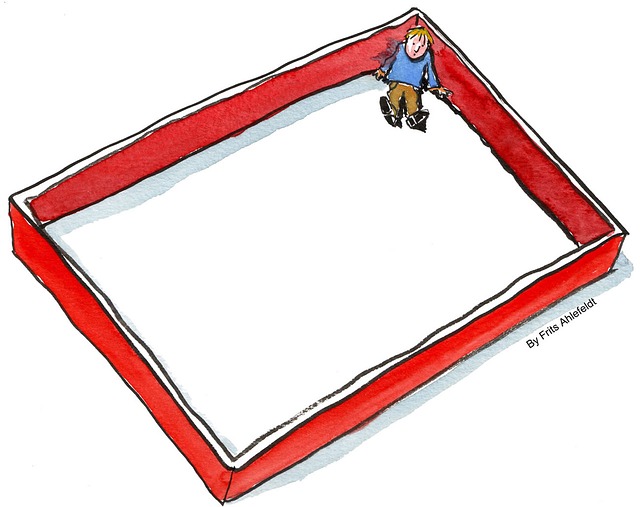 Let's be honest for a moment.
When you blog – you spend a lot of time writing.
And most of the time – it's great! It goes well.
If you do it enough to have a readership – where people listen to you and respond to what you say – then you've got something going on, no question.
Once you've established yourself as a good writer in this way, it can be kind of easy to just sit back on your laurels a little bit, and assume that the ideas and quality will flow from you quite naturally.
Sometimes they do, and sometimes they really, really don't.
But you almost always need to be producing anyway, whether it's for your own blog, or a guest post for someone else's; deadlines must be met, and promises must be kept.
When it doesn't work, it feels pretty terrible – like you're bad at what you do – and if you're so awful at blogging, how can you be good at anything and that feeling just makes it harder to write because your confidence is shot and on and on and on.
We need to nip these feelings in the bud, and so today I'd like to talk about some tips for creative writing, researching and idea generation so you can get back to work even when you don't feel like it, and how to get over the little times when nothing seems to be working.
Finding New Ideas
When you have to write about the same topic day after day after week after month, it can be a little hard to get the momentum going. At a certain point, it gets hard to come up with new ideas without scraping the bottom of the barrel.
There are a few different things you can do to get back in the saddle with creative and interesting blog posts.
Problogger has a wonderful list of 20 techniques that will get you scouring the web and your brain for new topics and ideas.
Social Media Examiner rises to the occasion with 7 ways you can glean ideas from the social web.
Write to Done, with its endless supply of great ideas, has a collection of 201 ways to arouse your creativity when you're feeling a little uninspired.
Of course, you should also ALWAYS keep a running file of different ideas, thoughts and opinions that frustrate or excite you, and headlines you think you'd like to work with someday. This list or archive will be your #1 go-to for ideas when you get stuck.
Getting Over Writer's Block
Sometimes the issue isn't finding something new to write about so much as actually getting it to sound as good on the screen as it does in your head.
This can be a really annoying feeling and we all get it once in a while. The dreaded writer's block where, whether you've got ideas or not, nothing good will come of them. Writers block comes in all sorts of flavors  and affects everyone at some point, but that doesn't make it acceptable. Not when a blog post needs to be done now.
One way to handle it is to have a writing system, like the one we teach in Write Like Freddy,where, if you're in doubt about what to write, you can just trust the process and follow the steps.
Other people prefer other writing tips – and they can be equally good at getting the creative juices flowing again!
Some writers find they need to have a set schedule: writing for a certain period of time, every day, rain or shine, no exceptions. This tends to work because your brain gets used to being "on" at that time, and just defaults to "writing mode" naturally.
Other people have books that they turn to when they have writer's block: a beautiful piece of poetry or prose that never fails to inspire.
Still others need to change their physical location to get out of a writing slump; a walk in the park followed by a nice cup of tea can do wonders.
Whatever system works for you and gets you writing (even if what you produce isn't great!) is perfectly fine. It would be lovely if everyone could share what they like to do when they have writer's block – please leave any tips or suggestions in the comments!
Just Have Fun
Whenever I'm feeling particularly dry and witless, I go online and try to find an opinion piece that I really, really disagree with.
I get all angry and frustrated and start imaging the best way to totally shut down that author with their terrible ideas, and all of a sudden I'm in Word, typing furiously.
After a few minutes (which sometimes turn into an hour or more without my even noticing it!), I'm usually ready to get back into what I need to be doing.
Hey Scavenger Hunters:
One of your challenges is to respond to a controversial post in your industry, well now I'd like you to take it one step further and exercise your writing muscles. In addition to writing a strong rebuttal post, I'd like you two write two or three paragraphs defending the position you just argued against. Post the paragraphs to your Tumblr and send the link to us for 15 bonus points!
Writing practices are another way to get the creative juices flowing, and are less likely to raise your blood pressure. I really love a good writing practice, ever since my high school literary arts class, when we started with one every single day. It was a terrific warm up and prepared us for the real work of the day.
Here are a couple of my favorite prompts; feel free to add more in the comments!
Write about today, from the perspective of a piece of fruit in your kitchen.
Tinfoil hats – crazy or chic? Discuss.
What year from the past do you wish you could visit and why?
Describe a dream that you had recently without using the letter M.
If you woke up tomorrow and there was no internet (and there never had been!) what would your day look like?
Want a whole lot more? Check out A Writing Prompt a Day on Tumblr!
These are all kind of silly, but what they do is take you out of the frustrating "it's not working" place, and into a zone where you're coming up with ideas, and not focused on the negative. Like the other creative writing tips here – they're worth a try! If you're not getting anything done – you've got nothing to lose!
Notes on the Scavenger Hunt
We've got Tea Silvestre from the ever popular Prosperity's Kitchen and Nicole Fende, The Numbers Whisperer, as well as Lindsey Rainwater all providing amazing prizes and challenges for the Scavenger Hunt Contestants. We couldn't be having any of this fun without them – so thank you all!
Now, Scavenger Hunters, I've got another bonus opportunity for you. Nicole Fende, the Numbers Whisperer wants to introduce you to the Number Muncher: the mean little guy who makes math and finance and all things associated with it complicated and unpleasant.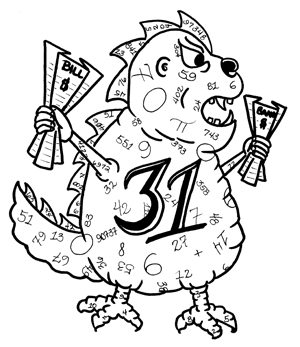 There is a page on The Numbers Whisperer where you'll find the Number Muncher AND have the opportunity to upload your own personal finance /business villain.  Design your own and upload it with your business information to take some of the fear away. Send a screenshot of your upload to us for 10 points.
Not enough points for you? Okay…
5+ for sharing your villain on The Numbers Whisperer Facebook Group, along with a reason why you created it.
5+ for tweeting  "Face your fear of numbers and #rockyourprofits with @NicoleAFende. Meet the mascots & villains http://bit.ly/Wsm6u9"
5+ for Pinning your villain and linking to The Numbers Whisper on Pinterest.
Don't forget to email in your screenshots!