Pre-Holiday Burnout: When You *Should* Celebrate, but Just Don't Feel Like It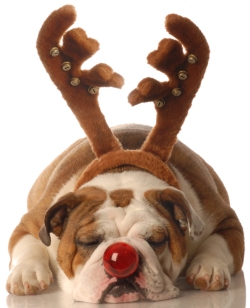 It's that time of year again.
Everything is winding down for the holidays, and everyone is in a happy, cheerful mood.
This is usually the time to take stock of all the successes that you've had, give thanks to those who helped you, and rejoice in your good fortune.
And originally, that's what this post was going to be – a big "thank you" run down of all the great things that have happened over the past year.
That's the post I was going to write – but I just don't feel like it…
Don't Get Me Wrong, There's A Lot to Celebrate
The truth is that there really is a lot to celebrate. In the last year…
And most importantly, we have the amazing privilege of serving a thriving, wonderful audience and making a real difference in their lives by doing what we love – it really doesn't get better than that.
As great as the year has been, though, I don't feel like celebrating, because…
The Truth is That I'm TIRED
Yes, I'm tired. Exhausted, actually.
And so rather than writing thought-provoking blog posts, or working on my next book, laying the foundation for our next big project, or being productive in any way, shape, or form…
…I feel like lying on my couch, curled up in a blanket, watching Scrubs re-runs. 🙁
And I *hate* feeling tired – not just because you feel drained, wiped out, and demotivated (none of which are fun feelings), but also because there's a long list of things in my head that *could* be getting done, but *aren't*.
And for an entrepreneur like myself, that's one of the most frustrating feelings in the world.
Which is why I'm very lucky to have a wonderful wife to remind me every now and again that…
It's OKAY to be Tired
Yes, yes, we all know this in our heads – we know that pushing ourselves to the point of exhaustion, and then continuing to push quite a bit further, isn't the best way to get things done.
But usually, what we do is file that knowledge away as one of the many things that we'll "get to" later, once we've made a little more headway on our to-do lists.
Am I alone in this reaction?
Maybe, but I don't think so – I'm guessing that I share this particular trait with more entrepreneurs than would care to admit. 😉
And my gut feeling is that I'm not the only one who's feeling a little bit burned out right now by all the work, all the writing, all the webinars, and all the time and energy we spend chasing after our dreams.
Not that I'm complaining, and I doubt many entrepreneurs would – we love what we do, and it's a privilege to be doing it.
But still, it's exhausting, and for us to be able to dive back in with renewed energy on January 1st, I hope you'll all join me and…
Take a Break, and Enjoy the Holidays!
Yes, that's right – let's all take a break, and really enjoy the holidays.
Rest, relax, and recharge.
And come back energized and excited in the new year.
That's what we'll be doing – you won't hear any more from us this year – not on the blog, and not in your inbox.
But come January 1st, we'll be back with renewed energies, with the best information, most effective training, and most plain old fun stuff we've ever offered.
So on that note, on behalf of the whole team at Mirasee, I want to wish you an *AMAZING* holiday break.
Happy holidays, and see you in 2013! 🙂