The Paper Precursor – The Online Communities we take for Granted Were Once a Breath of Fresh Air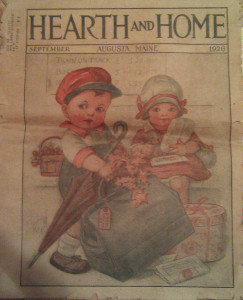 Picture this: You live on a farm in the countryside.
It's 100 years ago today. You don't have a television, phone, or radio, although the Jones' next county over have a beautiful phonograph they play on special occasions.
Every day you see your husband, and your children, and the farm-hands – but other than that – connecting with another person is at best, something that happens every week or so when you go to church or a prayer-meeting.
There is work. There is drudgery. There is little change from day to day, week to week, year to year.
But then the paper comes.
You flip to the community notes column, and see that your letter has been printed! And there are half a dozen new patterns for fancy-work, not to mention a heap of interesting housekeeping tips.
And maybe Tom could pick up a job as an agent for Ford? And might those new tablets get the hens laying better? Oh, and there's the next installment of that wonderful serialized novel you've been so enjoying.
That is just the beginning of the riches found in the local, regional and national papers that were commonplace in north America from the 1800s onward.
Once a month, community would be brought with the mail – a glimpse into the wider world, and connection to people you will never have the opportunity to meet in real life.
This is the power of community, and the rural country social column was one of the first ways it ever became bigger than the local level.
Imagine if they could have tweeted…
Snatching any Word of the Outside World
For most of its history, the vast majority of people in north America lived in rural environments and self-sufficiency was de rigeur. Farm work was hard, brutal and long, and there was little respite for farmers or their families.
In the years before accessible and affordable telephone service, letter mail was the only way to connect with family and friends living in different cities, states or provinces – and even mail was significantly more expensive than we take for granted now.
So enter the country newspaper. There were dozens, maybe hundreds, of these monthly publications geared towards reaching people on rural farms and in small towns.
They contained everything from serialized fiction, poetry and artwork, household tips, advertisements, and offers of employment- though not much in the way of reporting. These newspapers acted as intermediaries between letters (initially the only real option!) and magazines, which were out of reach for many families.
They were particularly attractive to (and so marketed towards) women. Men had their own publications, more traditional newspapers, and frankly, more opportunities to get out there and mingle – these options weren't open to the typical farm wife – so papers like the Hearth and Home were for her.
There was one section that really made the country newspaper something special.
The Letters Columns
Letters columns came in all shapes and sizes.
There were "connections" style columns, where people could advertise for old school friends, or pen pals. Helpful hints columns were places women could trade remedies and housekeeping advice to save each-other labour. Of course there were advice columns, then as now, as well as different sections for gardening advice, recipes, and handicrafts.
Kind of makes you think of the blogosphere, doesn't it?
Except of course – they all came contained within one document, and it only arrived once a month. I think, however, that the subscribers to these papers felt about them very much the way we feel about our favourite online communities.
Here an excerpt from the text of one woman's letter to a column called "The Mutual Benefit Society" from the September issue of Hearth and Home, 1926:
"I am a new member of this delightful circle, and wish to get acquainted with other sisters. A good friend told me what a grand paper Hearth and Home is, and I subscribed at once – am only sorry I did not know of it before. Let us all pass on the good news of it at every opportunity, by telling others about our paper we help them, as well as our generous publishers and ourselves."
Delightful circle. Other sisters. Our paper.
Reading these words – you get the feeling that the writer had learned there is someone out there who understood her, and what her life was like.
Like she wasn't alone.
The March of Progress
As time passed and more options became available, people started listening to the radio, watching television and talking on the phone, not to mention having cars and planes to get from place to place more easily, and it became easier to build communities in many ways as opposed to just a few.
And then the internet happened.
The idea of a community that existed beyond your locality – a real community filled with people you really jive with became possible between and among denizens of hundreds of countries – became not just a dream, or something hinted at by a newspaper column – but a fact of life.
We have access to more people, saying more things in more ways than at any other time in human history.
Social columns in newspapers have never really gone away – Dear Abbey and the like continue unabated, although there are significantly fewer household hints now than there used to be, but the spirit of those that have fallen by the wayside continues online.
Huge and intimate communities has never been so easy to find and become a part of – but now – there are so many, and for so many different purposes that the problem isn't being a part of one – it's being overwhelmed by the options out there!
A Person is an Island in a Sea of Noise
Blogs, comment streams on news sites, forums, the social web.
There is a community for everything, and everybody, and if you don't believe me, look up Rule 34. (Actually, no. If you don't know what Rule 34 is, you don't want to know. You've been warned.) More and more businesses exist solely online, and depend on these communities to provide traffic, relationships and customers.
It's kind of hard to compete without community – but what does that mean for users of the internet?
It means they have a ton of options. Every permutation of online communities are literally at their fingertips.
So why would they choose yours? What makes you different, better, easier, more relevant?
Maybe it's the relevancy of your subject matter, or maybe it's the strength of your character – but it has to be something.
You can't afford to skip the relationship building anymore – not if you want to be an oasis of value on the internet.
This means of course, that you can't skip knowing exactly WHO your ideal customer is. 😉
We Still Want to be Understood
People want community. People want connection. They want to know that you are real, and your other readers are real and that they matter to you.
The isolation a country farm wife used to feel is echoed by individuals across the world who feel, despite huge opportunities for connection, that they are not seen or understood.
As people who are in the business of building online communities, we have the opportunity to do the same thing that the publishers of Hearth and Home used to do: find out who wants to hear from us, provide valuable, interesting content, the opportunity for our readers to engage not just with us – but with each other.
Online communities are places to learn, places to teach, places to share and places to grow. We get to make that happen, and to do so is both an extreme privilege, and an important responsibility because they can also be places to be vulnerable, to be at risk, to be lied to and to be harmed.
An online community is a way of reaching out into the darkness and finding that you are not alone – but you'll never know if you're in good company until it's too late.
So take your responsibility seriously. Even when it feels like you're trying to attract a crowd that just won't come – chances are that someone has found you, and that you mean a great deal to them.
Don't waste that!
What online communities are you a part of? If you could design an absolutely, picture-perfect one – what would it look like?