Landing Page Design: 7 Strategies to Turn Your Boring Page Around!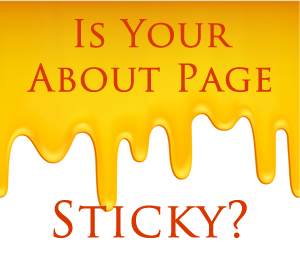 Let me ask you a few questions.
Does your About Us or landing page design give people irresistible reasons to work with you?
Will they be inspired? Do you clearly and persuasively present the value you bring to them?
If people had to make purchasing decision only on the strength of your About page would they give you $1000? Would they give you $10?
If your answer to any of the above questions is no, then you, just like I did, have some serious work to do.
And I'll be honest, I didn't want to redo my About Us page. It was hard enough to complete the first time around. It wasn't something I knew how to do and to be honest, it felt like a chore.
Unfortunately, that showed.
Sure, I had a compelling headline and a nice landing page design (I had at least learned not to lead with "About Us"!), I had some teaser content that let visitors know what I did and how it could help them and I even had a newsletter sign-up form. But it wasn't enough.
My decision to revamp my About page was made when my Google Analytics Report showed me that I was getting tons of traffic to this page. Traffic that I wasn't converting on.
You might just be losing out too!
But it doesn't have to be that way…
Your About Us Page Isn't Sticky
What do people do once they get to your About Us page? Do they get to the page and bounce off of your website? Or, do they engage with your page and begin creating a relationship with you?
The stickiness of your about us page and the level of emotion that it evokes can have a drastic impact on your financial bottom line. Don't believe me? Fine, but take into consideration for a moment the power of a great project page on a crowdfunding site like Kickstarter.com, RocketHub.com or IndieGoGo.com.
Each of these project pages is really a glorified About Us page designed to ensnare your emotions and convince you that it is worthy or your time, your consideration and your money.
Is your About Us page that powerful? Is it that sticky?
It should be.
Different Viewers Need Different Information Before They Can Know, Like and Trust You
Another word for stickiness is engagement. For your audience to really engage with you when they visit your About page you must speak in a language that they can relate to and will notice.
And most of us don't!
If you don't speak their language they will ignore you. It's not that they can't use or don't want what you have, it's that they don't recognize that you are someone that they want to know, that they might like and that they can trust.
In the past many of us were taught that a sticky webpage was a page where people had something to do. It could be anything from filling out a survey, downloading a white paper or even signing up for a newsletter.
But that's not what we are looking for on a sticky and engaging About Us page.
Make Your About Us Page the Most Interesting Person Online!
Have you ever gone to a party and met someone that has totally blown your mind? That you instantly and desperately wanted to get to know better?
I'm talking "The Most Interesting Man in the World" kind of interesting.
Chances are, you weren't the only person in the room who wanted to get to know that person better.
Well, that's what you need to do with the About Us page of your website. You need to leave people laughing, crying, inspired or in love with your company and your people.
One of the best About Us page examples I have ever seen is Zappos. The Zappos About Us page is so important that it even has its' own sub domain.
Now, you don't have to create a whole subdomain of course (unless you want to) but your About page must have a personality that flows off of the page and must holds a visitor's attention long enough to let them take the first step in forming a relationship with you.
When you are the most interesting person at a party or networking event people come to you and others follow. Secretly they hope you will ask for their card or to meet with them later. They are ready to connect.
Once you have engaged your website visitor, they are ready to connect… they can't help it. So your job is to get them to that point.
7 Strategies to Help Your About Us Page Come Alive
Creating a really engaging About page requires a great deal of thought because it is one of the most visited pages on your website. Once you can truly articulate what it is that you do in a way that enthralls others you will find that people clamor to work with you or buy from you.
Are you ready? Here are seven strategies that you can use to make your page pop!
1. Your Business Has a Soul… Find It!
One thing that I love about Zappos is that they have a clear corporate culture… a soul if you will. To find the soul of your business or blog simply answer two questions:
 How do you want people to feel?
What do you want people to believe
2. Speak to the Four Major Myers-Briggs Personality Profiles
I was introduced to Myers-Briggs by Michael Drew, a man that has a 67 out of 67 track record for getting authors on best sellers lists. In a course I took from him on platform building he discussed the four major profile types: NT, NF, SJ, and SP. If you want to get into the nitty gritty of these, just Google: Myers-Briggs.
Here's a rundown of the four major types in my own words:
NF: People that like stories and focus on relationships. Give them a compelling story to connect with on your about us page.
NT: People that prefer to listen to the experts. These are the people that want to know that you know what you're doing. So give them testimonials, examples and links to your other professional networks and affiliations.
SP: People that want things fast and fun. They may only need to read the headlines and subheads before making a decision. So make your headlines energetic and make it easy for them to figure out their next step.
SJ: People that love process, analyze, and ponder who will read the details. Who reads instructions manual? These people do. So give them a way to really dig into your company and if you are comfortable, share as much of your process and procedures as you can so they can make an informed decision
Suggestion: To help the SJ go deeper and the NT to see your worth, consider including links to articles from your blog or other areas of your website that allow them to explore
3. Use Video to Make a Personal Connection
Not everyone likes to read and most people can't help watching a video when it's sitting dead in front of their face. This applies as much to your About Us page as it does on your blog page, or even on YouTube.
To really capture their attention and to put a face and a voice that visitors can connect with, consider using a video that gives them an inside look into your company or simply about yourself and members of your team.
Suggestion: Place your video at the top of your about us page after the title and approximately 25 words of teaser content.
4. Embrace Transparency by telling a Personal Story
Stories are powerful. If you can become an expert storyteller you are always in a position to win in the market. So find the stories that show your vulnerable side, that prove that you are human and that you can own up to past mistakes or how you handled your business challenges.
Suggestion: Place this personal story right after your video.
5. Activate the Laws of Influence by Using Three Types of Social Proof
When people see that other people know, like and trust you they become more inclined to. It's just the way that we work – it saves us time in our lives!
So make use of this phenomenon by tastefully utilizing favorable comments, testimonials and your major social media channels on your About page.
Suggestion: Invite people to leave comments on your About Us page. But be careful to moderate – some neutral or even negative review prove your honesty – but too many will kill you.
6. Offer Free Appetizers That Establish You as the Expert
There are two types of freebies you may want to include on your About page: the freebie that requires opt-in information and the freebie that requires nothing in return. Simply by virtue of offering a no-strings attached freebie, people will find it a better investment to give you their name and email address.
Suggestion: Include in your verbiage that they will also receive a subscription to your newsletter.
7. Feature Other People
Nobody wants to do business with someone that isn't connected to others – that would be basically undoing the laws of influence you worked so hard to establish!
To really give people a sense of who you are, make sure that you introduce them to the other people involved in your business. You can do this by introducing them to business partners or the contractors on your team.
If you are a solopreneur and you want to show people that you have connections, consider spotlighting several of your closest, complimentary networking contacts. Be sure to get their permission first!
Suggestion: Consider using a thumbnail image to display the people on your team… especially if you have more than four people to highlight.
Implement One Strategy at a Time Until Your New Page is Born
Now that you have an idea of what you can do to make your About page pop and bring it to life, it's time for you to figure out when you are going to get it done!
In my opinion, the easiest way to transform your About Us page is one week at a time. Pick a day of the week to start and put each week's task on your daily schedule. Schedule in advance the tasks for the next six weeks – always on the same day or time, if you can manage it.
By making this a priority and scheduling your time accordingly, you will get it done.
It is time for you to build an engaging, socially dynamic About page. Who knows what kind of small business opportunities you're missing every day that you don't.
What advice do you have for people that want to improve their About Us pages – what do you most want to see in one? Want to show off yours? Pop a link in the comments.