Business Challenges: Never Give Up. Know When to Quit.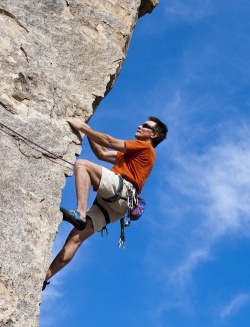 Never give up, but know when to quit. That is the paradox faced by every entrepreneur.
…
When things aren't working out as planned, do you keep at it, in hopes that it will get better, or do you give up and look for greener pastures?
These are questions that Danny addressed several weeks ago in his post on Ceaseless Striving, and Giving Up.
But how do you know if "things aren't working out as planned"?  The obvious answer is to compare your results to your plan, but don't plans sometimes need to change?  You certainly know more now than you did whenever you formulated your plan, right?  What if things are working out as planned and still, something doesn't quite feel right?  What if despite finding some success you find yourself constantly fighting doubts or battling procrastinating?
In other words, how do you know if you are on the right path? Much small business advice presumes that the path you choose doesn't matter…your goal is just to start a business, any business.  You see this attitude frequently in advice that tells you to focus on execution.  A recent entrepreneur.com article advised the following:
Pick a business that has established demand and entrenched competitors. Choose something simple that you are passionate about and can do well. Then, focus on execution. Finally, select a business idea that can succeed on a small scale even if it doesn't hit it big.
There author does give lip service to picking something "that you are passionate about", but that is all it is.  The remainder of the article focuses on every point in the above quote except following your passion.  What do you do if you doubt your motivation to relentlessly focus on execution?  How do you detach from those doubts and focus on the needs of the business? How do you overcome your business challenges?
I agree with the premise that there is no ideal path that will leave you free from doubts, but there are definitely wrong paths.  Sometimes those doubts are pointing you towards valuable information. It's crucial that you know when to give up and know when you have given up. Further complicating the situation, sometimes the right path can feel like the wrong path if you can't adequately rationalize your decisions.  While simply deciding to commit may work in the short run, in the long run your doubts will fester and you may find yourself tempted by increasingly radical alternatives (anyone want to open a surf shop in Brazil?).
How do you know when to listen to your doubts and when to detach? How do you achieve peace of mind and simply focus the here and now?  Here comes the controversial claim, brace yourselves:
Detachment is a myth
The Zen masters in the audience will surely disagree with me, but I think everyone else will find that this makes some sense.  As human beings, we are built for attachment by our very nature.  Our genomes are the product of an evolutionary process that demanded fitness in survival and reproduction.  In other words, we are built for attachment to survival and reproduction.  Our ancestors would not have lasted very long if they were able to easily set aside feelings of anxiety when they were threatened.  Now, as highly evolved, conscious, and introspective beings we can direct our attachment towards chosen goals, like growing a small business, and away from others (doubts)…but, that redirection is grounded in attachment, not detachment.
By way of analogy, consider the common psychological demonstration in which people are asked not to think about pink elephants.  Of course, the more you try not to think about pink elephants the more you are in fact thinking about them.  The only way to stop thinking about pink elephants is to think about something else, something more important.  So it is with detachment from your doubts and second guessing…
The Illusion of Detachment in Common Conversation
If you closely examine the people who seem superficially detached you will find, seemingly paradoxically, that they are actually the most attached.
Suppose you get involved in a political debate.  Several people begin to get defensive and adversarial while one person sits quietly off to the side with a bemused look on his face.  Who in this group is most attached and who most detached?  On the surface it would seem that the people involved in the heated debate are most attached, but is that really the case?  It is more likely that they are only acting the part to disguise fear that their supposed attachment is not well founded.  It is the stoic, quietly observing from the periphery, who appears detached because he is most secure in his attachments.
Likewise, it is the entrepreneur who is most attached, who is most secure in the path he has chosen, who is able to practice detachment when faced with the day to day uncertainties.  It is the person who has analyzed his doubts and understood them, who is able to move forward like clockwork, never second guessing himself.
Putting It Into Practice
So now we are back where we started.  How do you develop confidence that you have chosen the right path?  Unfortunately, I can't answer this for you.  If I did, you would be substituting my personal rationalization for your own…and you won't necessarily find any peace of mind through my conclusions unless you rationalize them for yourself.
One of the fundamental premises of the Getting Things Done productivity system is that you can't fool your own mind:
You can't fool your mind. It's an expert on your current personal management system, and it knows whether you can be trusted to look at what you need to at the appropriate time.  It knows if you've decided what the next action should be. And it knows if there is a reminder of that action placed somewhere you will actually look, when you could possibly take that action. If you have not done any of that, your mind won't let it go. It can't. It will endlessly keep trying to remind you of what to remember. The mind is a loyal and dedicated servant, but it needs to be given the jobs it does well–not the ones that it mismanages. (Emphasis mine)
The same applies to choosing your direction, setting your goals, achieving peace of mind, and conquering doubts.  You can't skip the hard work of introspection without consequences.  You may be able to ignore the voices in your head for some time, but they will eventually come roaring back at the worst possible times.  That is, until you make peace with them…
The most concrete advice I can give is that confidence and peace of mind start to grow when you get out of your head and start exploring.  The problem that most of us experience is not lack of decisiveness but lack of experience.  We are inundated from the earliest ages with textbook knowledge and conflicting advice without any experiential context to provide perspective.  Once we get out of the classroom and start living for ourselves, we rarely have trouble discerning what feels right and what does not.
If you are having doubts, give yourself permission to experiment.  Put this exploration in the proper context…your goal when you experiment is to find direction, not to be perfect.  A "failure" that helps you find direction is a success.  If you are the type to question everything, then accept that this is a necessary process.  You are not wasting time or falling behind…you are performing the due diligence that will soon empower you to press forward with conviction.
What have been your most persistent or challenging doubts?  How have you found the peace of mind to push forward?