Optimize Your Mobile Website to Boost Conversions
Mobile browsing is growing into new ecosystem that has its own set of laws, structures, and appearance. As mobile technology continues to grow globally, a site that does not have a separate strategy for mobile may be comparable to a marketing agency that provides the same service to each client.
The best part is many companies have still not created a unique strategy for this ecosystem. Therefore, your company may harness the shifting market in order to have a powerful mobile experience for customers that your competitors fail to deliver.
The following tips are ways that you and your company can quickly get up to speed and improve its performance by adopting a strategy for mobile technology.
Tip One: Have a Responsive Design
The first step in the revolution to mobile website optimization is to ensure your site is compatible with all mobile technology.
You can achieve this by making sure your website is fully responsive meaning that the website shape adapts to the screen size any mobile device your visitors may be using.
While many newer website templates on the market are compatible with mobile devices, older websites that have been created before mobile browsing are often incompatible. Research suggests that users are more likely to spend time on a website and engage in transactions if the website is compatible with their device.
If you are thinking that you do not have enough traffic from mobile devices to make a difference, think again. On April 21 of this year, Google started weighing "mobile friendliness" as a ranking signal for organic search rankings.
This means that if your competitors are ranking higher for desktop keywords and do not have a mobile website, you could potentially rank higher for the same keywords from mobile users if your site is responsive.
Determine if Google has penalized your site by using Google's Mobile-Friendly Test.
One of the easiest and fastest way to make a site responsive is to ask your site's or theme's web developer. Many mobile developers use frond-end frameworks such as Bootstrap or Foundation, if the responsive design is not part of the foundation of the site to begin with.
You can also find sites that will show you how your site looks on different platforms, like MobileTest.me.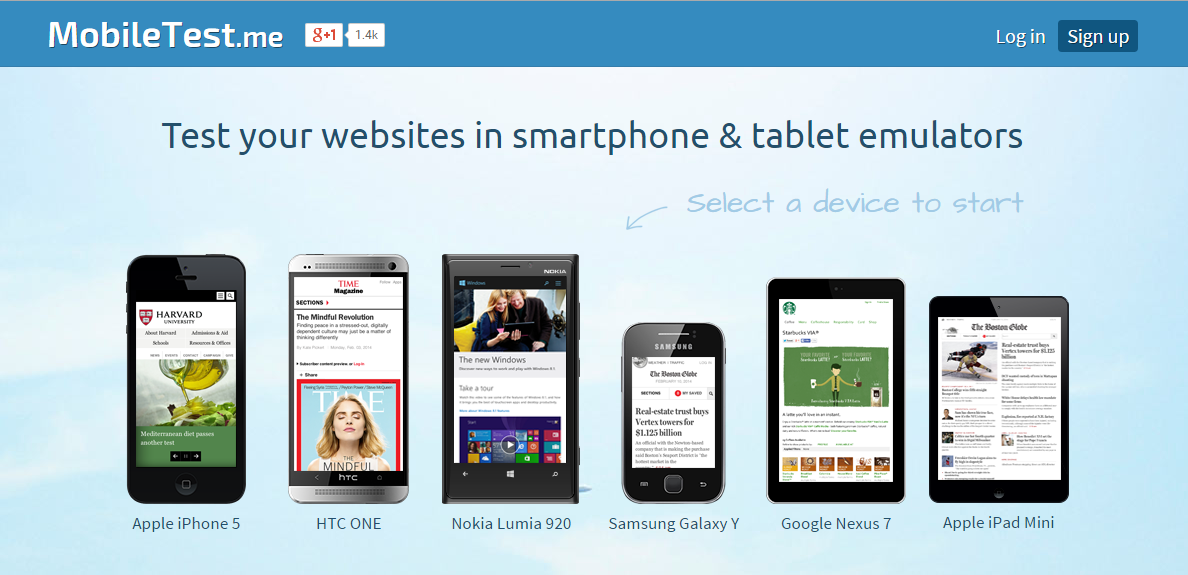 One example of a poor responsive design is this website for business plan writers. If you visit with your web browser and alter the screen window size, the site does not properly adjust.
This is an initial indication that the site will not function properly on a mobile device. A proper responsive design would adjust all image and text size relative to the dimensions for your browser window.
Visiting on a mobile device, the website renders the same view for users on a full desktop. Maneuvering the website is time consuming and visitors are more likely to continue searching for writers on another website.
This company should alter its site to include a fully responsive design that conforms to browser and mobile technology screen dimensions.
However, an example of a good responsive design is Starbucks which has the objective to build brand awareness for new customers and loyalty for new ones. Each mobile device displays a different web page, depending upon the size of the browser window.
The menu is omitted in the phone option, and the user must swipe right to see additional content, rather than scrolling on the tablet and desktop versions. Information is also re-organized so that that mobile sharing features are either integrated with the browser, or in a different location in order to focus on the content the company considers most important.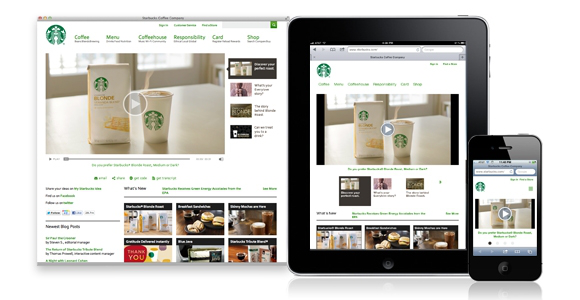 Tip Two: Utilize Mobile Analytics
There is an expectation that your company is already using a website analytics service such as Google Analytics or Alexa. However, you may not be properly separating the analytics from each mobile technology to understand user behavior from each device.
Google Analytics does a great job in helping companies understand key metrics that can improve conversion rates site-wide. What most companies do not know is that they have a separate platform for mobile applications and provide the ability to separate traffic flows from each device.
You can also check out Woorank Blog recent article analyzing the top twenty mobile analytics tools.
Tracking your mobile analytics is important because if your website has a very high bounce-rate, you could be attempting to modify the landing page for a desktop browser when it is your mobile site that is driving down your metrics.
You may also find that mobile users interact with your website differently, which can help you to perform A/B testing specifically for mobile visitors. There are plenty of free and paid options available to set up A/B testing for your mobile site.
When you engage in mobile analytics, it also helps to get a clearer picture of the overall visitor behavior. If your company has a separate mobile application, the data from users may be applied towards creating future applications or enhancements that will have a direct impact on conversion rates.
The best approach for working with any analytics is to have a goal in mind. We have seen companies that establish sophisticated data dashboards and are monitoring every aspect of the user interaction with their website.
However, they often forget to take the first step and determine what data is needed to solve a problem. In this case, the problem that we are seeking to solve is improving conversion rates for a mobile website.
Tip Three: Have Simple Calls to Action
Consumers frequently interact with mobile technologies during the day. This often means that they are engaged in other activities aside from paying their full attention to web browsing.
Unlike desktop users, mobile users may visit your website while they are engaged in any number of activities. Your next visitor could be waiting in line for a Carmel Macchiato or secretly shopping for her friend's bridal shower during a boring Monday meeting — It is ok, we do it too.
Having a simple call to action means that it minimizes the amount of steps that a user must take to get a conversion. Popular technologies such as click-to-call integrate well with mobile websites and make it easy for potential customers to quickly get connected with a sales rep.
But if your user must read through all your site copy and visit multiple pages to speak with someone, as is common on many websites, your potential for generating mobile conversions may be reduced.
For instance, check out this example found in Smashing Magazines post, From Monitor To Mobile: Optimizing Email Newsletters With CSS.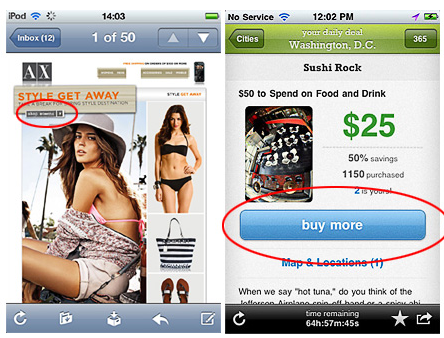 The CTA on the site on the left is buried and easily missed by a user on their phone. But the one of the right makes it easy for the user to "buy more."
Following tip two and monitoring your mobile analytics will help you to establish effective calls to action. As you create your mobile ecosystem, there is a good chance that you will not get it right the first time.
And even if you manage to get it right, the environment is constantly changing and demands your adaptation. Consistently test your mobile CTAs and the process that users follow when on your mobile website to create a conversion.
Remember that for many companies, mobile browsing may be different than desktop browsing. A conversion for desktop visitors may not be the same as a conversion for mobile.
If your checkout system for new users is long, perhaps the goal should be a simple subscription to a product newsletter or phone call to the sales department.
Tip Four: Integrate Sharing Features
Remember, your visitors use their phones and many other mobile technologies as communication devices. Unlike a desktop PC where a visitor may be browsing while on a work computer, mobile technology is naturally synchronized with social media.
This makes allowing users to Tweet, Facebook Post, and Instagram the new spring outfit they purchased to all their friends. Even if mobile visitors do not fully checkout, they still have the capability of sharing their experience online by reading your blog or viewing products.
Your next potential customer could be on a social networking website while browsing and see the post that a mobile window shopper shared.
Sharing features should already be embedded into your company's ecosystem, but its value is potentially magnified when dealing with mobile. A factor to consider when integrating mobile sharing features is how your target demographics use various social media platforms.
And keep in mind that some people may use social media differently when on their mobile devices, versus desktop platforms.
According to Twitter, 47% of their users are less likely to use the platform on a desktop. In contrast, only 30% of Facebook members use the mobile application. These statistics are for the overall average, the actual percentages will depend on the demographics that your website is targeting.
Mobile strategy has created a new ecosystem on the digital frontier that your company must understand in order to remain competitive.
Click To Tweet
We have outlined a number of changes that your organization can make in order to outperform in the quickly moving market.
The fundamental requirement is starting with a responsive design, backed with mobile analytics that you monitor and track separately from desktop visitors. Your goals are within reach if you modify sharing features for mobile visitors and create simple calls to action that are mobile specific.
However, remember that all ecosystems remain dynamic, and your company's mobile strategy should too.
How about you? Do you have or still need a mobile strategy? Let us know how you are keeping up with Google's most recent change in the comments below!