6 Reasons Your Online Courses Are Turning Students Off
The global revenue earned from corporate online courses was expected to reach over $107 billion last year. This doesn't even touch on distance learning outside the corporate training-sphere.
Now, there is a right way and a wrong way to create online courses, and it's clear that you want to do it the right way if you want a slice of the multi-billion dollar pie.
If you've found yourself wanting to throw in the towel because your learners aren't engaged enough, don't do it just yet. There is a lot you can still learn to help amplify your courses.
Here's what turns people off about online learning.
Click To Tweet
1. They Don't Actually Like Learning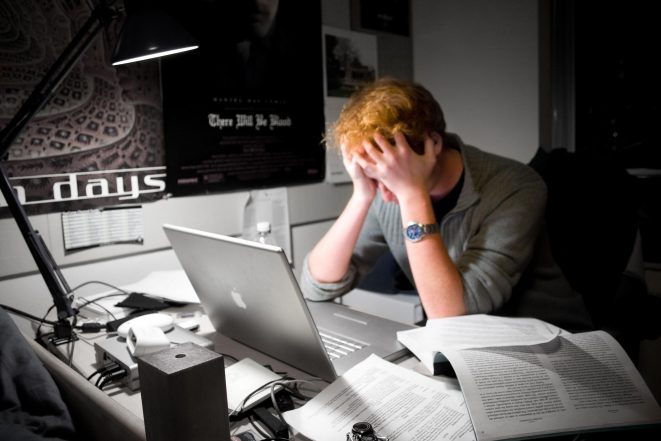 A huge percentage of people simply hate learning. They despise it because they are conditioned to expect the boring and coercive educational setting they experienced in school.
You can't change them, but it's surprisingly easy to woo these folks. All you need to do is engage them with positive emotions and reliable technology.
In face-to-face communications, emotions are rampant. We pick up on each other's body language, tone of voice, and facial expressions. With online learning, you have much more control over the environment than you may think. Here's how you can make people who hate learning happy in an online setting:
Leverage software that is reliable and doesn't time out or cause unnecessary frustration.
Maintain an upbeat tone in audio and smile in videos.
Make use of colors like blue or yellow in your course materials.
Use positive language in written materials.
Here are the top three search results on Udemy for "social media." Notice the use of the color blue throughout each course screenshot?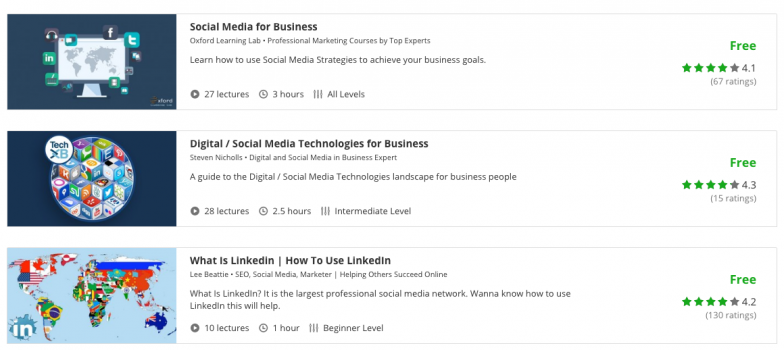 By integrating these tips to elicit positive emotions throughout your courses, you'll be ahead of the game as you drive learners into an exciting and fulfilling experience of your lessons.
Integrating these tips throughout your online courses put you ahead of the game.
Click To Tweet
2. Your Course Has Too Much Writing
Consider integrating a variety of media into your online courses if you really want people to learn at an optimal level. Your audience will absorb 55% more visual and verbal data than written data alone, even after a three-day period.
Combining video tutorials, infographics, podcasts, and other visual and audio presentations are a notable part of what makes eLearning so disruptive.
When your course is more than 50% text, keep in mind that your students will be spending the majority of their learning time reading, and this is counter-productive. After all, eLearning is about engagement.
Online course creators beware: are you making these mistakes? Click To Tweet
So, if you are one of the unsuspecting instructors or course creators who has over-stuffed your segments with text, start swapping it out for alternative formats today.
3. You Aren't Providing Immediate Gratification
Online learners, specifically professionals and those taking career training courses, are instantly turned off by lessons that don't deliver immediate results.
For example, if you have retail sales workers taking marketing courses, and the data you are providing does not help with their work immediately, those learners are likely to lose motivation for your course.
So, make sure that you're creating courses that can be used right away to help alleviate your learners' pain points.
Click To Tweet
4. You Don't Understand Your Students
According to Bryant Nielson, Technology Enabled Learning Strategist, employees are saying, more often than not, that they want training. Some companies are even losing employees because of a lack of training.
So, if you're not retaining your students, then you need to take the time to get to know them better.
Send out an email blast with some questions to help you get to know your audience. Create surveys and encourage discussion on your course pages. Then, listen to what your learners want, and start applying your new understanding to your courses.
5. Your Learners Aren't Involved in Course Creation
CareerBuilder conducted a survey on what truly motivates workers. They found that 48% of employees would like to be asked for feedback and have their ideas used in business strategy. In fact, choice is a better motivator than monetary rewards. Start involving your learners in the creation of your courses. This will open the floodgates to an optimal learning environment.
Include questions and conduct surveys at the beginning and upon completion of your courses. The initial questionnaire should ask students what they expect to learn and how they will use their new understanding.
When you have the opportunity to question them again later, you should ask them to evaluate your course. Then start planning and implementing changes based on learner evaluations. Finally, reach out to those who provided the most valuable advice and thank them. Your gratitude will speak volumes.
6. You Aren't Using Adaptive Learning Tools
Online learners and other technology users crave a personalized experience online. This is why Amazon.com is an outrageously successful eCommerce platform.
Interactions online, specifically those that are learning-centered, are difficult for the simple fact that face-to-face contact doesn't exist. Intuitively, we're wired to interact and learn based on cues.
So, the best way to ensure successful learning is to mimic those cues with technology.
To do this, start using adaptive online tools: entry-level and advanced tools that help modify what's presented in your courses in response to student performance. This is how you will cater to what your learners want, exactly when they want it on their stage of the learning journey.
There are 4 main cues set in place by successful adaptive learning tools, so be sure that your software allows you to leverage all of them:
Priming – Acquire and quiz knowledge levels to avoid sending redundant and irrelevant messages.
Feedback and Spacing – Provide feedback immediately, but time consecutive learning modules with sufficient space between them.
Confidence and Emotion – Trigger confidence through self-assessment of understanding of the information being presented.
Visual Cues – Use visual cues (such as a green light or check mark) for correct answers to amplify knowledge attainment.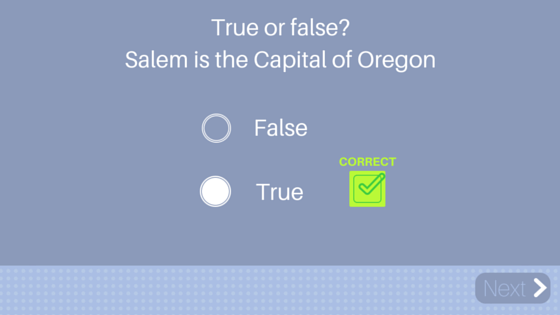 These learning cues have proven, time and time again, to help learners on the path to understanding. Leveraging all of them in your eLearning efforts will ensure both individual understanding and course retention.
Leveraging these learning cues in your online courses will ensure both individual understanding & course retention.
Click To Tweet
What You Can Do to Create More Engaging Courses, in a Nutshell
Before you make the decision to throw in the towel and give up on eLearning, take some time to give your course a truthful evaluation. Determine whether or not your courses are providing the type of experience that learners really want.
If you haven't already done so, start integrating adaptive learning tools, emotional triggers, and a variety of media into your lessons.
Communicate with your learners to find out what they want, and make changes to your course modules as needed.
Ensure that the information you deliver is reaching the right learner at the right time.
Do you have a hard time keeping your online course students engaged? If so, which of these pointers do you think will make the biggest difference?
Get the Cheat Sheet To Keeping Your Learners Engaged!
Increase your learners' success by keeping them engaged and actively learning.