Niche Marketing Strategy for Building a Profitable Online Business While You Sleep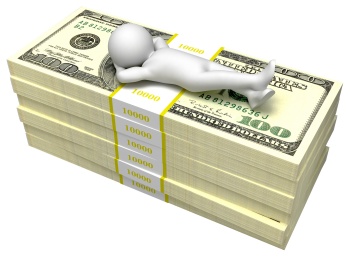 When people hear that they can build a profitable online business, that can be run from anywhere, and will bring them money while they sleep, they think it has to be a hoax.
That's probably because one too many sleazebags have made it sound like a total breeze to do. Just buy their product, follow their formula, and you too can get thousands of qualified leads knocking on your door to buy that thing you have, and a profitable online business will ensue.
Their sales pages are covered in tacky large red front, with big 'BUY NOW' 'Limited Time' offers, garish images of beaches and coconuts, or people rolling in money, or better yet, the five figure affiliate check that they earned last month.
This is, of course, accompanied by the longest story in the history of the world, of how they were down and out too, sick of their 9-5 job and dealing with massive credit card debt. Then one day a young green leprechaun came along, gave them a Guinness and showed them the world of internet marketing, and a profitable online business was theirs!
Ok so the last part is not true, but the point is you're hooked. If they can do, it so can you. And without sounding like a scam artist, I'm here to tell you that you actually can, using a pretty palatable niche marketing strategy.
But you don't need the tacky sales copy, the in-your-face marketing tactics or the grey pop up that flashes "Wait, are you sure you want to leave this page? If you buy now we will kiss your butt forever!"
It's Not Rocket Science!
In fact, just follow this formula (feel free to use this to your heart's content, there's no charge, no affiliate link, just plain sense, and a really good niche marketing strategy):
Your Sweetspot + Niche Market Need + Timeless Marketing Principles = A Profitable Online Business
The online internet marketers that we all love to hate are likely making money using this exact formula. They know the psychological triggers that make people buy, the buzz words that create the feeling of urgency, and the story they need to tell to pull at your heart strings and make you push 'Add to Cart'.
They're just doing it in way that I personally don't respect.
What they have done, though, is understand their sweet spot, which target market has a need for the solution they offer, and how to market to them.
Let's break this down:
Your Sweet Spot
I love helping people find their sweet spot. It's a conversation that I engage in with complete strangers who say "Oh I'd love to do what you're doing, travelling the world and running your business, but I'm just afraid I have nothing to offer. I'm not an expert at anything. I'm not really that good at any one thing either."
I ask these three simple questions to discover their sweet spot:
What do you already know?
What are you good at?
What do you enjoy and love doing?
The intersection between these three things is your sweet spot. Sound too easy? Well it isn't. It's just that most people do not take the time to write this down and get really clear about what is it they know, that others don't, but would like to, and would even pay you money for.
Let's say that you love to cook French food. Your friends are always asking you for your recipes or how you made that dish so succulent. They watch you in the kitchen and marvel at your natural ability to just put in the right ingredients, at the right time and make it look effortless. You dismiss it as "just a dish I made for this dinner party". The same dinner party your friends would never miss because they enjoy your cooking that much.
Lightbulb Moment:
Video yourself making these select dishes, profiling what ingredients you're using, the right elements to make this taste amazing, your secret tips you never share with anyone.
Get it produced (outsource to a video expert for a reasonable price).
Get transcripts made of your video. Turn this into a guide book to go with the video.
Do a series of 5 videos. Package these into a `How To Become An Expert At Cooking French Style'.
Create a great landing page using WordPress or Unbounce, and hook the Buy Now button up to your PayPal account.
Add in some images of your amazing dishes (bonus points for dinner party shots).
Get testimonials from all those friends who came to your dinner party.
Spread the word any way you can – emails and social media, and ask your contacts to do the same.
Price it at $97 and sell 10 copies, and you've made your first $1,000 doing something you have done all along!
Niche Market Need
Yes Natalie, but how do I know who would buy it?
Great question. You need to clearly define what your niche target market is and who actually needs your solution and would pay for it. Note that I didn't say "just find a market that you think looks interesting". You need to find the ONE person with the pain of being a lousy cook and the love of French cooking.
How do you do this? There are so many ways and I could not possibly go into them in one paragraph. However, the simplest ways to do this are:
Do a search on Google. Type in the phrases and words that YOU would use to find your product. You will see the number of search results that come up, the number of advertisers catering to this and if it shows a positive result, as in lots of people are searching on it then there is a market.
Search on eBay. Looking through directories like that on eBay is a great way of conducting research. Look under top category keywords and find out what people are looking for. There is even a page on eBay that lists the hottest or most popular search terms and categories of products people are searching for.
Search Shopping.com. This site is a lot like eBay. On the left side you will see a list of categories, and you can also find out what the top searches are on this site are, too.
When you're searching have to go even more niche. Food and cooking is way too broad as a category. You need to get really defined on exactly who you are going to sell this too. 'All beginner cooks' is not a niche.
'Single males aged 24-29 who want to impress attractive young ladies by cooking French cuisine and learning how to do this within a day, because their date is just days away' is. Once again you can do your search and see how many people are searching on keywords or products that your ideal customer wants and if it's still looking healthy then you may be on to a winner.
Timeless Marketing Principles
So I appreciate that the above is very simplistic, but often people overcomplicate this step, or worse yet they don't even do any research. They produce something and assume there's a buyer for it. Never, ever do this.
Once you've found a potential niche, you need to know how to speak to them, and how to market to them so that they will literally eat out of your hand (pun intended). You can do this by building an avatar of who this person actually is. You need to learn the timeless principles of marketing.
You can start with psychographic marketing – an often overlooked but critical component.
Most marketing involves certain demographics, which refers to factors such as the age, location, marital status, ethnicity and religion of the person in question. Psychographic marketing goes beyond this to ask questions of the lifestyles, behavior and attitude of the person in question to build up a more detailed picture of who they are. These tend to be directly related to consumerism, and the type of products that people prefer to buy based on their lifestyle choices.
The minute you know and can picture the person who wants to buy what you offer, the better you can speak to them. Your messaging, branding, tone and story will be shaped around relating to them on a one on one level. It becomes that much easier!
When you do finally launch your killer product you will reap the results and see why it's so important to build on the above 3 areas to ensure you build a profitable and thriving online business.
If you feel you need some serious help with the above then "do I have the deal for you!" 😉
Actually I really do. My tribe asks me about this all time, so I've done something about it.
Together with my partner in crime, Natalie MacNeil, I've created a kick ass 6 month program called WE Mastermind designed to turn you into an online business maven, creating profitable products and services based on what you love and do best.
It's pretty much the perfect platform from which to launch your first product and profit because you not only get 12 killer modules that take you through every aspect of running a successful online business, but you also get an accountability partner to hold you to taking action and a mastermind group to ensure you see real results.  🙂 (If this one isn't for you – you can also learn how to start a mastermind group of your own!)