Blog Marketing Success: Behind the Scenes of a Multiple-Six-Figure Blog or "How Mirasee Works!"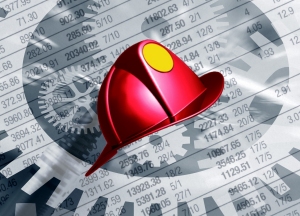 Note: Since this post was written, many of our training programs have run their course and have been superseded by some other really amazing training programs. Check out some of the products we've launched since then: the Audience Business Masterclass and Campaign Mastery! 🙂
Tell me if this sounds familiar:
Someone asks you a question that you should totally know the answer to, and be able to explain without batting an eye.
But when you start to answer, you stumble over your words. You explain things in the wrong order, give too much information, and still manage to leave out some really important stuff!
It's awful to watch the person you're talking to go all glassy-eyed with confusion, and try desperately to change the conversation back to something, anything that might make more sense.
Has that ever happened when you're talking about your business?
Yeah. It's not good, but it happens.
It happened to Danny and me just a few weeks ago…
This Really Shouldn't Be So Hard to Explain…
I mean, come on, we work with this stuff every day. Not to mention that we're in the business of explaining how business works!
Okay, let's back up. Here's what happened. You probably know that we've recently taken on some new staff at Mirasee. Onboarding is a process that can be challenging for any company, and one of the first things is an explanation of the "big picture" – why we do what we do, and how all the different pieces fit together.
Danny and I sat down with Robyn and Amanda, and he started explaining the different paths into and out of Mirasee; all of the free stuff, all of the paid offers, all of the past successes (and failures!), and the long term goals of where it's all heading.
Robyn and Amanda are fantastic sports, but *I* was confused trying to help explain it, so I can only imagine how they must have felt.
The fact is that there is a LOT going on here, and I don't think either Danny or I had actually sat down to flesh out the whole picture in quite a while.
So explaining it all was a little bit… messy.
But It Really Has Gotten Complicated…
Mirasee and all of the associated products and brands – like the Naked Marketing Manifesto, Write like Freddy and Engagement from Scratch! – grew out of each other and out of feedback from our community and customers. The whole process was very organic, and so, while everything really does fit together (we swear!), explaining how is on the complicated side.
We started fleshing it out, and after several iterations, arrived at a flow-chart that looked something like this: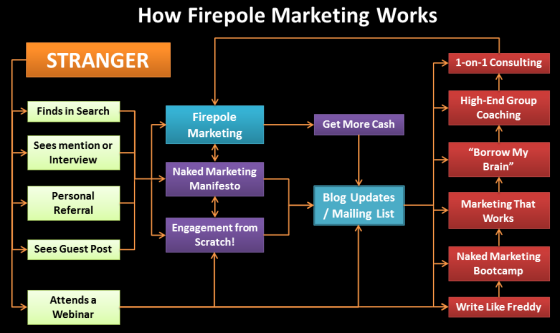 This diagram illustrates the different ways in which a total stranger can get "in" to Mirasee, and how the relationship might progress (assuming they're a good fit for us, and we're a good fit for them).
There are a few steps in the process: discovery, involvement, engagement, and finally commitment:
Discovery. The first thing that has to happen, of course, is that we have to get onto people's radar. They might first stumble onto us through a random Google search, follow a link from a friend, another blogger, or from a guest post, or they may attend a webinar that we've put on for a partner.
Involvement. That first contact will lead them to one of three places; the Mirasee blog itself, Engagement from Scratch!, or the Naked Marketing Manifesto (and in case you're wondering, yes, even the webinars we do with partners don't lead directly to a sale – we first invite registrants to download Engagement from Scratch!, so that we can begin a relationship with them).
Engagement. If someone visits the blog and likes what they see, we hope they'll sign up for some of our free resources. When folks download Engagement from Scratch!, or join the Naked Marketing Insider's Club (after downloading the Manifesto), they get added to our list, so that we can start a conversation with them – share more about us, offer more advice and information, and deepen the connection.
Commitment. If someone's already engaged with us, the logical next step is to make a deeper commitment. We're against the hard-sell here, and never push something on someone who isn't interested or ready – and the beauty of this engagement model is that we really don't have to, because people come to their own conclusions soon enough, and start buying the things that we have for sale; like Write Like Freddy, Marketing That Works, a consulting session with Danny, or one of the higher-end coaching or mentorship packages that we occasionally offer.
As you can see, there's a logical progression here, and it doesn't just disappear once we've made a sale. When someone becomes a student of ours – whether it's through Write Like Freddy, Marketing That Works, or more direct work with Danny – we like for them to stick around on the blog, in our list and in our projects, our students are, across the board, really great people to know. They're all going big places with their businesses, and as they grow in their learning, the opportunities for us to help them (and for them to help us!) keep on growing.
Okay, in case this sounds just a tad bit complex (it does to me!), here are a couple of examples…
Two Examples (Out of Thousands)
To make this all a little easier to grasp, we've made up two fictional (but representative) examples – Gary, and Isobel. Let's start with Gary:
Gary is a regular reader of Copyblogger, who notices a guest post by Danny. He clicks through to the Naked Marketing Manifesto page, and decides it's worth a shot, so he downloads it, and joins the Insider Club for good measure. After reading it, Gary thinks "Okay, this is good stuff, I want to learn a little more." So when he gets an email from Danny a few days later, he opens it, clicks through to the blog, and leaves a comment asking a question that's been on his mind. He gets a personal answer to his question, which makes him feel good, finds that the other commenters are interesting and insightful.
A little while later, Gary gets an email about a free live training event that we're putting on – maybe it's our Fast, Effective Writing webinar – so he registers, and decides to attend. Gary really likes what he sees, and decides to join us in the Write Like Freddy program.
Gary works hard on the content in the course, and expands the reach of his own blog in the process. He decides to try his luck, and pitch us on the idea of a guest post. Write Like Freddy students produce some of the best writing in the blogosphere, so we accept the post, and it goes live on the site – now it's Gary who's responding to comments and sharing his knowledge!
Now let's turn our attention to Isobel, and how she discovers and connects with us:
Isobel first hears about Mirasee because she's subscribed to the mailing list of one of our affiliates. She gets an email advertising our Fast, Effective Writing webinar, and decides to attend. She enjoys the content, but decides that the Write like Freddy program isn't right for her at the moment. She is impressed enough, though, to give some extra attention to the emails that Danny sends her in the days ahead.
She reads articles as they are published out on the blog, and once in a while, participates in the comments. At the same time, Isobel is hard at work on her own business, but she has a few issues that she keeps getting stuck on, and so finally decides to reach out to Danny with a question. Danny solves her problem, and she is able to get some good traction, so when a more complicated issue comes up, she doesn't hesitate long before booking a consultation.
A little further down the line, when the opportunity presents itself and her business is ready, she decides to sign up with one of our high-end group coaching programs, so she can have access to Danny's expertise whenever she needs it. As part of the group coaching, she meets several other entrepreneurs in complimentary industries, and expands her professional network. The next time she's speaking to someone who needs help with their small business, she doesn't hesitate to recommend Mirasee.
Now, of course, these are examples of good fit – not everyone advances all the way from hearing about us to buying lots of our stuff… and that's totally fine, because Mirasee (like any business) isn't for everyone, it's just for the people who are right for us, and who can benefit from what we have to offer.
So… How Do We Make Money?
Danny gets asked pretty frequently how Mirasee is "monetized", and with good reason – it's not a lot of two year old blogs that generate multiple-six-figures in revenues!
So without further ado, here's a rough breakdown of the different channels through which the money comes in:
This isn't a super exhaustive or precise representation, but it gives a good idea of, overall, of where the money actually comes from:
Products represent about 30% of our income. This is stuff like Write Like Freddy, and Marketing That Works.
Services represent about 60% of our income. This is the biggest chunk by far, and it consists mostly of high-end coaching and consulting services that Danny offers.
Affiliate sales represent the last 10% of our income. This is usually training programs that we recommend, like Corbett Barr's Start a Blog That Matters, but also includes services that we use and recommend, like AWeber or Visual Website Optimizer.
So that's how it all works, leaving just one last question…
This is a FANTASTIC Problem to Have… Do You Want It? 😉
So this, in a nutshell, is how Mirasee works as a business.
It's a constantly changing process, with new products, and services, free offerings and projects popping up all the time.
Now, I have to be honest – writing this post wasn't anywhere near the easiest thing that I did this month! 😉
I'm not complaining, though, because as complicated as it was, it means we've got a great business here – one that is growing, changing and making a difference in the lives of our customers.
And I'm guessing that if you've read this far into the post, then creating this sort of thriving, profitable business is probably something you spend a lot of time thinking about too.
Isn't it? 😉
When was the last time you mapped out your business process? Care to share how your business works? I'd love to hear about it, so tell your story in the comments!