Mobile Advertising Trends That Matter to Online Marketers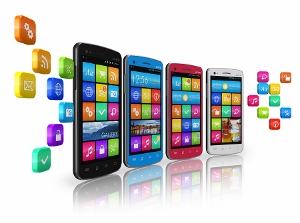 You see these small Ads on your smartphones; you see large businesses and retail stores with their attractive ads… and you wish your small business ad was up there as well, but aren't sure where to start in mobile advertising. You have this sense of urgency about jumping into the bandwagon and don't want to miss this window of opportunity. Maybe you're having sleepless nights thinking about how you can get in on the action!
Then again, perhaps you aren't certain whether to plunge in into the mobile ad game at all, and you have lots of doubts regarding the future of this Ad module. You don't know which reports to trust on mobile advertising- the positive or the negative ones.
We are in an era where the whole world has gone mobile. Most of the world population, at least in the first world countries, are glued to their smartphones, iPads and tablets. Mobile conversion rates are now higher than ever before. Recently Millenial Media, the largest mobile ad network around announced that it has acquired the ad network Jumptap. So you just have got to get on the band-wagon and start getting record ROIs, right? Apparently, it's not so easy to make it big in the mobile world. The mobile Ad ecosystem is not as streamlined or user friendly as the browser-based ad ecosystem is.
When companies think about mobile advertising, they try to figure out how they can get their product noticed in a way that will make people want to click on whatever type of ad they use. This is tough, though, because you have to know how people will react to the ad based on what they are currently doing on their mobile devices.
Knowing how different types of ads have been faring can give you a better idea of how to approach your mobile ad campaign.
Know Your Mobile Advertising Trends
For a successful mobile ad campaign, you have to know all the hard facts about mobile advertising. Below are some of the most popular ways to advertise on mobile devices today along with a briefing of their current success rate.
Targeting is everything. By focusing on the users who are most likely to click on your Ads, and more importantly, result in conversions, the San Francisco-based maker of a mobile ad platform, Apsalar, raised $9 million. Takeaway: Understand the demographics of your customers first, then design the ad.
On an average, 64% of mobile phone time is spent on apps. The product ads that you see on just about every app and website on your phone that direct you to specific items lead to close to over 7% of the sales through mobile advertising. Takeaway: Tying up with app creators to place your ads is a good mobile ad placement policy. Try to find apps that are related to your product.
How many users view and respond to mobile ads? According to consumer research by The MMA and Lightspeed Research in France, UK and Germany, around 45% of the consumers, especially the younger crowd, noticed mobile advertising and almost 29% reacted to it. Of those that responded, the ensuing went ahead with a purchase: Germany 49%; UK 47%; and France 22%. Takeaway: If your business is based in Germany or UK, take the mobile ad route NOW. Also target the younger crowd if possible.
Social networking apps are really stepping up their game in the advertising world. Not only do companies promote themselves through these mediums, they also have plenty of leads directly from their customers' likes on Facebook and retweets on Twitter. You may think that those are the top two social networking sites as far as advertising goes, but Instagram actually has a 20% click through rate, which ranks it number one right now. Takeaway: Go social, and think beyond Facebook. Ads on 2-3 social media platforms at once should work well for your business.
Smaller ad sizes continue to rule the roost in terms of advertising spending on mobile, with 320×50 ad placements dominating over 53% share of all ad spending on MoPub's network. The most popular ad types are the ones that open up when you put your finger over them. People respond well to them because they are unobtrusive and have a clear message, unlike blinking animated advertisements. Expandable ads make up almost 70% of the click through rates amongst all ad formats. Takeaway: Remember that most people consider ads on their mobile phone screens to be intrusive. Do not spoil the user experience with large ads, as annoyed users would just overlook them. Being concise and being clear are both very important in case of mobile ads, as the space available is very limited.
It may seem annoying sometimes, but gaming ads actually have over a 16% click through rate. The fact that most advertisers know to put ads that work well with the game being played means more people will be interested in what's being advertised. An added advantage is that you don't have to match your product to the theme of the game. Takeaway:Get an advertiser to place your ads at gaming sites and ads, or make a deal yourself. Either way, it's a win-win situation for you.
Interactive ads are beginning to have a lot more success on all devices and in all industries. A video that has you answer a poll question, for example, will have a much better success rate than one that just shows a product and hopes for a click. Also, time-specific ads, such as discounts or special offers tend to lead to better conversions. Takeaway: Offers! Offers! Offers! Provide some incentive to your customers and get them involved. This strategy works across all ad platforms.
Video ads are starting to have a lot more success in recent months because they tie together better with the videos that are being played. On top of that, the content in these ads are a lot more straight-forward than they used to be. A few months back the Showtime network bought every single ad slot at The New York Times iPad edition, and bombarded readers with 26 unique video ads. Takeaway: Although video ads are more expensive, they engage your customers more than the other formats. Take advantage of this format, however keeping the budget in mind.
Can mobile Ads increase in-store visits of a business? According to Google case study results with Adidas, it definitely can. Adidas was able to score a 20% increase in in-store visits, and a whopping 680% incremental increase in mobile Ad ROIs. This goes to show that for physical stores, being locally relevant is also a key factor for successful mobile Ad campaigns. SMB takeaway– Think local. Often you would find customers who would surf through your site, but prefer to make purchases in-store. Devise ads that direct them to your store. If you don't have one, then provide authentic contact information in your ads.
Another trend that continues to grow through Q1 2013 is the supremacy of iOS over Android devices in case of ad spending: iOS took 76% of the ad spend on the MoPub network in March 2013 as opposed to Android's 24%. In terms of which devices have the most success with advertisements of all kinds, iPhones have a slight advantage over Android devices with a 55/45 split.   Apple may be winning this race right now, but it is expected to sway in Androids favour in the next year, as Android is the most popular smartphone platform, with a 50.9% share. Takeaway: Designing ads specific to any particular OS is futile. Make sure your ads are optimized for both iOS and Android devices.
Ready to Take the Plunge?
Now that you know all the prominent trends of the mobile advertising, and you are confident to take up the challenge, let's go through some simple steps for stepping into the Mobile Ad world.
1. Select Your Target
This is the most fundamental and vital stage of your campaign. This one aspect would define the rest of your campaign strategy. So spend some time up front deciding on who exactly is your target audience. There are quite a few methods to target mobile advertising campaigns- by day or night-time, locality and interests and characteristics of the consumers you want your product to reach.
2. Define Your Marketing Objectives
Generally marketers measure their campaigns in terms of conversion and CTR. But mobile ads can be used to establish long-standing customer relations, as well. There are lots of different ways to achieve this end. Instead of merely trying to get the consumers to purchase something, use mobile marketing to direct the users to 'free trial' option, sign up for your company newsletter, follow your company on various social media platforms, or just to get customer's feedback on a product they have bought already.
3. Optimize Landing Page Environments
Designing efficient mobile ad banners and effective targeting won't work if you don't craft a great landing environment that's properly optimized for mobile devices. Your landing page is your base at which you're sending your probable customers once they click on your ad. Design and optimize your landing environment so that it displays properly on mobile and is easy to browse. If you have the moolah to spread around, you can create a new version of your website expressly designed for mobile devices.
4. Select Mobile Advertising Platform that Suits You
This again navigates back to the core objective and primary product of your company. If you are a local business, it might be a good idea to seek out mobile ad networks that specialize in local mobile ads, like PlayPlace. If you would like to play safe with larger advertising networks like AdMob, Jumptap, Google Mobile Ads, Millennial Media, InMobi etc. make sure you enquire about their experience and reach. Try to find about mobile ad networks that has better success rate and reach in your specific target country.
5. Design and Test. Then Redesign and Retest
What makes mobile advertising such a potent tool for SMBs is the element of offering multiple opportunities for advertisers to test, analyze and fine-tune their campaign. You can test different permutation and combination of factors such as the audience, the message, special offers and landing pages and check what works – then revise it on the go. The following four areas should always be tested:
The demographics – Which ad-viewer segment responds better to your mobile ads?
The creative -What colors works for the banner? What photo combinations work better?
The offer – what offers hooks the viewers to your Ads? What is the engagement level that a user needs to have to be convinced to download or purchase your product?
The landing environment -Does your click-through rates vary with changing position of the "buy now" button?
The great thing for all companies is that everyone has different tastes, so there is always someone who will be interested in an engaging ad. The trick is to find a way to reach the people who might potentially buy from you and then tweak the campaign until the success rate comes up to where you need it to be.
6. Don't Be Shy, Ask for Help
Even after being completely in touch with the trends and having thought through the whole process, launching your first mobile ad campaign can be intimidating. Luckily, there are quite a few excellent and experienced mobile ad agencies out there who can help you on this quest. Go through this list of the most influential mobile advertising agencies in U.S. to get an idea regarding such agencies. There are many experts out there who can provide you with sound advice on how to successfully launch your first campaign. Seek them out if you are not sure you can handle it alone.
Future of Mobile Advertising
The mobile ad network is growing. According to B2B magazine, the global mobile ad market will increase exponentially from $3.4 billion in 2010 to $22.0 billion in 2016. Phones now come with so many cool features that advertisers have new and great ways that they can engage their audience while at the same time putting a clear message across their screens. This leads to far more click through success and interest in the company's products, which is what we all want.
In the ever changing marketing world, it won't take long for mobile advertising to go from the next big thing to being just another orthodox marketing machinery. Small and medium businesses have a narrow time frame in which to earn a viable edge over their competitors. Large brands and companies are even now capitalizing on mobile advertising, but small and medium businesses are taking it slow, still trying to figure out how to adjust their marketing requirements to this latest medium – this means your business has a great chance to get the beginner's advantage over the competition. While the other players are still in two minds whether to dip their toes in the water, your company can get the early-bird advantage and become the leading brand your market niche for mobile users.