What Meal Planning Can Teach Us about Marketing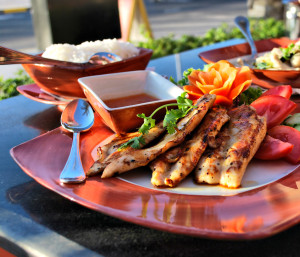 Let me see if I have this right.
You are a small business owner who does all of your own marketing. You have probably read over a dozen books on the subject of marketing. Your bookshelves are filled with how to guides about marketing. You follow numerous blogs on the Internet (like this one) that talk about marketing. If there was a marketing degree you could get for self-study, you would have qualified for a Masters in it.
In fact, you even have put many of the marketing techniques you have studied into practice. You might advertise either in print or online. You might guest post (as I am doing here) on high profile blogs. Your business is connected to social media with its own Facebook, Twitter, Google+ and other accounts. You speak publicly, write books, and create podcasts. I bet you are working your tail off marketing.
So why don't you have the business you want?
I know it is painful, but does this fit?

A Problem of Consumption
"I don't stop eating when I'm full. The meal isn't over when I'm full. It's over when I hate myself." ~Louis C. K.
Does the Louis C. K. quote sound a lot like your marketing efforts? What is happening is that you have a problem of consumption. You are either putting way too much on your marketing plate and you can't finish the meal or you are not selecting the right elements to make a nutritious meal.
This is where I talk about meal planning. You can think of creating a marketing plan outline as the way you might plan a meal.
A lot of small business owners market like they are going to a buffet restaurant. They might go up to the buffet, overload their plate and don't finish what have. In other cases they go up to the buffet and take only the crab legs, too much of only one or two foods.
In either case, they are not getting their basic needs for good nutrition. It has to be balanced and sustainable.
Good Intentions
You start out with good intentions for a marketing campaign plan. Every small business owner has a reason behind why they launched their business. For most, there is tremendous passion behind their small business, either to help people or create some sort of bigger and better life for themselves. This passion carries over to their marketing.
The problem is that you are working hard, but not entirely smart or productive. This isn't a fault of yours. It is rather a fault of all the books, blogs and other programs that talk about the one aspect of marketing that is their particular topic – social media, guest posting, networking, cold calling, advertising, the list goes on and on. Your enthusiasm for the business causes you to go overboard, pile too much on your plate, or focus on the latest marketing technique you just read about.
You have to take the ingredients and create a meal. Many of the experts you read don't talk about it, because they are only dealing with one topic. Let's do a little meal planning to get your marketing set up correctly.
Appetizers, Main Course, and Dessert
For a good meal, you need appetizers, a main course and a dessert. You can place marketing categories into these categories so that you get that balanced, sustainable diet I keep talking about. You want something that is going to nourish your business and is pleasant enough to do without burning out and quitting.
Appetizers
Appetizers are research and planning activities such as what you are doing right now – reading blogs about SMB marketing. It could be reading a chapter in the newest, hottest marketing book on the New York Times Best Seller List. It might be doing some research on the Internet about what your competitor is doing for marketing. Another appetizer might be reviewing your overall marketing plan to see if you need to adjust some of the ingredients.
Appetizers get you ready for the main course. You don't want to eat too much of them or spend more than a half hour or so. You want to dedicate the most time to the main course.
The Main Course
Main course items are where you get your bang for the buck. As in a real meal, you want your marketing main course to be varied with different nutrients. Think of food groups – getting leads, creating a relationship and closing sales.
From these you pick marketing activities that will give your business what it needs to grow.
Getting leads – advertising, networking, cold calling, guest posting, etc
Creating a relationship – email sequences, running your blog, social media, etc
Closing sales – writing sales copy, following up with interested buyers, etc
The main course ingredients might move around a bit, but I think you get the idea that  you want varied activities that create a funnel, bring the customer to the point of purchase and then closes the sale. You don't want to load up on only on one food (marketing) group. It is a good way to get sick and not get the results you want.
Dessert
Finally you want to have dessert. I know, I know – you are probably saying that as a small business owner, you have no time for dessert. Think twice about not doing this. You really should include it in your marketing plan.
Dessert is where you reward and take care of yourself for following your marketing plan. This might be going out to nice meal once a week. It might mean getting out of the office for a special coffee drink at your favorite coffee shop. It should also include keeping your body healthy. Think about a walk around the block, park, or whatever is around your office, business or home. Dessert is all about making your marketing plan enjoyable and sustainable.
Remember, if you hate something enough, your brain will find some reason for you to quit. I talk about this in my book, Train Your Brain. Your brain is a powerful ally or enemy. Make your marketing enjoyable with a reward at the end of the day and end of the week so that your brain instead of sabotaging your efforts will help you stay in the game.
Putting It All Together
A good way to plan your marketing is to lay it out like a basic meal – one or two appetizers, two or three items for the main course and a dessert to make sure you are enjoying what you are doing and will keep doing it on and on and on.
Getting the results you want from your marketing doesn't have to mean blood, sweat and tears. A lot of people when they walk out of the buffet restaurant are in real pain. If they would have done a little bit of meal planning, they would have a voided this.
There is a real dieting tip that translates over to your marketing plan. If you want to lose weight consistently; eat the same foods over and over again. Your marketing plan should stay the same until you get the results you want or the particular activity is not showing any results at all. Then you just take an appetizer moment and readjust your plan.
Your marketing can take less time, get the results you want and even be fun if you just apply what I have talked about and put into action.
Based on this post, what are you going to plan for your marketing meal? Please tell us in the comments what appetizers, main course items and dessert you are going to have.