Marketing Giveaways: I'm Selling My Chops, But Giving My Gravy Away
The following post was an entry by one of our spectacular finalists in our Awesome Engagement Strategies Contest. Finalists showcased their ideas, and whoever got the most traction (i.e. comments and social shares) within five days of publication was crowned the winner. Check out this post for the complete list of Engagement Strategies Contest finalists!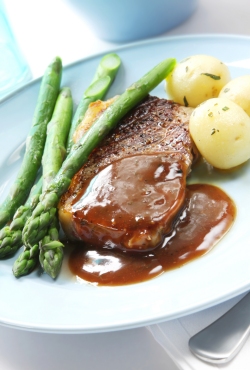 When I began writing, I shared the common delusion that one day I might be rich and famous.
I still may be someday, but that is no longer a consideration for why I write. I am not as concerned about selling books as I am being read. I would much rather sell 10 books to people who read and share them than 100 that sit in a shelf picking up dust, nothing but literary furniture.
I've read much about freebies and marketing giveaways, and I used to think it pointless, even counter-productive. How will I become rich and famous giving away books?
I see things differently now, and I think, better. I have a novel scheduled for launch next year, and I'm trying a couple of things sales-wise that strategically places some tasty marketing  giveaways.
The great thing is these ideas should work for any book, fiction or non-fiction…
Free Bonus Material
When I launch my book, I plan to also carry it on Amazon KDP, and there I plan to include free bonus material. The free bonus material will be a short story associated with my novel. You can do this with a non-fiction book, also – attach anything brief that is associated with your book.
I'll provide an email link where they can request the bonus material, and then I will send it to them as a PDF on their email. Not only am I building good will with readers by providing quality free material, but now I have their name and email. Now I can stay in contact with them, beginning with a sincere thank you, and let them know of what is coming up. The huge warning to myself and all is to be sure and don't abuse this by being creepy spammy.
But Wait, There's More
I also wrote a pair of shorter works for sale before my novel's release. One is based on a series of articles on my blog. The other I made up of a few articles I wrote a few years ago that I compiled. Both of these are about 40-50 pages. Neither of them shares any subject matter with my novel.
These are both short works that I hope people might want to download to their Kindles because of the inexpensive nature of these quick reads (the great secret of Kindle is that you are merely selling electrons, which can be as cheap or as expensive as you determine).
Both of these works include free bonus material, just like my novel. The prize is the other work. In other words, if you buy booklet A, then you get my booklet B for free, and if you get booklet B then you get booklet A for free. Again, both works, as with the bonus material for my novel, come with the email and the wonderful follow up possibilities.
And there's one more option for all of this. I also make these two short works available together as a 2-for-1 offer. The free bonus material is nothing other than the short story I provide as a freebie with my novel. All three of these products have a page announcing the scheduled launch of PRINCE with a hyperlink.
You can sell more books by giving things away than merely by attaching a cost to everything you write. Still, you can't give everything away. In fact, you need to fix a price on many things. But remember, it is better to be read for free than to make a sale and not be read. I'm not opposed to selling books, sometimes you have to attach a purchase price to attribute some value, even worth, to your book in some people's minds.
So I'll just keep on selling my chops while I'm giving my gravy away.