Shooting in the Dark is *NOT* a Strategy; Why You Need a Marketing Campaign Plan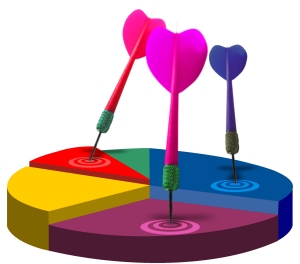 As entrepreneurs, we spend a lot of time reading about and implementing tactics that we hope will bring us loads of new email subscribers/new customers/mega awesome sales.
Tactics are wonderful, but without a clearly defined niche marketing strategy (and some well-thought out goals) to guide them, they are unlikely to be effective.
So I'm compelled to tell you how to plan a marketing campaign.
Or… perhaps it would be more fun to tell you how NOT to plan it.
We've worked with lots of clients who want to try every marketing tactic they can think of hoping one of them will stick. They don't develop a strategy, which should be part of a business plan that doesn't suck;  they choose instead to throw darts randomly. It might sound something like this:
"I heard that Pinterest grew faster than any social networking site ever has before! Everyone's on Pinterest. I better use it for my business so I can reach everyone."
"I don't want to limit myself to just one kind of customer because my market is everyone! I'm going to run a campaign on a group buying site because it's all the rage, and that way more people will find out about my business."
I know an entrepreneur is falling into the shot in the dark trap when I'm reviewing someone's business plan and they've written in the marketing section "ABC Company will employ a full range of marketing activities including social media, web and print advertising, and word of mouth to gain loyal customers."
Yeah…cuz that'll work…since it's so specific and all.
Without a "how" and a "why" to justify the way you're spending your marketing budget, how will you get lenders, investors, or anyone who reads your plan to take you seriously?
This Post Isn't about Defining your ONE Ideal Customer
But this one is. So if you haven't yet figured out who you want to market to, go read that post and then make your way back here. 😉
But let's say you do know exactly who you want to sell to. How can you use your business plan to inform the marketing strategy, and ultimately the tactics, that will get your perfect clients to buy, buy, buy?
Get Laser Focused on Product Benefits
Your ideal customer is super specific, so your marketing should be, too. The first thing to do when you're planning to start marketing online is to define the unique benefits of your product and how they appeal to that specific customer. Don't do what Absolut Vodka did. Stick to benefits that are not only politically appropriate, but based on thorough research of your ideal customer. You have to know exactly what that customer will want from your product and how they're fulfilling that need right now. Once you know that, you'll be able to explain how your product fulfils that need better. You'll do that by describing benefits, not features. Here's an example.
Daisy Chain Boot Company sells rubber gumboots that come in really neat designs and are guaranteed to stay waterproof for life. Their ONE ideal customer is 22 years old, about to finish university, still lives with her parents but has a part-time job (so she has some disposable income). She's smart with her money (her parents taught her well) and buys things that last, because she's concerned about her impact on the environment. She's also very fashion-forward. Oh, and she happens to live in Seattle where it rains. A lot.
Daisy Chain's boots have some features, and those features create benefits for our ideal customer. So all you have to do before you start marketing to this young woman is to turn all your features into benefits, and fortunately that's easy. Just create a table with two columns and list all the features on the left, with the benefits of each feature on the right. Like this: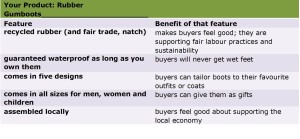 Now when Daisy Chain goes to sell its rubber gumboots, it can implement a marketing campaign plan that will show its ideal customer exactly why she should buy their boots and not the ones at the local department store.
Got it? Good. Here's the part where you go back to your business plan and enter all the benefits of your products in your Product Overview section so that anyone who reads your plan can tell right away what makes your product so compelling and unique. As long as you're selling the same product, these benefits won't really change. It's good to make them part of your business plan so you can always refer to them when you're planning any marketing or sales campaign.
Now let's move on and talk about how to create a plan for marketing all the awesome benefits of the stuff you sell.
How to Market the Awesome Benefits of the Stuff You Sell
There are two approaches you can use, and the place where they converge is where you're likely to get the most traction. The first approach you've probably heard before:
Find out where your ideal customers hang out. What do they read? Are they mobile, online or offline? Do they watch TV? Do they take public transit? Do they like games? Figure out what types of media they consume, and get yourself onto that media.
The second approach works with those benefits we talked about earlier.
Find out what marketing tactics let you most clearly communicate the benefits of your product. Can you explain at least one benefit in a 140-character tweet? If you have a very technical product, maybe not, but perhaps Daisy Chain could. And even though I poked a little fun at it earlier, Pinterest could be a great place to display all the cool benefits of our rubber gumboots, and there's a good chance our ideal customer is hanging out there, too.
Once you brainstorm a bunch of places your ideal customers are hanging out, and a bunch of marketing tactics you could employ, look for the overlap. If your target customer (use the customer profile template if you need help identifying yours) spends a lot of time reading blogs, and you're a strong writer (or you can hire one) who has a lot to say about your product and all its complementary products and services, then developing a blog and a newsletter list could be a really effective strategy for you. On the other hand, if your target customer travels a lot and reads mostly business publications, and you can explain your product's benefits in just a few words, traditional print or online advertising and/or a Twitter campaign might work better.
Whenever you're considering a certain marketing tactic, ask yourself these three questions:
Will my ideal customers even notice this tactic?
Is my ideal customer going to respond positively?
Can I clearly communicate the benefits of my product through this medium?
By the way, all of this takes research. A lot of relationship marketing strategies are implemented based on "gut feel", instinct or just the influence of a trusted friend or colleague, and luck plays into those campaigns a lot. Do you want to rely on luck to make your business successful? Because if you do, you're better off buying a lotto ticket – that takes way less work.
Planning it Out
The research you do on your customers' preferences and potential marketing ideas will probably help you fill out other sections of your business plan too, but for now we're just focusing on your marketing plan and creating a marketing plan outline. By now, you should have a list of core marketing concepts that each have a reasonable chance of succeeding. For bonus points, you can also put together your communications plan. You don't have to implement them all, but in your business plan, you can discuss each one – and, you'll have some justification for why you chose it. Lenders and investors will appreciate this. So will anyone else who reads your plan – including you, in case you need a little refresher when launching and growing your business gets overwhelming.
Having a plan's starting to sound like a great idea by now, I hope.
What other marketing campaign planning tools have you tried? What has worked well, and what didn't?