Here's Why That Marketing Advice Isn't Helping Like It Should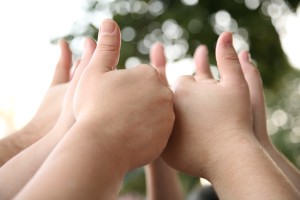 You read a post on marketing.
It tells you to do something.
You do it, but don't get nearly the same level results…
Why is that?
Whenever possible I try to get my readers to send me an email with any questions or problems they might have. Once in a while I'll get an email that goes a little like this:
Hey Mark,
I read a lot of blogs on marketing, blogging, and business, and I apply what I read to my site. The changes I make help, but I never seem to get the same level of results.
I feel like I'm missing something. I'll apply the advice on getting more traffic or making more sales but it never helps my end goal by too much. I think something about my blog is stopping me from getting the same results. Is there something I'm missing?
– Thomas
I hate this email because you can tell he thinks it's his fault. He thinks it's something he's doing wrong.
It's not his fault.
Not even remotely.

It's hard to achieve the same results when most of the advice out there assumes you've already done the first step. He's in this situation because most of the marketing and business advice out there is only effective after you build your foundation. They assume you've built a site that is both trustable and credible.
Now, you can work on getting more traffic, improving your conversion rate, and making more sales first, without building trust..
But that's like learning advanced copywriting without first learning grammar or spelling. Sure, each advanced copywriting tip will help a little bit more but the fact that every third word is spelled wrong is going to hold you back.
Trust is the linchpin of marketing. Without it you'll only get small portions of the results you deserve to get. Show your visitors that your site is trustable and credible and you'll get more traffic, sales and conversions.
Here's what Peep Laja at ConversionXL has to say about trying to sell or convert without first getting their trust:
'Let's say you're walking down the street. A twentie-something dude comes up to you – "hey, are you interested in a new iPhone 5? I'll sell it to you for $20". He pulls it out of his pocket and it looks legit. What do you do?'
Yea… I wouldn't buy it from him either. Most people wouldn't. Even if it was 100% legit, you'd worry that he stole it or that it's broken or that some 100 other things are wrong with it. You have to first show them you're trustable and credible.
Think about it. Even if a site's offer is mindblowingly awesome, would you sign up if it looked shady? What if it didn't look credible?
It's time you worked on building a trustable site.
I put my sweat and blood into these posts so you can get results. So I'm not going to write a list post that you'll tell yourself you can just do later. These are steps that you need to take to build a website that's immediately trustable.
Step 1. Clean Up Your Site
Elizabeth Sillence at Northumbria University did a study to find out what causes people to not trust a site. The study showed that for 94% of the people design was the issue.
Most people on the internet are back button junkies and only spend a few seconds deciding if they should stay or not. This does't give them enough time to base that decision on anything else other than design.
When people have too many options to choose from, they get option paralysis and choose to not deal with it. Most just end up leaving rather than weighing the options and picking one. You should build a simple, uncluttered site for conversion rate alone but let's take a look at how clutter effects trust.
On some level most internet users understand option paralysis, even if they don't know what it's called or how it works exactly. So when they stumble onto a site with a cluttered design, they take it as a sign that you don't really know what you're doing. It's a credibility indicator.
Take a look at some of the top sites. What's the one thing they all have in common? What do you notice when you take a look at Moz?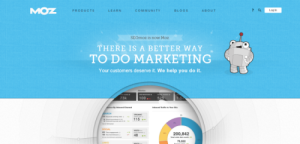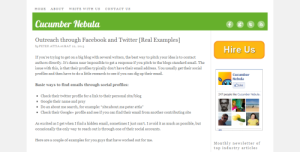 or  SimplyZesty?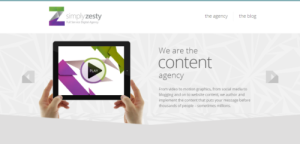 All of them have very simple designs. They're not super fancy or cluttered with a million things. When it comes to design, less is more.
Pick a single goal (at most 2 if it can't be avoided) for each one of your pages. Ruthlessly remove anything that isn't going to help you accomplish that goal. This will naturally clean up your site and make it look much nicer. Stick to one or two colors (not counting black text), unless you're a designer and understand how colors mix.
Use instantWP to make a desktop copy of your site when you're making design changes if you're using WordPress. It'll make for a much smoother transition to your new design.
Step 2. Become The Bandwagon
No one wants to feel like they're in a ghost town when they visit a site. The first thing that they'll ask themselves is why is no one else here? What's wrong with this site?
So show them that plenty of other people just like them choose to trust your site.
The best way to show that you have a vibrant community is through comments. If you already get a lot of comments, make this fact hard to miss. What do you think of the second you see this on a page?

You think Ramsay must write things worth talking about. You think he must know what he's talking about (he does). You think all these people choose to come to his blog because they trust him. That's instant trust.
Get more comments by getting readers from communities that do a lot of commenting. Go get readers from forums or communities like BizSugar and Blog Engage. Reply to every single person who comments on your blog. This'll build engagement and encourage your readers to comment more.
It isn't always possible to show or even want comments. So display social proof is by showing your readers that other people are willing to share your stuff. John Paul does this really well. Nothing builds more confidence in your credibility than seeing this: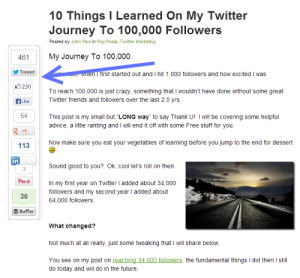 If you're using WordPress get the Digg Digg plugin from Buffer. This plugin will display your social shares in the most obvious way.
Stick to 3 or fewer social sharing buttons to display. Neil Patel at Quick Sprout tested out displaying three social media buttons versus five. In the end showing five decreased social sharing by 29%. Having two or three buttons will not only get you more exposure but will also make it seem like you have a bigger audience.
Gregory Ciotti at Sparring Mind goes as far as to only show one and still gets a lot of shares: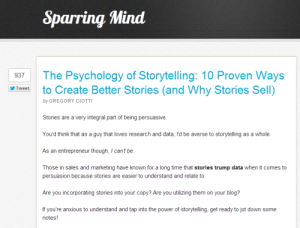 The next obvious step is to get more shares. Go join ViralContentBuzz. If you have good content and are willing to share what other people write you'll get plenty of Likes, Tweets, Pluses and Pins. If that doesn't give you enough shares sign up for SocialBuzzClub.
Step 3. Show Credibility Through Association
Influencers, authority figures and big brands have a universally recognized level of credibility. When visitors see that you're associated with them in some way, you instantly gain some of that credibility.
I'm sure you've seen companies display logos of their customers. This is a common practice because it works so well. Unbounce pulls this off perfectly by keeping it above the fold. They even start with a sentence to bring attention to the trust factor: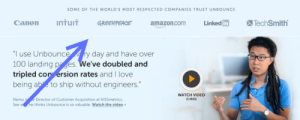 Mauro D'Andrea at Blog Growth does this by displaying all the blogs that have mentioned him in his sidebar: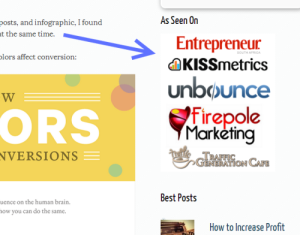 Quotes and Testimonials from authority figures do wonders for your credibility. They not only tell your readers who trusts you but also why they trust you and by how much. Brain Dean at Backlinko gives you reason to trust him by showing you a quote from Neil Patel directly in his opt-in Form.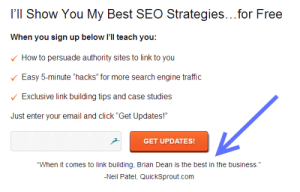 Would you really still doubt that Brain knows SEO once you read that? Of course, you might not be able to show quote from people like Neil but that's ok. Even simple quotes from your clients or readers help build trust because your visitors can still relate to them.
Ana Hoffman provides full on testimonials from Kristi Hines and Yaro Starak directly in her sidebar: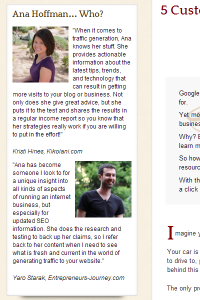 You can also show credibility by showing that influencers and authority figures are willing to share your stuff. In my post on one simple method to finding influencers you can actually connect with, I showed a few influencers that have shared my posts in the past: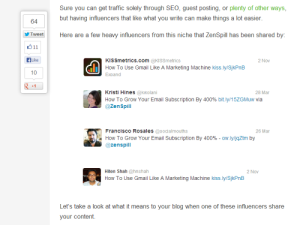 Because of that, to this day this post is still one of the highest converting posts on my blog. If people see that influencers that they heavily trust think you're credible enough to share, they won't see a reason to doubt you.
So, embed Tweets from influencers in your about me page. This'll show anyone who wants to find out more about you that you're credible.
Step 4. Be Human, Be Transparent
No one wants to be tricked. Transparency and showing them you're a human is the best way to assure them that you're honest. Again, Brian Dean at Backlinko does a really good job at this. The first thing people see when they land on his site is this: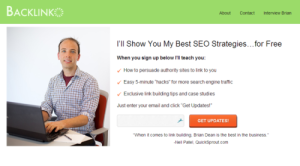 People can immediately place a face to the site and understand that there's a human being behind it. He also shows people he's a real human being that you can interact with by replying to all the comments on his blog.
Jacob King does this by showing people who he is in the sidebar: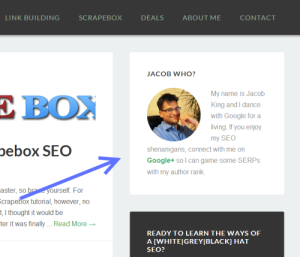 If you're a team and not a single person, you can still use humanize your company by doing what Litmus does with their "meet the team" page: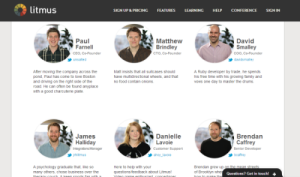 Again, this puts friendly faces to the company and shows transparency by making it easy for people connect with the team.
Your About Me/Us page should be all about building trust. Create an about page that humanizes the site, and shows credibility and social proof.
You can show credibility in your about me/us page by showing big brands you've worked with, embedding Tweets from influencers or displaying big blogs or media outlets you've written for.
Bonus: Speed Up Your Site
You know who has slow sites? Small one man teams that aren't really too successful. At least that's what people think because even moderately successful companies and blogs have fast sites. As a matter of fact, 40% of people will leave your site if it takes more than 3 seconds to load.
Site speed builds trust by showing people that you take them seriously. If you have a slow site, it shows people you're not even capable of accomplishing something so vital to their experience. They have no reason to believe you're capable of accomplishing anything else.
Sadly, how to speed up your site is an entire post on its own.
But what're the two simplest things I did to get my load time to 1.24 seconds? Well, that's actually what I email my readers who subscribe from my resources page.
Now, you just read a massive post I put a lot of my time into. If you found this marketing advice helpful, I want you to do me and Mirasee a favor and share this post with a friend.
Oh and comment below and let me know what stopped you from doing this before. What was the most difficult part of this for you?