Live Radio Marketing: 10 Compelling Reasons to be On the Air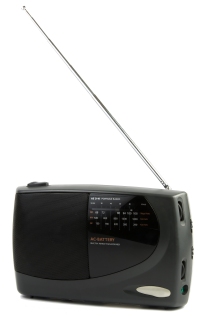 Despite what you may think, radio is alive and well.
Whether you're listening on the way to work, or you have it on as you work around the house, the comforting sounds entertain, inform and inspire.
Radio allows your target audience to use their imagination and tune in on a different level than interactive media. In Radio and Society: New Thinking for an Old Medium, editor Matt Mollgaard points out that radio is the original mass electronic medium and it continues to be critical.
"Radio remains a key media form and technology, not only surviving the challenges of the screen and digital ages, but developing despite and because of them," Mollgaard says.
But on the other hand, some people ask "why bother"…
Why Bother?
Radio is passive. Turn it on and listen. That's it. Consequently it is sometimes overlooked as a means of building your business. It is less about metrics (how many impressions or messages it takes before a customer responds) and more about delivery. What is your story? That's why in its passivity radio works. You get to tell your story your way without distractions like clinks (my word for the links that redirect your customers' focus and lead them down the Internet's garden path to someone else's blog or product).
Today's entrepreneur is overwhelmed with the new and the novel. They want to be seen as technologically at the top of their game, whipping out their iPads, DROIDS and other fast-paced, get-it-now media to stay in touch. Radio is regarded as both passive (Where is the call to action? Where is the excitement?), and passé, over the hill. In media markets around the globe radio is still listened to by discerning potential customers. In the US alone there are more than 13,000 AM and FM stations. The challenge you have as a business person is to understand your story–the story of your product or service–well enough to deliver it with razor sharp precision.
Now What?
Develop a strategy to use radio to your advantage, with both paid and free air time. How does radio fit into your promotions budget? How much do you know about the radio stations in your area? Do any of the stations have talk shows that welcome guests? Do you have a particular expertise you can talk about? If you have a book (print or digital) what is its value to the listening audience?
Most stations have time during the day they want to fill with original content. Many radio stations have some form of community service programming and access to it (as long as you aren't blatantly advertising) is free. Find out what that is and present yourself as qualified to fill the time slot with useful information.
Slay the demons of fear and bias you have about radio and embrace an old media to further your business.
5 Motivating Reasons to Budget Air Time
From a budget point of view, radio is generally more affordable that other media. The benefit is that with the right placement your advertising is going to hit a broad range of listeners multiple times, whereas  effective print ads hit the demographic that buys the newspaper or magazine. Each has its place in your promotions budget, but a little time doing a cost/benefit analysis will help you know if you're getting the most for your advertising investment.
By its nature and presence, radio has a greater market reach. I have seen no reliable studies that prove it has subliminal effects on listeners, but it is a presence that is both comforting and to a degree absorbing. Its unobtrusive constancy causes listeners to retain what they hear, often without realizing it. How many ad ditties have you found yourself humming? How often do the songs you hear on the radio ring in your head throughout the day?
Multiple impressions (ads) have a greater likelihood of reaching your customer. Radio advertising isn't a one-shot deal. You know who your customers are. Find out the times of day they listen to the radio. A simple Survey Monkey survey can garner that information. Or do one of Danny Iny's warm e-mail campaigns, one that asks specific questions about preferred communication. Even if you find out your existing customers don't listen to the radio, you might want to try it anyway. Not everyone is going to be looking for you on Google search, but you are always looking for new customers.
Radio's market share is loyal and the average age of listeners is 41. According to Arbitron Inc., an international media and marketing research firm, 242 million American adults listen to radio each week, which represents 93 percent of that demographic. That alone is a compelling reason to consider radio.
The right ad copy leaves a lasting impression.  The message counts. What do you want to say? If you tell people your address that's all well in good, but what is the story of your product? Who are you targeting? How will they benefit? What do you offer no one else has?
Blah Ad:
Hi, this is Friendly Wisewoman and I conduct Yoga classes Monday, Wednesday and Friday at 2 p.m. at the Howareyoudoing Gym, 2335 E Main. Call 555-555-5500 for more information or to register. We care about you and your health.
Nice, but what does it really tell you?
Jive Alive Ad:
Too busy to exercise? Get energized with our 1/2 hour Yoga classes, mornings at 6 for a jump start on your day, or 6 p.m. to center your body for a relaxing evening. Be among the first 25 to sign up at $10 per class and get your 5th class free. Call 555-555-5500 to register.
What does this ad tell us? This is for busy people. The price is affordable and if you hurry up you can get a free class. You have two options for when to go. It's not how many words you use in an ad; it's how you use them. Incidentally, the address isn't included. Why not? That's information you will give your customer when they call to register.
5 Easy Street Ways to Have Your Say Your Way
Most radio stations have community service programming.  Ask to book for the station's community service show. Keep in mind these are not advertising platforms. They are for the purpose of information distribution, typically for non-profits. However, if you can make a case for your product being innovative or life changing you will likely be invited to be on the air, especially if you are making some sort of contribution to a charity or other needs-based organization. This is not you beating your chest; it's you being human and meeting human need.
If you have a free community or informational event ask if the station will allow you to record public service announcements about it, free or discounted. An example of a request that might be denied would be if you do free lectures based on your book about landscaping, but sell your book at the event. The request is more likely to be approved if you say that a significant percentage of sales will go to develop a community garden.
Give copies of your book or (products that will promote you and your business) to the station for their multiple give aways. Every station has contests and they're always looking for items to give to listeners.
Become an expert and offer to do free PSAs in your field. Let's say you are a business consultant. Ask the station if they would allow you to give 1-minute advice about business development or Internet expertise or social networking. If that doesn't work, if you are a member of your chamber of commerce or business alliance group, ask them to sponsor your public service advice. (The organization can probably get it placed for free!)
As with any form of promotion, the most important factors in radio are to know your target market and to know your product. Selling and promotion is all about the story. What is your customer's story and what is the story of your product that will connect with your customer? Radio is an excellent medium to bring these two elements together to your benefit.
5 Ways to Assure Radio Success
Research the radio stations in your area and their programming philosophy. To assure you aren't wasting your time, make sure you know what the station's policies are about content, marketing and community service programming. Check out their website, and if the station doesn't have a website, get a rate sheet­–even if you don't plan to buy paid advertising. Rate sheets tell you a lot about the station and its programming. If your target market is 20-somethings you don't want to waste your time on a golden oldies station. Even when the station programming is a fit for your message, their policies about community service programming may have restrictions you can't overcome. Know about the station before you spend time on content that doesn't fit their criteria.
Know your customers and their preferred means of contact. This was mentioned earlier in this post, but cannot be repeated enough. If you have a customer base that NEVER listens to the radio and who ALWAYS relies on search engine connectivity, spending time and money on radio is wasted effort. Having said that I would add this: when you're message is a good fit for the station's market, taking advantage of community service programming is good practice. Yes, it's free, but of more significance is that it introduces you to potential customers who didn't know about your product or service because they are not active online.
Be budget aware and track results. If you don't have a marketing budget all I can ask is, "Why not?" Entrepreneurs tend to fly by the seat of their pants when it comes to promotion. Radio advertising can get away from you because the per-ad fee is low compared to a lot of other advertising. That's why planning when the ads run is critical. Even something you don't have to pay for (community service programming) has a cost associated with it simply because you are taking your valuable time and talent and putting it to meaningful use. Be aware of how you are getting your customers and what they are responding to. The simple questions, "How did you hear about us?" is always appropriate and you don't have to be a marketing genius to keep track.
Be realistic about expectations. I've been in ad sales of one kind or another for more years than I care to count. What continues to baffle me is the statement, "I ran an ad and nobody came in (or bought the featured item­)." There are lots of questions to ask here, but the one question the advertiser should ask is, "What did I expect this ad placement to do?" The same question applies when you are doing free content–community service or other–on the radio. Only when you have a sense of what you want your results to be will you know what you want to say. And believe me I don't care how good your ad or message is, EVERYONE isn't going to come beating down your door. Know who your target customer is and create your message accordingly.
Know your story (the story of your product). We do not relate to products. Really, we don't. We relate to the benefit that product will be to us. I put this in terms of story because as a writer I see story in everything. Why did you create that service or product? Who does that connect with the life of your customer? Why should they care about your product or service? Do your customers get the sense that you care about them? These are all components of the story of your product. When you know that story you are ready to share it with others and engage them in being a part of that story as well.
Five Steps to Making Radio Happen For You
Do a little homework and see what works for you. Most stations have websites so getting their information is easier than ever. This is a sample info blurb from KTRC in Santa Fe, NM:
KTRC's progressive talk radio programming and radio shows consist primarily of news, talk, comedy, interviews, guest editorials, and listeners' telephone calls. The station highlights discussion and information programs with hosts reflecting progressive points of view. Stephanie Miller specializes in presentations and monologues by on-air personalities, guest interviews, calls by listeners, and news reports. The most popular hosts, Stephanie Miller, Thom Hartmann, Randi Rhodes, and Ed Schultz, are estimated to each have over 1.5 million unique listeners a week.
What more do you need to know? You would do well, based on your target market, to buy advertising or seek a guest spot with an on-air personality.
Find out from management about booking. In my case I went directly to the station owner and pitched my idea about a show featuring books, writing and writers. Luckily he was amenable to the idea and what started out as a 30-minute concept every two weeks is an hour-long show every week with a bookstore as its exclusive sponsor. That's an extreme example whereas most people would be looking for a guest spot on a particular show. Either way you will want to identify the decision maker at the station and send him or her a synopsis of what you want to say in your guest appearance, and why it would be relevant in the context of the show you want to be on. Whew. That was long. Bottom line: be relevant, on topic and sure of yourself.
Make a great first impression. Address your cover letter to the decision maker. Write with clarity and focus using good grammar, punctuation and correction spelling.
Understand the show you are asking to be on. Ask if the station has a written policy about guest appearances. Have a clear idea of the show's host. Is the person genial or confrontational, apt to make light of guests opinions or respectful of guests and what they have to say? Listen to the show before you go.
Respect the show's schedule. If you book for a show and are given 15 minutes, don't go over that unless the host encourages you. Respect their time and you're more apt to be welcomed back. Droning on does more harm than good and chances are you are getting into some other guest's time.
Radio is a fun medium. When you match who you are and what you do with the station's mission you will be a refreshing voice the station's listeners will want to hear from in the future.