Why People Don't Join Your List – The Top 5 Things to Check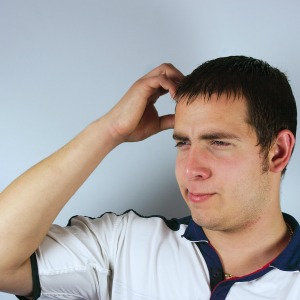 Many marketing tactics become more or less worthless if people refuse to join your list. An effective marketing strategy that doesn't involve building a list is an exception.
If you're not in contact with your potential customers, you struggle to demonstrate your expertise and can't make anyone even consider buying what you sell.
The first step is getting people to an opt-in landing page. And sure, they have to be interested in what you have to offer.
But for the purposes of this post, I'll assume that some people already find their way to your opt-in landing page and that the issue is your conversion rate. Few (if any) of the people who visit your landing page decide to join your list.
So, here are the top 5 reasons why people who "really should" join your list, don't.

#5 – Lost Scent
People end up on your opt-in landing pages with a purpose. They don't just want to see the page; they clicked a link that they expected to help them reach a specific goal or solve a specific problem.
The page has to immediately reassure the visitor that they are indeed closer to reaching that goal or solving that problem. If they aren't reassured, people feel like they lost the "scent" of what they were after, and they turn back to find the scent once again.
You can't hope to reach good conversion numbers if the virtual scent trail isn't easy to follow. Every detour and distraction leads to fewer subscribers.
For example, the image you're looking for a classic wedding dress and end up on this product page: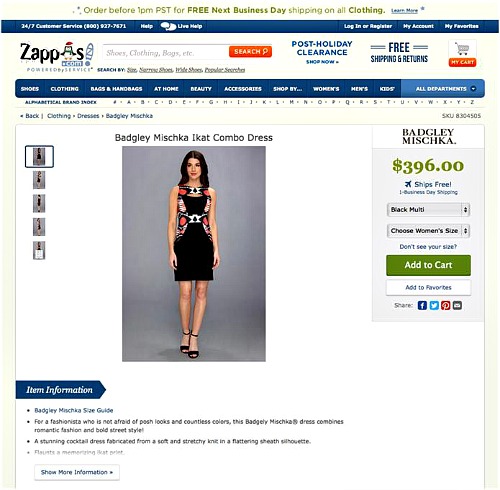 Even if you find the dress interesting, you're almost certainly going to leave the page. Why? Because it doesn't lead you closer to what you were looking for.
But in many situations the issue is a lot less striking. Just remember to think about what people want to achieve when they click a link leading to your landing page.
Your opt-in landing page has to clearly and immediately reassure visitors that they clicked a link to take them closer to what they're after. Don't try to lead them to a new scent trail.
#4 – Dodgy Design
Your landing pages don't need the sleekest design. And you shouldn't even try to include all the latest bells and whistles.
But if your page's design clearly fails your visitors' expectations, they're likely to leave. So, the amount of effort you need to put into your design really depends on your visitors and your competitors.
For example, if you're in the general health field, you have so many big-budget competitors that your visitors expect at least close to a professional design.
But if you target a small sub-segment of people (for example, people who suffer from a rare disease), you don't have many big-budget competitors and your visitors' design expectations may be less high.
Rather than showing a what-not-to-do example and embarrassing someone, here's a good example of a fairly simple, clean opt-in landing page design that would show well against almost any competitor: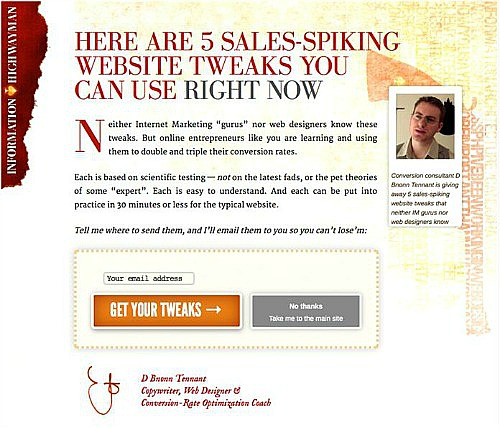 You could even simplify some of the graphics without losing any of the impact.
Look at your closest competitors and aim for at least a similar level of professionalism between their design and yours. If you don't, people will naturally gravitate toward your competitors because they have put in more effort to polish how things look.
#3 – Beside-The-Point Headline
The headline is the most important part of your landing page. And by most important, I mean that it affects your conversion rate more than any other element.
Crafting a headline that goes into the history books (or copywriting books) for ingenuity and persuasiveness is tough—really tough.
But coming up with a headline that gets the job done isn't really that complicated.
The simplest way to make sure your headline isn't pushing visitors away is to simply state the main benefit of joining your list and/or getting the freebie you're offering.
Here are three examples of simple, good headlines that get the job done: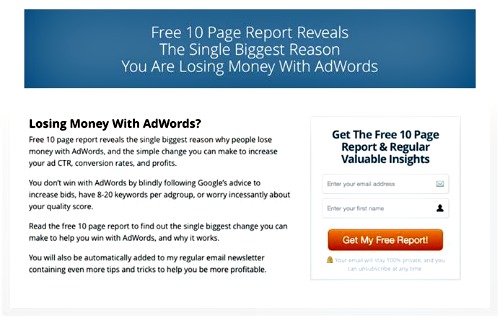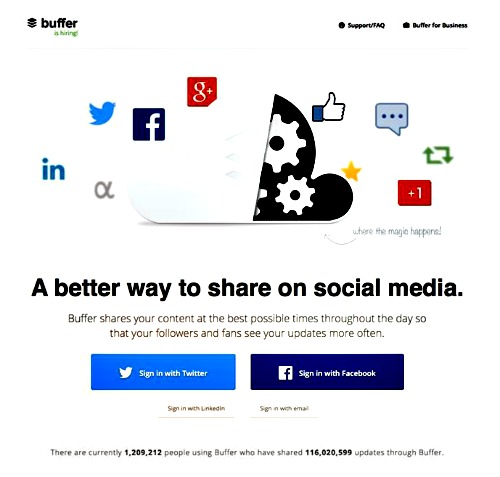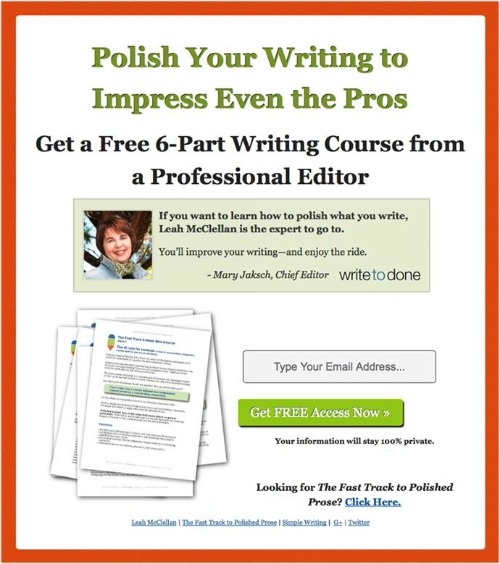 As you can see, there's nothing earth-shattering about any of these headlines. But they get the right idea across, so it's fair to assume the conversion rates are at least decent.
#2 – Sales-y Copy
When people come to your opt-in landing pages, you haven't earned the right to sell yet. So, don't even try.
Since you're not asking for money, it could be argued that you're not technically selling anything. Even so, copy that has a sales-y vibe is enough to scare most people away.
Language like "Finally a solution to…" and "Act now before it's too late!" sound too much like sales hype to work on most opt-in landing pages. (I'd usually avoid these on sales pages, too, but that's another story).
If people feel like you're exaggerating or too pushy, you lose credibility and they lose interest in what you have to say.
All that said, don't downplay the value you have to offer. Just don't go so far that people can't believe you.
For example, this page promises a lot. But not so much that you don't believe that the e-book will deliver on what's promised.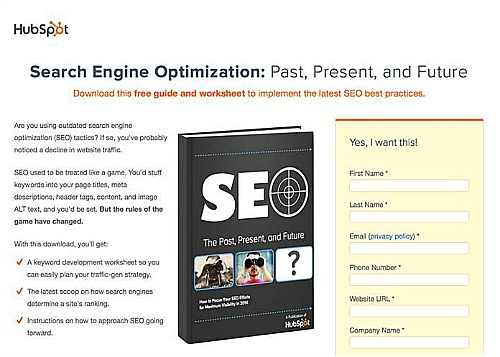 If the language got much more "aggressive," you might start doubting everything on the page. Would you believe HubSpot if they claimed, "Just read this e-book and you'll be on the first page of Google by tomorrow?"
#1 – Banal Promises
So, this is basically what it all boils down to: your landing page has to promise what your visitors want. If it doesn't, they have no reason to be interested in what you do, right?
The best reasons people should be interested in what you do and join your list (and ultimately buy what you sell) form your value proposition. Those are the elements your landing page has to focus on to entice people to opt-in to your list.
You need to know what those reasons are and how to communicate them, so that they make a full impact.
But just any old "good" reasons won't work. They have to be unique to you; they have to make subscribing to your list a good choice.
It's difficult to give simple and good examples of this because so many things affect the value proposition. This makes evaluating them (without insider knowledge) complicated.
Changing the target audience, the format of the offer, or even the topic could result in a totally different value proposition (even if the changes are very small).
But here are a few phrases you might have come across on several different sites, which makes them barely worth mentioning on yours:
"Get your site to the first page of Google," "earn a six-figure income from home," and "build a massive social media following" are just a few marketing-related phrases that have lost their impact. Even if your offer could create those results, people are unlikely to believe it.
"Get rock-hard six-pack abs," "lose 10 pounds in a week," and "the only supplement you need to make your friends jealous" are typical claims in the weight-loss/body-building industries.
Other industries have their own sales phrases that have turned into clichés. If you use any of them, your visitors will likely just turn away in search of something they haven't already seen.
So, figure out what makes you and your offer worth subscribing for. And then make your value proposition blatantly obvious to anyone who ventures onto your landing page.
Over to You
When you look at your landing pages, have you made any of these mistakes? Or did you avoid all the most typical conversion-killing blunders? Share your experiences in the comments below.