Improve Your Relationship Marketing with Insight from Google Analytics
You know relationship marketing will grow your business, and you've been using multiple strategies to increase your reach: guest posting, building an email list, commenting on blogs and forums, writing reviews, managing social media accounts, creating videos, encouraging reviews of your product, etc.

But, how do you know what's working?
Like most small business owners, you've only have so much time and money for marketing. You want to be sure to spend it on the activities that are creating the highest return for your business.
Google Analytics can help you to gauge your results and prioritize your efforts by generating statistics about your website's traffic and traffic sources, and measuring conversions and sales.
After signing up for a Google Analytics account (it's free!), the first step  is to register your website as a new property. Next, you'll need to enlist the help of a developer to set up your web tracking code. Or, if you're using WordPress for your website, you can set up Google Analytics by installing a plug in like Google Analytics by Yoast.
Once your Google Analytics have been set up, it just takes a little work to learn how to use it to measure and improve your marketing. This way, you'll be able to do more of what works, and less of what doesn't.
What Are Your Best Sources of Traffic?
The first place we want to start looking at your marketing is by looking at where most of the visitors to your website come from. All of your marketing may be driving some visitors to your website, but Google Analytics can help you learn which efforts are driving the *best* traffic to your site.
How you define your best traffic will depend on the goals of your website. Best for you may be an audience that reads and comments on your blog, RSVPs for your events or purchases directly from your website. Whatever your website goal, the way in which your best website visitors find you is your best source of traffic.
There are three main types of traffic to your website: referral traffic, social media traffic, and email traffic. Google Analytics has specific reports that will let you dive into each of them in more depth. You'll need to look at all three areas to find your best traffic sources.
Referral Traffic
Referral traffic (access from your Google Analytics dashboard by going to Acquisition > All Referrals) will provide you with an overview of every website that sent visitors to your website. Within the report, there will be a list of URLs that may include links from guest blog posts, social media, PR placements, etc.
This report will give you a good idea if that recent guest post you published drove a lot of traffic, or whether your recent comments on Facebook are getting people interested enough to check out your website.
Here's what a sample Top 10 referral sources report looks like: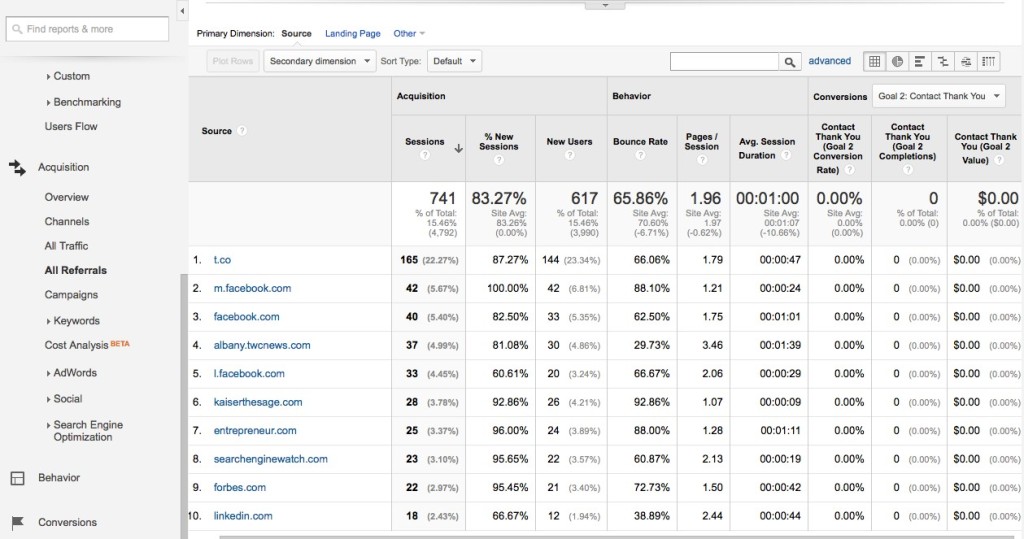 Along with the top 10 referrals, you can analyze the bounce rate, pages/session and average session duration, which will help you to better understand how your audience is interacting with your website. The bounce rate is the rate at which visitors leave your site. The pages/session tells you how many pages of your website that visitor visited, and the average session tells you how long they spent reading those pages.
For example: if your guest post attracted 100 visitors to your website, and they read three pages and spent an average of five minutes on your website, that's a good indication that they liked what they saw. On the other hand, if those 100 visitors read 1 page, and spent an average of 1 minute on your website, that tells you that your visitors weren't interested in what they saw. It could be that your guest post didn't line up with the page you directed them to on your website. Or, it could mean that they just aren't interested in what you have to offer.
Social Media Traffic
Social media is a great tool to build a personal connection with your audience. But unless you do some more research, you'll never know exactly how impactful those 10 minutes you're spending on Facebook a day really are. With the Social Media traffic report (Acquisition > Social > Network Referrals) you can see exactly how many sessions were driven from your social networks. You may be surprised at the stats.
In the example below, you'll find that visitors who come to this website via Twitter and Facebook come back more often, because they have a high number of sessions. But, visitors who come to this website from LinkedIn view more pages per session.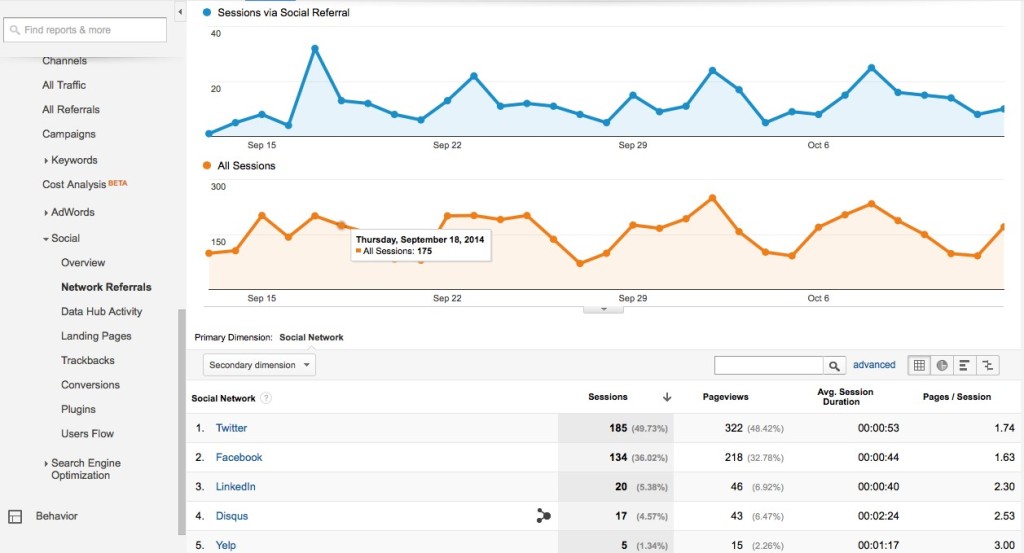 Rather than looking at just the number of visitors, analyze the importance of how often the visitors come back (number of sessions) and how long they spend on your website (pages per session) to help determine which social media network is the best place for you to spend time developing relationships.
Email List Traffic
Email list traffic is the trickiest of the three types of traffic, because it requires some additional preparations beforehand. When you're planning a specific series of promotional mails, you create a specific page to send your email subscribers to. Usually that's referred to as a landing page.
When you're devleoping that landing page, you'll first want to tag the associated links for the most accurate reports. This is a little bit technical, so rather than get into how to do this here, I highly recommend you check out Google's step-by-step directions on how to do this.
Once you've tagged your email links for accuracy, access your email analytics data by going to Acquisition > Channels. Next, select Email from the list of channels that appears.
Here's an example of what an Email Channel report looks like: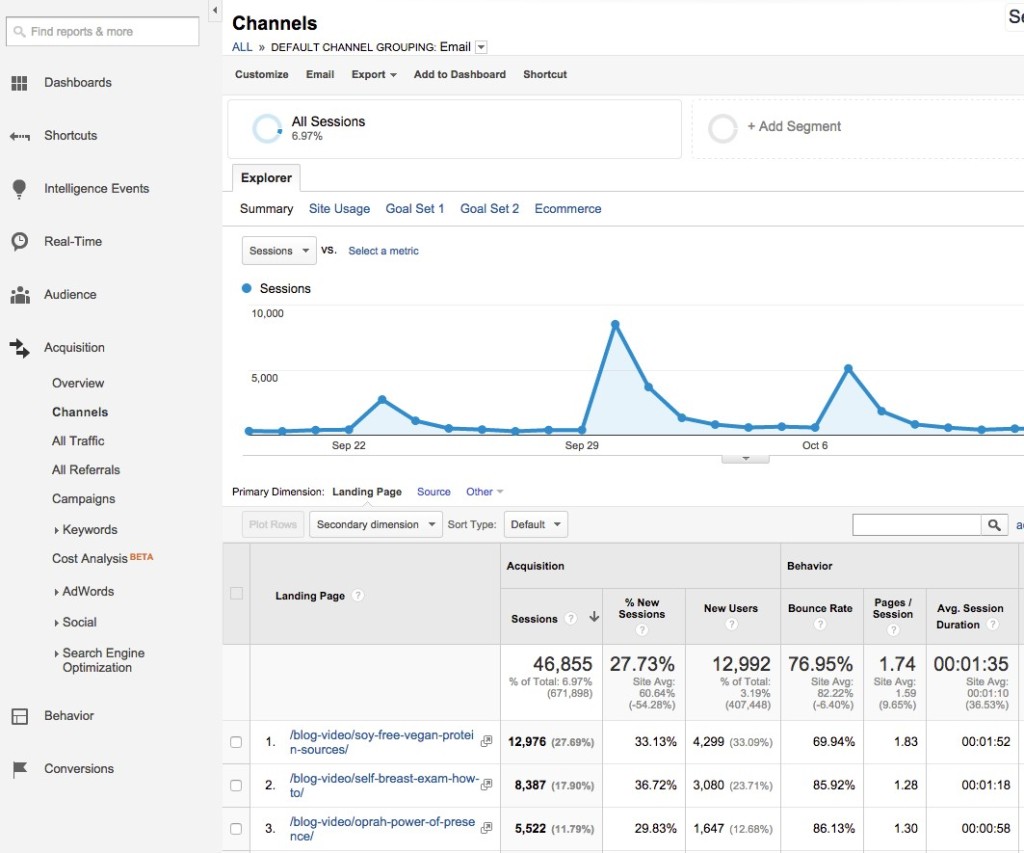 You'll see a list of landing pages from email and can compare performance by page. In addition, look at the graph to see trends for email performance over time. You can see by date which campaigns drove the most traffic.
Setting Up the Right Goals in Google Analytics
Now that you know where your best customers are coming from, it's time to set up some goals to make sure that your marketing time is actually producing the results you want.
Before setting up any Goals in Google Analytics, you first need to determine your business goals. This could be to grow your online community, increase revenue from online sales or develop more repeat customers.
Once you have a clear idea of these objectives, you'll then need to translate them into quantified goals that can be measured using Google Analytics. For example, if you're aiming to improve the number of people who click on a link in your email newsletter, in Google Analytics you can tag and measure the number of people who click a link in your email and visit a particular landing page.
To configure your Goals in Google Analytics, you first need to identify a corresponding URL to help define your goal. For the example with the email newsletter, this URL would be the corresponding landing page. You'll copy this link, create a new Goal in Google Analytics (Admin > Goals > +New Goal) and assign it a title.
On the next page, you'll select the option labeled "Destination." This should be the page that your visitors arrive on after they've taken the action you've asked them to take on your landing page. Often, this is a "thank you" page URL, where you're thanking your visitor for taking the action you asked them to take.  If your landing pages or forms don't use "thank you" pages, you'll need to set up Goals via event tracking. For further assistance, refer to Google's document to set up, edit and share Goals.
Once your Goal is set up in Google Analytics, you can review how your goals are doing by accessing the standard report in Conversions > Goals > Overview. This report will give you a broad look at your goals, but it won't offer actionable insight. In order to draw conclusions on the effectiveness of your email newsletter, you'll want to compare the Goal with other statistics in Google Analytics.
Improvements and Prioritization
Once you have accessed the reports and set up your Goals in Google Analytics, you can spend more time analyzing which tactics have helped to improve your relationship marketing. If you're noticing in the Referral report that a review of your product is driving a large wave of traffic to your site, reach out to other reviewers and ask them to take a look at your product. You want to double down on your best efforts to keep the momentum going.
On the opposite side, if your monthly newsletters are driving minimal traffic to your website, consider how to make these emails more enticing to your audience. Perhaps make them less frequent, add video or images to the email, reevaluate your mailing list, etc. You want to use Google Analytics to help spot failure points, which will help you alter the strategy and measure your success at trying to fix it.
You want to use these reports to identify and enhance the relationship marketing tactics that are working, and improve or drop the ones that aren't.
Are You Using Your Time as Strategically As Possible?

As business owners, you know that building relationships with customers and other organizations is what drives your business. By utilizing the tools you already have in place, like your website and email campaigns, in conjunction with these reports, you'll enhance your relationship marketing and ensure that you're using your time as strategically as possible.
Once you have a handle on these recommendations, you'll have a better understanding of Google Analytics and will be able to gather even more data to improve your online marketing tactics.
Questions about how to implement Google Analytics? Post them in the comments below!