Gamification can Tighten up Relationships and Create a Close-Knit, Highly Engaged Tribe
The following post is an entry by one of our spectacular finalists in our Awesome Engagement Strategies Contest. Finalists showcase their ideas, and whoever gets the most traction (i.e. comments and social shares) within five days of publication will be crowned the winner! This was a wonderful contest with lots of great entries – you can see all of the winners right here!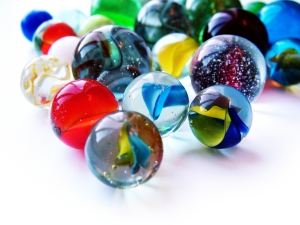 "In everything that must be done, there is an element of fun. Find the fun and snap! The job's a game." -Mary Poppins
Your email list is growing slowly but steadily.
You've started to see some regular commenters on your blog and start up some business relationships. But things have plateaued and you're stumped for how to move things to the next level.
It's not your fault. You've followed all the A-listers' advice and poured your heart and soul into your writing. You dutifully spend time on social media and leave thoughtful comments on other blogs.
The problem isn't you.
It's the echo-chamber of the online community. So, quit beating your head against your monitor.
Here's something that worked for me. I think you can take my gamification examples  and adapt them for your projects using a little business model innovation…
First, the Backstory
This past Fall, I did some research in preparation for my "Prosperity's Kitchen" program.  ("Prosperity's Kitchen" is a class I'll be teaching that's structured like a reality TV competition.)
Anyway, I put out a call for volunteers for a little experiment in gamification.
You might think it's just a buzzword, but "gamification" is one way to create dynamic interactions with your audience and potential customers. (I've written more on Mirasee about using marketing gamification to promote your business.)
For me, it's important that I don't just put a bunch of free downloads out there (old-school content marketing) and then wait and hope for the best. I'm here to help people create positive change in their business. And that means, helping them take action – even if it's just a small step every single day.
To that end, I'd already created a private Facebook group to encourage engagement, networking and sharing of ideas around marketing. (There's no cost to belong to this – it's a group created for the Word Chef tribe that every email subscriber gets invited to when they sign up). But engagement levels weren't nearly as high as I hoped they'd be.
So with the dual aim to increase (dramatically) engagement levels in the group and test out different types of missions or quests, I launched the experiment and dubbed it "The Test Kitchen Project."
The Test Kitchen Project consisted of 8 mini-games played over an 8-week period. We had 19 volunteers, with 17 of those taking part in at least one of the weekly quests and 83% participating in at least 4 or more games.
These were our rules:
Participants had to be a member my private Facebook Group.
Participation was optional each week. Players didn't have to participate in all 8 weeks to be eligible to win anything, but they could only win something that week by participating.
Points and badges earned would determine the overall winner at the end of the 8 weeks.
Random prizes were awarded on a weekly basis to those who participate during that week. These awards could be likened to the gold coins you receive when playing a video game. They don't happen every time for every player.
The focus (the person/business we helped as a group) of the following week's mission was chosen from the prior week's participants and was based on a combination of creativity/thoughtfulness and effort as demonstrated in the discussion thread for that week.
Participants were encouraged to go beyond the simple mission instructions and think creatively about the challenge and how to help the person/business who was the focus of that week's mission.
The Mission Quests
At the beginning of each week, I'd post the mission to the Facebook group. Here's an actual quest from the first week:
Tina's got an email list that needs to grow. (Sound familiar?) She DOES have a give-away goodie that she offers folks when they subscribe, but – like ALL marketing we do – it could probably be a little more enticing.
Your mission (to earn 10 points + the Ideas Badge): Visit her site at [URL] and sign-up for her list so that you can get the freebie; then, examine it closely. What one piece of constructive advice could you offer Tina that might improve either 1) her giveaway item; or 2) how she "sells" that giveaway on her site?
Come back to this discussion thread and post your idea here – no later than midnight, Saturday [date] (pacific time).
For an extra 10 points: When you receive Tina's newsletter, read it and hit reply and give her ONE piece of constructive feedback. Be sure to cc: Tea to earn your points.
Random Rewards (aka Gold Coins)
Each week, on no particular day or time, I would select one person who had already completed that week's mission to receive some "Gold Coins." Here's an actual example from Week 6 (note the link to the sound effect of coins falling). The post was also accompanied by a picture of a gold coin:
[Winner's name tagged] Congratulations! You have your choice of a copy The Pumpkin Plan (by Mike Michalowicz) OR a copy of Attract and Feed a Hungry Crowd (by yours truly). Whichever one you don't choose, choose someone else who's playing this week to receive the other book. http://soundcloud.com/cheripai/video-game
After each week's round, I would post a leaderboard to the Facebook group, showing all points earned and total scores to-date. At the end of the 8th week, there was a bonus round for a chance to spin a wheel and earn up to 75 additional points.
Feedback from the group afterward was extremely positive. Here's a look at the post-game survey:
Before you decided to play, what was your NUMBER ONE motivation for joining this experiment? (They could choose from: Get help with my own marketing; Help others with their marketing (and network in the process); Help you create better "missions" for Prosperity's Kitchen; Earn prizes; and Other)
All of the above + Other: because it was fun (Most people selected this combo answer)
Get help with my own marketing (Second most-popular answer)
Help you create better "missions" for Prosperity's Kitchen
Help others with their marketing (and network in the process)
After you began to play, what was your NUMBER ONE motivation for continuing to play?
Help others with their marketing (and network in the process) (Most popular answer)
Three people answered: All of the above
One person answered: Earn prizes
If your biz was chosen as the focus of a mission, how did the feedback from the other players work/not work for you? What did you like? Not like? Find surprising?
"It was all really great feedback. I am redesigning my whole site so I am working some of it into the new one.
Sometimes it was a little hard to hear, or it wasn't something that I would implement. So it was a good learning experience in taking feedback and discerning what was right for me. Yes, very much so. I was surprised by some of the responses but they were all valuable."
The feedback was fantastic. It has given me a totally new take on how to brand myself. I'm very grateful to everyone in the group who has participated.
At any time during the game (any of the 8 missions), did you find yourself non-motivated to play or bored? Why or why not?
"I struggled a little with the mission about sharing content because none of the content really felt relevant to my people."
No. It was all great fun and sometimes challenging.
I didn't participate in Week 6 because, honestly, I could not come up with anything to add to the discussion.
"The length of the game. As fun as this has been, it's good that we are finished with this stage of it for now. "
The more I played the more interested I became. Critiquing the work of others and reading the critiques provided by the other members made me take a closer look at my own sites.
Too busy, seemed like a lot of work.
Nope, too busy a couple of times, but not non-motivated ever. I really enjoyed the idea of a collective group working to help each other and the game atmosphere only enhanced that concept.
Do you have anything other comments, questions or suggestions to help improve how the games are played?
"Could we get extra credits (both anticipated/known and unanticipated/random) for extra input where requested – as well as dispensation for when real emergencies interfere (such as hurricanes. . . )? Also I'd love a few more players in the game."
"I really enjoyed doing this. I've talked a lot about it with my husband too as he is owns his own I.T. company. It's given us some ideas of how to integrate the whole idea of gamification into our own businesses and possibly into the lives/businesses of our clients. Thanks Tea!"
It worked fine for me. Can't think of anything that needs improving.
A website would be a much better format than a FB group. FB groups are not user friendly in so many ways. And twice I entered comments and they were lost…no huge deal, but much more out of your control. And I would like to see bios posted of the subjects that are easy to refer to, with links to the "contestants" sites or projects easier to find, a resource page that could aggregate the suggestions people made that could then be rated (most educational, most financially impactful, etc.) Perhaps take this to the Slow Marketing site?
Other comments received during the game on Facebook:
This has been a great experience. Thank you. Meeting such a great group of participants is a big take away from the last 8 weeks. I'm looking forward to keeping in touch with everyone on this page.
I'm exhilarated by the input from this group. Looking forward to staying connected. Thanks all around! Great work!
Thanks for bringing this community to life, Tea. Yes, if you make a paid membership site in the future, I'd love to be in it.
Thank you all! Thank you, Tea Silvestre! There are so many great ideas here. I've seen a spike in our analytics from all of your sharing and hope we can continue to earn our growing audience's interest so that they return. I am grateful to each of you for taking the time to consider our content and bringing your individual expertise to us here, to help us reach our (BHAG) goals.
Hello lovely Test Kitchen Folk, just thought you might like to know the results of your hard work and support of my pitch. Of 55 people, 32 pitched during the day and my peers voted me in number 3, so I got into the top ten, and was able to deliver the pitch to the audience and panel of judges with some really positive feedback. More fantastic than that was being able to share this journey with people like you who invested so much in helping me. As a result the final pitch is very different and a little bit of all of you was on stage with me that night. Thank you all!
I've been having a great time watching, learning and participating. Congrats to everyone who is playing 😀
The gamification definitely drove me to get involved before the deadline each week, but reading through each project did take time and there was pressure. There are very valuable insights from members to the various projects, which I will apply to my own site.
Summary & Take-aways
Overall, this was an interesting experiment in keeping community members motivated and accountable to a particular project or class. The weekly missions functioned like case studies for those who participated – they got to give feedback and suggestions, and then learn from what others said, too. These kinds of living gamification examples proved the theory for me – and I hope for some of my participants as well.
The main goal was to see which types of missions/quests would generate the most participation. In general, there was very little variation from mission to mission on that count. Some types of quests were obviously more relevant to some types of businesses. It's important to keep that in mind, if you decide to do something similar.
My secondary goal was to see how well participants could give and receive positive feedback without too much intervention on my part.
I set the rules at the beginning and did my best to keep the missions clear and focused, but didn't ask any additional questions of the players while they were playing. The only prompting I did was during the first two weeks (via email) to remind volunteers that the game missions were up and that they had X many days left to tackle it. I also posted random awards once or twice each week, which I really think helped stimulate excitement.
After about the 2nd week, the participation levels overcame the starting inertia, and most players remained thoroughly engaged.
Unfortunately, group participation has dropped back down to pre-game levels. So this type of project would need to be repeated soon in order to boost engagement back up.
What about you? Have you ever participated in something like this before? Do you have any other gamification examples that have worked well in the past? Or do you have ideas for implementing something like this in your business? Share with us in a comment and let's keep the conversation going.