Using Gamification and Play to Create a Tsunami of Traffic, Excitement, and Buzz!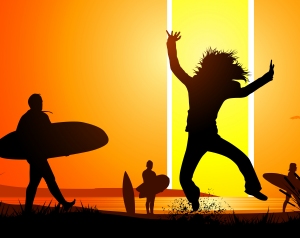 When is the last time you played a game?
You know what I mean – an activity with others where there were rules to follow and specific criteria for victory.
Has it been a while?
If it has – let me extend to you my consolation – playing games is fun.
We're all so busy these days, with work and business and family obligations that never seem to leave you with enough time to just let loose and enjoy.
Since things aren't likely to get less busy, the solution isn't to mournfully accept your game-less fate, but to bring more play into your working life – and see some improvements in traffic hits and engagement to boot.
Yes, this is possible, AND fun.
Just imagine the thrill of a challenge, the sweet taste of victory, the pride in bragging about your accomplishments.
Not only can you have this kind of fun for yourself but you can help your readers enjoy it too. Let's talk about how…
It's About Gamification
You hear a lot of talk about gamificaton these days – it's what all the cool kids on the internet are doing -and that's because, when done correctly, it's a hugely powerful tool for traffic and engagement.
There's more to gamification than just announcing that you're going to be holding a contest and waiting for the results to roll in, of course – these principles need to be understood and applied correctly. I'm going to run through them quickly right now to make sure we're all on the same page.
The first principle of gamification is Motivation: getting people to play your game or enter your contest. So what motivates people? The idea of getting something, of course – but even more effective is the fear of losing something. You can play off of this by painting a vivid picture of what victory will look like and mean to the winner in terms of the real benefits that come from it. Then when you announce the details of the contest, people already feel as if they've won – and will do anything (including play your game) so they don't lose those benefits you described so marvellously.
The next thing you have to keep in mind is Discovery and Surprise: there's something magical about not knowing exactly what's coming next, and you can build treats and surprises into the various stages of your contest. Keep people guessing and their curiosity will never be fully satisfied – they'll have to play until the end.
Status is the principle that gets people really excited: everyone wants to be the best at what they do and a well-structured competition gives them a chance to prove their worth against their peers. Try to give frequent updates about the contest standings so people can track their progress and pit themselves against the other players.
Rewards are what people most commonly think of when they consider gamification, but few people put enough thought into what makes a good reward! It depends entirely on your audience, and you would do well to find out what they value before announcing your prizes! It's important to keep in mind that the prize must be worth the investment you're asking people to make in you. Don't skimp here!
Okay, now that we've got this out of the way, let's talk about how to get your contest the attention that will bring you the traffic that you need.
Spark Some Interest With Controversy
You know what gets people excited? The chance to prove other people wrong.
It may not be the nicest aspect of humanity, but almost every one of us relishes the chance to do it. Happily, politeness keeps most of us from running around yelling "I'm the rightest about everything!" But that doesn't mean that when given the opportunity to make our views known, we'll avoid it.
You can get lots and lots of extra traffic if you highlight issues that cause people's blood to boil. This is an incentive to not just join the conversation, but get other people to do it too!
There are tons of ways to start a little controversy on your blog, and writing about it is just the beginning.
You might want to try an Ask the Readers post – just make sure to choose an issue that people are really passionate about. This plays off of the principles of Discovery and Status: people will be happy to learn that others agree with them, or become furious that they don't, and coming out well in an argument is a status booster indeed. And hey – once it's written, don't forget to promote it!
Polls and Voting are other ways to get people talking about you with controversy – asking opinions on business practices, current events (if you dare to get into this realm!), customer service – these are all hot button issues. This is a particularly valuable activity because not only are people engaged in your content and sharing the results, but it's a valuable source of data for you!
Use Ask the Reader posts, polls and voting to gauge the interest of your audience in new projects you're thinking about, what type of rewards they're interested in and what type of information they most want from you.
This kind of information is invaluable when developing your content calendar, so use it for all that you're worth – as long as you keep things interesting, and provide as much value as you're asking for – people will be happy to oblige.
Work Referrals Into Your Contests
Okay, now that you have some juicy, delicious information about what your audience wants, is interested in and is willing to do – it's time to structure your contest or competition.
There are tons and tons of different ways you can set this up, but there are a few guiding principles that, if obeyed, will never steer you wrong:
Make the rules and the criteria for winning clear. Confusion is the fun killer. Try to imagine all of the questions someone might ask you about a rule, regulation or expectation and answer it in the rules.
 Check your tech. Make sure that all forms, links buttons and everything works like clockwork.
 Provide lots of feedback. In a contest, there is no such thing as too much feedback. People need to know how they're doing if you want them to keep doing it!
Watch your timelines. You don't want to run a contest that ends so quickly that no one has time to join it – but you also don't want folks to lose interest. If you're going to be running a long event, make sure you drip new content, information and bonuses throughout to keep people with you.
 Announce the winners publicly, and try to give them a little more than you might at first think necessary. Make winning an event so amazing that your victor needs to tell the world, again and again, that they came out on top.
Build the type of engagement that you want right into your competition! Make criteria for winning that includes commenting, tweeting and directing traffic back to your blog. You can't be too obvious – and make sure that contestants get equal if not more value from their hard work.
Always Be Teaching, and Providing Value
Of course none of this will work if you don't have a foundation of value to share with your readers and the new people they bring to you.
Go back to basics by looking hard at what your audience needs, and how they frame their problems, then create activities that play off of exactly what they need.
You can revisit what is of great importance to your audience by simply asking them and watching how they interact each other and in other communities they're a part of.
Keep a running file of things that matter to your audience, and when you've got the space in your editorial calendar for an interesting contest or competition, make it all about one of those issues!
When you use the principles of gamification to teach or talk about something meaningful to your audience, you'll start to see results that will amaze you.
Here is another example of  using marketing gamification to promote your business and create dynamic interaction with your audience and potential customers.
Join us to Expand Your Reach!
This is how we came up with the idea of the Great Online Marketing Scavenger Hunt. We know that bloggers, entrepreneurs and small business owners want more out of the many resources available online, so we encourage people to try out new technologies, build new relationships and expand their online reach, traffic and subscribers counts over an epic six-week journey.
Does this sound like something that might be interesting to you?
(The Scavenger Hunt is over – but you can check out the results right here!)