Beware of Google Images: The Ultimate Guide to Finding Free Images Online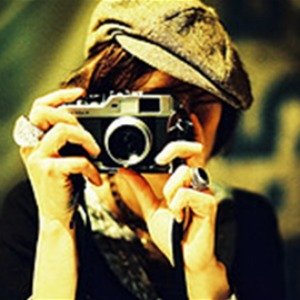 Images are everywhere online. But, do you ever think about where they came from or whether you're even allowed to use them on your blog?
Many people assume the images they find online are free to use on their blog, social media updates and even print materials. I made the same mistake when I started working with local businesses.
After all, using images for your blog posts is a great way to increase reader engagement. The right picture quickly orients your readers to your topic, jump starts social sharing and even helps break up long blocks of text.
But, finding the right image can be a challenge. Sites like Twitter, Instagram and even Google Image Search provide an endless stream of seemingly "free" images.
All Images Are Not Created Equally
The majority of the images you find online are protected by copyright laws and NOT free-to-use on your blog. Before you head out to find the perfect image for your next blog post, it's important to understand the differences between copyrights and what you can and cannot do with the image you find.
This guide will show you some of the best ways to find images online as well as the common types of Creative Commons licenses. Before we dive in (disclaimer alert), it's important to note that I'm not an attorney and you should seek the advice of an intellectual property expert to learn more. This information is based on experience and a lot of research.
Let's dive in…
Using Your Own Pictures
The best way to get free images for blogs is to take them yourself. If you don't have a high quality camera, you can always use your phone. Most modern phones have a decent camera to take good enough quality pictures for blogging and social media purposes.
By taking your own pictures, you can add some of your own personality to the images you use. Plus, you don't have to deal with the copyright protections you face when using images found online.
There's one caveat to using your own pictures. You do need to be mindful of other people's privacy.
If you take pictures of random people or publicly recognizable buildings, then you'll need to have a signed photo release before you can freely publish them on your blog.
Photo Secrets has a great resource to give you more information on photography privacy law.
Using Images with Creative Commons Licenses
If you're looking for free images for blogs that are top-quality, then images licensed under the Creative Commons license are the way to go.
The Creative Commons license basically allows you to use other people's pictures for free as long as you give them credit (or attribute ownership) for the picture. Some artists have specific instructions on how to give credit for the image.
If they don't provide instructions, then you just need to include a link to the site where you found the original image. Here are a few ideas on how to attribute ownership:
1. Add a link with the photo credit at the bottom of your post.
2. Add the link near the image.
3. Type the link directly on the image (especially good when sharing images on Facebook or Pinterest).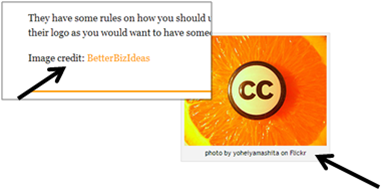 There are six different types of Creative Commons licenses and each one has different rules on how you can use the images. This is important because not all images can be edited or used commercially.
If you're making any money from your site, then I recommend you only use images that are licensed for commercial use. This is a bit of a grey area because you could technically argue that you're not directly making money from your blog.
The way I see it, your blog is very much a part of your overall marketing efforts. If your blog is linked to any other part of your site that makes money (such as a sales or services page), then you're technically making money from your blog and should steer clear of images that are licensed for non-commercial use.
The six Creative Commons licenses are:

Attribution License
This is the least restrictive license. It allows you to copy, edit and build upon the original image in any way you like. You can even use it commercially.
There are over 57 million images on Flickr that use these licenses so there's a strong chance you'll find something that meets your needs. Just remember to give credit to the creator.

Attribution-ShareAlike
The ShareAlike license is the license used by Wikipedia and is similar to the Attribution License. You can use these images any way you like but there's one critical difference.
If you use these pictures to create a new image then your new image will also fall under the same ShareAlike license. This means anyone can freely use your new image. A good example of this is adding a quote to an image and sharing it on Facebook. Anyone is free to take that image and either reuse or edit as they like.
If you're planning on editing your image and don't want anyone else to use it then this isn't the best option for you.

Attribution-NoDerivs
The Attribution-NoDrivs License is more restrictive than the previous two. It basically allows you to use the image "as-is." Resizing is ok but you can't edit, crop or change the original image in any way.
These images can be used commercially, which is nice. As always, remember to give credit to the artist.

Attribution-NonCommercial
The Attribution-NonCommercial License is the same as the Attribution License except you cannot use it for commercial purposes. Basically, you can edit, crop and change the image as long as you give credit for the original image.

Attribution-NonCommercial-ShareAlike
Similar to the Attribution-ShareAlike License, this license allows you to edit, crop or change the image but you can't use it commercially. You not only have to credit the artist for the image but your new image also falls under the same license and others can use it.

Attribution-NonCommercial-NoDerivs
This is the most restrictive license. The Attribution – Non-Commercial – No Derivs License only allows you to use the image "as-is.' You can resize the image but can't edit or change it. Nor can you use it for commercial purposes.
Three Best Places to Find Free Images
There are three go-to resources that I always use when it comes to finding Creative Commons images online.
Creative Commons Search
Creative Commons Search is my favorite of the three sites because it lets you search for more than images. You can search for music, videos and media from this page as well. The site lets you select whether you want images for commercial purposes as well as images you can edit or build upon.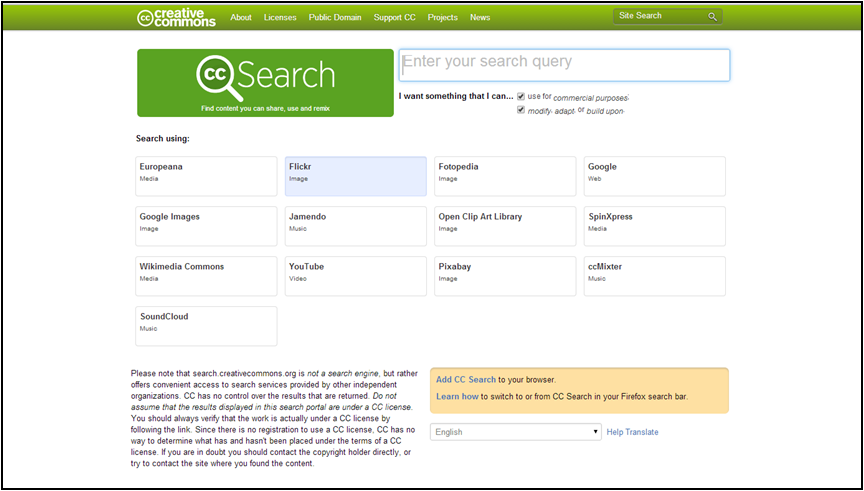 Photopin.com
Photopin.com isn't associated with Flickr, but it does use the Flickr API to search for images, which means that almost all the images come from Flickr's database. I think Photo Pin's layout is easier to use than Flickr's.
Since they're Creative Commons images, the site requires you to give attribution credit to the photographer. But, they make it really easy by giving you the attribution credit HTML to copy and paste into your blog post.
Unsplash.com
Unsplash.com is an awesome website that gives you 10 high-resolution photos every 10 days. They're totally free and you can use them for anything because they're not copyrighted. The images are beautiful, but they only display 10 at a time. You'll definitely want to save these images for later use.
Newcomer: Getty Images
Getty Images recently entered the fee images for blogs market by allowing bloggers to embed over 35 million images from Getty Images in their posts.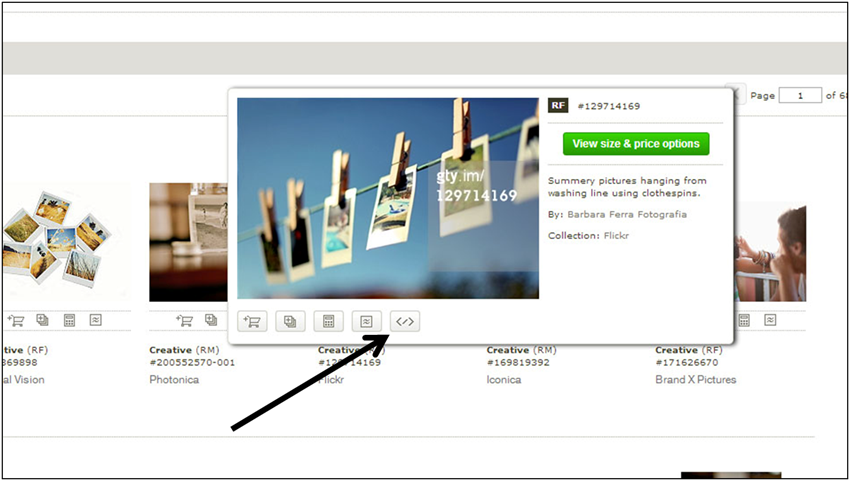 All you have to do to grab one of these images is to head over to Getty Images and search for the type of picture you're looking for. Then, hover over the image you like in the search results and click the "</>" embed icon.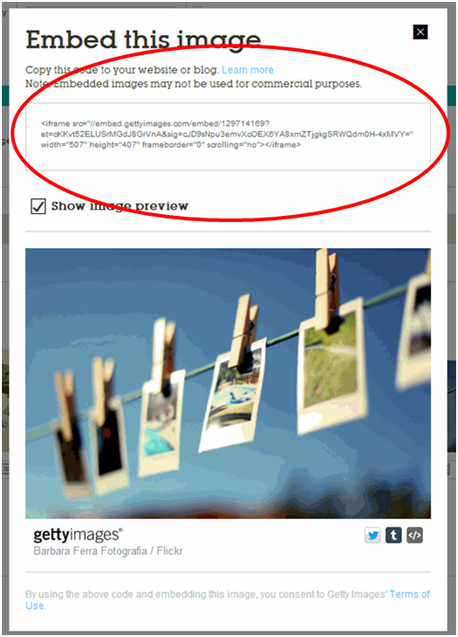 This will give you the <iframe> embed code for that image. Just copy and paste that code into your blog post and you're set. No worrying about attribution credits because the image will come with a credit for Getty Images.
This is huge! But, there are a couple of things to consider before you get carried away with these pictures.
The image will automatically link to the Getty Images page where you can purchase the image.
The terms of service outline the possibility of adding ads to the embedded images in the future.
Unlike images from Flickr, you can't download these images. So, you can't control if they get changed or deleted in the future.
Lastly, the images can't be used for commercial purposes. Again, use your best judgment to decide if your blog is used for "commercial purposes."
This is a new resource and there are still a lot of questions floating around about it. But, it's a great resource if you can live with the embed code and the possibility of future ads.
Or find Creative Commons images all in one place with this Free Photo Finder.
Beware of Google Images

Like most things on the Internet, a Google search is by far the easiest way to find free images online.
But, the pictures you find via Google Image Search are copyrighted and should only be used for viewing purposes. Think of this like an idea board to inspire your own photography.
DO NOT use these images on your blog.
I know it is super easy and really tempting because Google has one of the largest image databases on the planet. But, it isn't worth the risk of landing in legal troubles or getting hit with a hefty fine because of copyright infringement.
That being said, it is possible to find Creative Commons on Google by running an advanced search. But, the problem with these images is there is no way to be completely sure that they're truly licensed under Creative Commons. If you find an image on Google that you like, the safest bet is to contact the owner and see if you can use it.
To do an advanced image search, head to Google Images and search for your image. Then, click the gear icon in the upper right corner and select Advanced Search. Choose one of the Creative Commons licenses from the "Usage Rights" menu toward the bottom of the page.
When you return to your search results, the page will be updated and only show images with the license that you chose.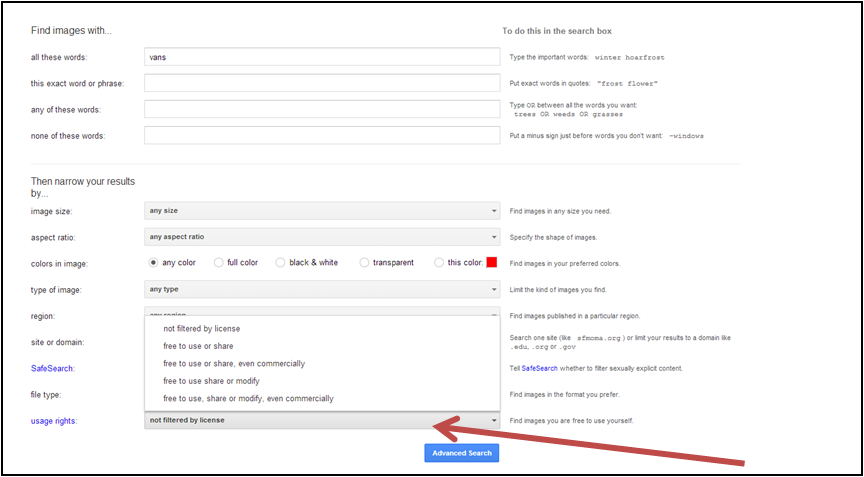 Over to You
This guide has just scratched the surface in terms of where to find free quality images online. There are a lot more resources than the ones I listed. Do you have any great resources that you use to find images for your blog? Let us know in the comments below.