Breakfast Misadventures: How to Destroy a Customer Relationship in 30 Minutes or Less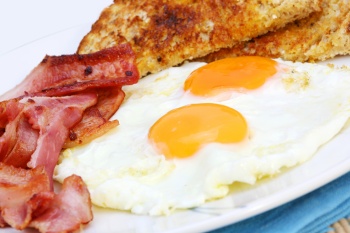 This is a true story.
Wednesday, June 6th was an infernally hot day in Montreal; the forecast called for 32 degrees Celsius and 62% relative humidity, which combined to create the feeling of a sticky and oppressive 40 degrees.
Since my fiancée and I had begun packing in anticipation of our July move into our new condo, there was no functioning air conditioning in my apartment.
Realizing that I was unlikely to be very productive under these conditions, the plan was to spend the day hopping between air-conditioned cafés and client locations, starting at the Starbucks next to my fiancée's office.
She didn't have to start work until 9am, so we decided to share a morning meal at our favorite nearby breakfast establishment.
That was a mistake…
I woke up in the morning, sticky from the heat. I brushed my teeth, showered and checked my email (okay, okay, I checked my email and then showered!). Then I got dressed, grabbed my gear and headed out the door.
The Ill-Fated Breakfast Experience
I met my fiancée at the restaurant at 8:03am, and we sat down at a booth. After several minutes the waitress passed by with two cups of coffee, asking if we wanted them (that's right – she brought the coffee and then asked).
Despite our not having ordered the coffee, she was indignant when I requested decaf and my fiancée asked for a glass of water.
Then minutes passed, and my decaf arrived. She placed it on the table without a word, and rushed away.
No problem – my fiancée and I are both understanding people, and we could recognize that the place was a little understaffed.
We waited patiently. And then waited patiently some more.
At 8:29, she still had not returned – my fiancée was still waiting for her water, and our orders had not been taken. The waitress had passed by several times, but every time I caught her gaze she carefully averted her eyes, pretending not to have seen me.
By this point, we were getting frustrated. After all, it was a weekday morning, and we both had work to get to.
Finally, I suggested to my fiancée that we leave a few dollars for the coffee, and go someplace else. As we started to put coins on the table and gather our things, the waitress appeared.
"What do you want to order?" She asked, as though she was doing us a favor.
"Actually, we're running late, and we're going to leave." My fiancée replied. No mention of the fact that we'd been waiting for half an hour, and no mention of the water that was not provided. My fiancée, wonderful woman that she is, was polite and even friendly.
How to Lose and Alienate Customers
"Good!"
That was the waitress's reply as she rushed away. She didn't apologize for making us wait, didn't say that she's sorry to hear us go, and didn't even acknowledge us with a simple "I understand."
No, she just flashed us an evil look, said "Good!", and rushed off.
I don't easily get upset in this sort of situation, and I'm usually good at recognizing that the restaurant is probably understaffed, and that the waitress might be taking any number of unrelated frustrations out on us. Don't judge someone, because you don't know what else they might be dealing with, right?
This time, though, I was livid. Being stressed and providing lousy service is one thing, but being rude is quite another. I'll forgive lousy service, but not rudeness.
We grabbed our change and left the restaurant. I spent twenty minutes fuming; plotting the restaurant's demise and imagining how I would get the waitress fired.
Then I calmed down, and enjoyed breakfast with my fiancée at another establishment. The conversation moved on to other things – our plans for the day and evening, and recent happenings in her work life and mine.
Then I got to thinking…
How Fragile Customer Relationships Can Be
This was not our first experience at this establishment.
My fiancée and I have eaten at two of their locations on a dozen different occasions in the last few months, and I've held half a dozen business meetings there as well, introducing colleagues and clients to the restaurant in the process.
The service was always a little slow, but the food was good, the décor and ambiance were pleasant, and the location was convenient. And in truth, I'm not that difficult to please.
But now, I'll never return to any of their locations. Neither will my fiancée, and neither will any of the people with whom I do business – even if they read this and take major steps to improve customer service.
My fiancée works for a large firm nearby, that potentially represents a significant amount of business to the restaurant as well – no doubt this story will affect that business as well.
How much money will the restaurant and chain lose because of that one word?
It's hard to quantify, but I'm pretty sure it's a lot.
I'm Not Just Venting – There's a Lesson Here!
Okay, yes, part of the reason to write this post was to vent.
(And while I haven't included the restaurant's name in the post, feel free to email me if you live in Montreal and want to know what restaurant you should avoid.)
But you know me well enough to know that I wouldn't write this post if I didn't think there was something of value in it for our readers.
The lesson, of course, is that the connections between us and our customers are a lot more fragile than we sometimes pretend they are. We call them customer "relationships", and we really glorify that in the world of marketing and social media – we even equate these relationships to friendships.
But the truth is that our customers are NOT our friends. Neither is our audience.
Sure, exceptions exist – I have several clients that have become close friends, and some friends that have become clients. I have also begun to form real friendships with some of the people I've connected with throughout the blogosphere.
But if I were to offend a friend, then they will cut me slack, take my circumstances into consideration, and weigh the interaction against the sum total of our experiences together. I will apologize and mean it, and we'll move on.
Not so with customer relationships. If you offend them (or otherwise fail to provide good customer service), then they're most likely gone for good.
Have you had a similar experience as a customer? What about YOUR customers? Have you ever had to recover after offending a customer? How did you do it?
UPDATE: Around 8:30am, right after publishing the post, I sent the link to the restaurant chain in question. At 1pm the same day, I received a call from their marketing director. Want to know what she said? Check out my update comment below!