More Customers with Foursquare Marketing: The 3-Part Strategy that Really Works
Note: This post was part of the "Marketing That Works" Ideas Contest, showcasing 20 of the most innovative marketing ideas from the blogosphere's up and coming marketers. We've since picked a winner – check out this post for the details! 🙂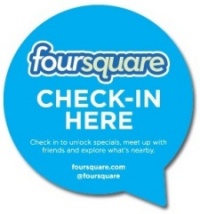 Ever wondered how your small or local business can take advantage of the latest trends in social media and mobile marketing, and attract new customers in the process?
Let's face it.
Every local business wants an easier and more effective way to get customers during this economy. But how can these businesses attract and retain more customers with social media, without spending a lot of time and money to do it?
That's where Foursquare Marketing comes in. I'll tell you why it's important, and show you a proven Foursquare Marketing strategy to get more customers in the door and keep them coming back.
What is Foursquare?
Foursquare is a social, location-based service that people use on their smartphones to "Check-In" to various locations in their area. To get an idea of how big it is, check out these stats:
It currently has over 10 million users
Over 35,000 users join every month
500,000+ businesses worldwide use the platform
As smartphone use and purchases continue to go up, so will the userbase.
And while social networking is currently mainstream, mobile social networking will be the next step in a growing trend.
More importantly, Foursquare takes advantage of the 3 biggest trends in marketing : Social Media, Mobile Technology, and Local Based Services
Now, you may know Foursquare is big, but what you may not know is how powerful it is for local and offline businesses that want to attract and keep more customers.
Why should businesses pay attention?
While most businesses know that they should be using social media marketing to attract new customers and clients, it's usually easier said that done. Local business owners specifically face problems such as:
They don't have the time
They don't have the knowledge to implement it correctly
Results take a while to show, and make it difficult to stick with it
You need to attract fans/followers, either through your website or directly from Social Networks like Facebook and Twitter.
Foursquare is different in 3 main ways :
It's an "Instant" Mobile and Social Media Strategy
Customers interact with your business directly by checking-in
Customers engage their friends by often sharing their check-ins with both their foursquare network of friends, and their social network of friends.
What's more is that most, if not all, of your competitors are not using this strategy to attract customers yet, and that's why taking action now will keep you ahead of the game. As Carmine Gallo says in his excellent book, The Power of Foursquare, "Don't wait for a case study. Be the case study."
But while all of these reasons are important, probably the most important reasons for local businesses to take foursquare seriously is this :
Potential customers in your area are using it, and may already be checking into your business without you even knowing.
To check this for yourself, visit Foursquare's Search, and type in your business name, and location. Then search the results to find your business. If you see check-ins that means your customers are already checking in to your business. But if they aren't, don't worry. I'll show you how to attract new customers with Foursquare, even if you haven't had any check-ins.
Why do customers "check-in" in the first place?
You understand how foursquare works, but maybe you don't "get it". Why are users checking-in to locations in the first place? There are many reasons, but here's a small list :
They feel more important
They feel more connected by sharing what they do  and where they go with their network of friends
They receive discounts, rewards, and badges.
They have fun showing off and competing with their friends in the process.
So you know that Foursquare is big right now, that smartphone adoption will continue to grow heavily, that your customers are already using it, and that your competitors don't even know about it yet. That's a powerful incentive to start now.
Here's how to take advantage:
ATTRACT New Customers
1) The first step is to quickly claim your business venue with Foursquare. Claiming your business gives you the ability to create specials, add tips about your business, and see cool statistics about your foursquare customers. This process takes less than 5 minutes.
(Read this great post on how to create an account and claim your business)
2) Next, you want to create a "special" for your business. Foursquare specials are similar to coupons for your business.
Here's the key. You don't just want to create a boring or mediocre special like other businesses, such as $10 off a $50 purchase, or save 10-15% on this service/product. You should create an aggressive special to attract new customers and generate buzz for your business
When potential customers are in the area, they'll be attracted to your special and want to visit your business now, or keep you in mind for the future. Here's how specials attract new customers :
Foursquare users have a feature on the app called "Explore" mode, which shows all the businesses around their area to check in.
When foursquare users are looking at nearby places on the application, the businesses that created specials are highlighted. Since few (or none) of your competitors are taking advantage of this, you'd be the business that stands out.
When a user checks in to a businesses nearby, they'll be notified of a "special nearby". By clicking it they will be taken to your special.
By taking advantage of this feature and creating an aggressive and bold special, you'd attract new customers using a strategy that most other businesses have yet to implement.
ENGAGE Current Customers
Now that you know how to attract new customers using foursquare, here's how to engage your current customers, both current users and non-users of foursquare, to get them checking in, coming back, and sharing their check-in with their friends.
Engage non-users
You may have come across a website that wanted to give you some type of free information, report, or other incentive in exchange for clicking their Share to Get button. They win because you share the news about your freebie with your social network. You win because you get free, valuable stuff.
Well, here you're going to create your very own Offline "Share to Get" button, to get your customers sharing their check-in with their social network (their friends) in exchange for your offer. Here's how:
For your current customers that don't yet know about Foursquare – create, print, and put up a small sign that tells customers to "Connect with you on Foursquare".
Don't just ask them to connect, show them exactly how to do it. Tell them to download the app, create an account, link their account to the social network of their choice (Twitter or Facebook), and check in to your business. Tell them this only takes a few minutes.
On the same sign, put up a limited time offer such as discounts, a free offer, or other incentive in exchange for their sharing the check-in with their social network.
Tell them they have to show the check-in right from their phone to you or your employee in order to redeem their offer.
Not every customer will want to share their check-in for your particular business, but for those that do want to take advantage of your offer, they'll happily share the check-in with their network of friends. This spreads the word about your business in a powerful way because a check-in is similar to the social media equivalent of a referral.
Engage Current Users
Once you've started to create specials and are attracting new customers, here's what you want to do:
Change your specials often. You want to create new, strategic specials often. If you know that certain days, weeks, or months of the year are slower periods for you, then create a great special during that time to attract more visitors to your business. Get creative depending on what works for your business. This both engages new customers to get them coming in, and keeps current customers coming back to take advantage of your new specials.
Leave tips, insights, and information about your business right on your foursquare page. Your customers want to know more about your business and what makes you special, so let them know.
REWARD Loyal Customers
They say that 20% of your customers typically contribute to 80% of your sales. And to build customer loyalty, you'll want to reward your best customers to keep them coming back and spreading the word about your business.
Reward Your Best Customer
When it comes to Foursquare, the user that has checked in to your business the most within a 60-day period becomes "Mayor" of your business. This is your most loyal customer, and you'll want to reward them with a unique offer or special treatment made just for them. Create a special offer just for your mayor,  and make it known by either posting it as a tip on your foursquare page, or at your business location.
Here's where it gets interesting. It's great because it keeps your most loyal customer happy and coming back. But it also gets the next group of foursquare users that are close to the mayor in total check-ins to compete for that mayor spot so they can get the rewards. This creates a fun competition between foursquare users for that top position, while you reap the benefits of more business.
Reward Customers Who Spread the Word
You'll also want to reward customers who freely share a check-in with their social network. This is a simple strategy that will surprise your customers, get them talking, and build additional loyalty for your business. Here's how:
Visit socialmention and create an alert. Type in your business name, and choose to receive alerts for both Facebook and Twitter.
You'll now receive an email each time your business name is mentioned on either Twitter or Facebook. When you get this email, check the alert to verify that it has been a customer that checked in to your business.
Depending on the size and amount of check-ins your business receives, find customers that have checked in on their social network and message them. Thank them for doing business with you, or even offer them an additional special, no strings attached, just for being a loyal customer.
These steps don't take much time but will instill loyalty in your best customers, keep them coming back, and gives them incentive to spread the word even more.
Recap
Foursquare marketing is simple to implement, but can truly bring great results for your business over time. Just remember : It's free to use, you're customers are already using it, it's growing at a huge pace and you'd be taking advantage of new and growing social media strategies. And for more great tips and information, I strongly recommend you check out the book The Power of Foursquare, by Carmine Gallo.
So, what do you think of these strategies? Do you know of any others that work well for local businesses? Please leave a comment, and let me know.