Lessons Learned from a Former Meek Speaker (Project ABC)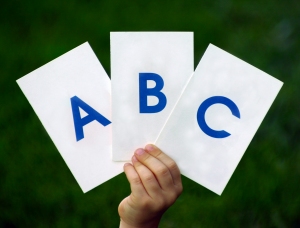 What if…
You could have the confidence to always speak your mind?
You could know exactly what to say in any situation?
You could influence others to follow your advice?
It would literally change your world. I know because I realize what life is like when you lack confidence and are always afraid to speak up, seem to continuously say the wrong things at the worst time, and constantly feel you and your ideas are ignored. I know because the person I just described was me not too long ago.
Six Years Ago…
For most of my life, I was an introvert, shy, and just felt socially awkward. I felt alone. My parents saw I wasn't making any friends at school and for my 13th birthday, my dad bought me a copy of Dale Carnegie's How to Win Friends and Influence People.
While it would make a cool story to say my life changed overnight from reading Carnegie, my experience was anything but simple. In fact my dad's gift stayed hidden my bookshelf for a few years until I entered high school. I started reading it after a friend of mine told me, "Davis you are smart and have great ideas to share, but you have no people skills so no one ever takes you or your ideas seriously."
His comment stung, but he was also right… I wouldn't have been able to convince a loan shark to take my money if I wanted to (that's an extreme example, but you get the point).
Long story short, I started reading Carnegie and soon others books about developing confidence and social skills. I learned a lot, but didn't notice a change, because I didn't have much opportunity to practice.
One day, I saw an opening for a local public speaking competition and decided to enter. "I have nothing to lose" I said to myself and ironically I won with hours of practice in front of the mirror. Afterwards, I started looking for more opportunities. I joined more clubs, attended more conferences, and participated in more public speaking competitions.
Gradually I could see myself changing for the better and feeling happier about myself. I no longer felt alone. At the same time my confidence and communication skills increased, so did my number of friends and happiness. Oh yeah, and there were also some state and national public speaking awards, but those were just a byproduct of my desired outcome never my goal. I loved the new me: I was still an introvert; I just knew how to connect with people better.
Ten Months Ago…
In college, I was surprised to find that there were other students who were just like me in high school: smart but had trouble getting others to listen. Even at a place like Yale, there were students who were hard workers and great scholars, but felt they were poor communicators. My freshmen year I enrolled in a leadership workshop and during my sophomore year was asked to co-teach that same workshop for students who wanted to become better leaders and communicators. I looked forward to class each week.
Around the same time I started teaching the leadership workshops, I started a blog [www.findmymotivation.com] about setting goals and finding the motivation to accomplish them. A few months in, I started to receive emails from people about their goals, it seem a common theme was a lot of people wanted to be more confident and better communicators: public speakers, leaders, assertive at work, etc. My readers who had goals of being better communicators all considered themselves shy or introverted.
I make the hard decision to stop Find My Motivation and started another; this one was more focused with the goal of empowering people to grow their confidence and voice. That's how Speak for the Meek [www.speakforthemeek.com] was born: out of a common problem: people want to know how to handle other people.
How I Came to Join the Audience Business Masterclass
Over Christmas dinner, I told Tina, my girlfriend, about my idea for the blog (she picked the name and logo). A few weeks later, Tina was watching a webinar hosted by Mary Jaksch of Write to Done which featured Mirasee's own Danny Iny. As soon as the webinar was over and the traditional sales pitch half started, Tina called me while I was on a train by back to Yale and said, "You have to enroll in his class."
"I don't have $600 to spend."
"I think you'll get a lot more out of this experience."
Tina knows I have a college student budget, but when she gives me advice, I listen and don't doubt her. As soon as my train arrived in New Haven and I was in my dorm, I immediately enrolled in the Audience Business Masterclass. In the back of my mind: "I hope this is really worth it."
Much of the content, I felt could have been easily googled such as writing epic shit, figuring out where to guest post, and how to create effective landing pages, but most of the value I received from the ABM wasn't just from our weekly lesson, but from applying Danny's advice and receiving Megan's support.
I found these five lessons to be important as I was working on Speak for the Meek that I will apply to future blogs, businesses, and areas of my life.
1. Tim Ferriss Wasn't an Overnight Success
When I first read about bloggers such as Leo Babauta, Sibyl Chavis, and Scott Dismore, I couldn't help but wish that the same lucky star that crossed their paths could fall on mine as well. Each of them have such a huge a community of loyal readers that their success seemed to happen overnight. It is as if they hit "publish", went to sleep, and woke up to 10,000+ new subscribers.
But the more I read and talk to them about their experiences the more I could see how hard they worked to earn their loyal following. Nothing was given to them, they worked for years to build their communities. I learned to apply the same mentality in my work. Just because my emailing list doesn't name 10,000 names doesn't mean it won't one day. I have to believe that what I'm reaching for is there, I just have to work smart and have patience.
2. No One has Time; You have to Make Time
I am a full-time student, put 20 hours each week into ABM, workout an hour each day, lead 4 student organizations on campus, have 1-2 hour meals with friends twice a day, and sleep 9 hours each night. I am using a time management secret I learned in high school.
Want to know it?
It is simple: Do What You Say You Will Do.
Why do you have time to brush your teeth, shower, and go to the store? It is because they are important and you make time for them.
On any given day we have hundreds of little things we can be doing. Out of those things, only a handful are priorities to us and we do them. The rest are forgotten until they become urgent and important.
Block out time. When 10:00pm hits, I am in bed. When 7:00am arrives, I am in the gym. You will find eventually that whatever you want to do as part of your routine.
3. Who Has Your Back?
Two women have made my journey more bearable: Tina and Megan. There were weeks when I could watch the 20 minute lesson, re-watch it, and complete the homework with two hours. Then there were most weeks. 😉
Several times when I was trying to figure out my ONE person or first impression incentive, Megan was there to give me much needed and honest feedback. For both elements we went through at least one iteration a day for two weeks. Tina and I did the same. When I had a bad idea, she never failed to tell me. Megan and Tina's honest and concise feedback and support have been invaluable to me. While you could do everything yourself, having people in your corner is both nicer and more fun.
If you take anything away from this post – make it this: Have people around you that are invested in your success, and can help you when you need it.
4. Who Do You Know?
To grow your business or blog you need people to help you along time the way. Remember that there is no self-made millionaire: everyone had someone. One of the advantages of guest posting is that you can drive more traffic and get more subscribers onto your site, but another often undervalued benefit is that you form a relationship with bloggers. These bloggers, even if they have less experience and traffic then you can help you connect with other bloggers, offer you more guest posts, or even become your next venture partner. It is more than just networking with other blogger, it is about forming meaningful relationships.
5. Love what you are doing
There are days when I am working on Speak for the Meek for hours at a time. I could be designing the homepage from lunch to dinner just to toss it out as another iteration, but I never feel the hours I put in were wasted. I love what I am doing. This has been so important. If you don't love what you're doing why are you doing it? One of my favorite quotes is from Alan Watts, my favorite modern-day philosopher, "Better to have a short life that is full of which you like doing then a long life spent in a miserable way."
The true value of the Audience Business Masterclass has come from being able to apply what I learned. Reading about landing pages and actually doing it right, are two different things.
Where I am today
While my blog is getting ready to launch in August, I am giving away my free e-book, "Get Anyone to Say Yes" to early subscribers to get them started on the road to being more confident.
One thing I am doing to spread Speak for the Meek and see if this is something worth pursuing is teaching a live semester long weekly confidence and communication workshop series this Fall at Yale.
The idea for the workshop came as I was teaching another leadership development class last year. The only difference is that the one I will be teaching will be aimed at helping empower students who consider themselves shy or quiet and who want to be better communicators.
I recruited a few of my friends who believed in the mission of Speak for the Meek to help. We already have a waiting list. 🙂
Can I get your help?
As I am developing my workshop in the Fall, I wanted to ask the Mirasee family for some help and advice.
What books, blogs, and resources would you recommend to your friends and family members who want to improve their social, communication, or people skills?