Facebook Marketing: Achieving Success by Becoming a Welcomed Guest
The following post was an entry by one of our spectacular finalists in our Awesome Engagement Strategies Contest. Finalists showcased their ideas, and whoever got the most traction (i.e. comments and social shares) within five days of publication was crowned the winner. Check out this post for the complete list of Engagement Strategies Contest finalists!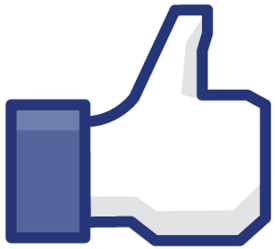 Want to grow your Facebook fan page fast, and receive your daily portions of ego-massage while you are still a newbie?
Here's how I did it…
Last spring, my friend and I created our first Business Page on Facebook. We were really excited.
But then the question came up – how could we grow it FAST and without investing a lot of money in it?
It was a new venture… no website/service available, just a rough idea to test the market, so we decided to start all activities inside Facebook.
Of course, we followed all the basic Facebook marketing ideas:
Invite all your friends, that gave us ~100 fans,
Run Facebook ads, $10 investment resulted with 100 extra fans,
Tagged our friends and celebrities on pictures – that didn't work with me so well. (You can make people you tagged really irritated. For example, an Indian artisan tagged me on the picture of his new basket. "Where is the connection?" I wondered, "I don't like this basket, I don't want my friends to see it…" It was okay, when he did it once. But when it happened 3-4 times, I cancelled his subscription.) Overall  results from  this tactics were rather poor.
"Pay" with a Like. For example, there are special forums in LinkedIn Groups to promote your page. You have a list of participants who will like you after you Liked them. This one is also not my favorite – very time consuming, and people can be offended if you forgot to like them back.
Weeks passed… my friend became busy, so I stayed mostly all alone with our page, keeping updated it daily. Though my dream – to open my account in the morning and see hundreds of new Likes, Fans and comments – remained just a dream. Instead of hundreds of Likes, I was getting 1-2 per day.
But one day the miracle finally happened!!!!!!
It was amazing and inspiring, especially since at first, I didn't know where all those visitors came from…
I didn't have any ads running, yet people seemed to find my page in some mysterious way. This happened near the end of the summer, and my page started to grow by 100-150 likes per day, (whereas it used to be 5-10 per week).
And I was sitting and wondering, how did it all come about?
The secret unveiled a bit later and also out of the blue… but let me tell you what happened a month before this magic event.
Back then I was really disappointed with my statistics, low interest to publications (no likes, comments or sharing), low % of fan base growth… So I was inspired to go and search through Facebook groups/pages with similar topics. I was pleasantly surprised by the number of groups that I found, and I decided to post on some of them.
After trying and failing repeatedly, I finally figured out the success formula to becoming a welcomed Facebook guest:
Step 1. Create a wish list of top group/pages
Do it according to the following 3 criteria: topic relevance, group/page size, openness of the group…
Topic relevance – Your wish list should be filled with groups/pages close to your theme, or, in my case, smaller niche pages. Our page is devoted to handmade items, amateur artists and featured designers in any type of art all over the world, so my choice of pages was a certain art discipline (like knitting, or stitching), or artistic ways to recycle trash, or themed craft associations.
Group size – Your ideal target groups should be bigger than you. For example, I chose pages with 15,000-20,000 fans, when my own page had 300-500.
Group openness – Consider those who like and welcome guests by sharing and publishing content from other users. If page has only its own content – bad sign… It still can work as additional traffic resource, but you will never receive the nice nice bonus – a repost of publications from your wall – which is, in fact, your ultimate goal.
Step 2. Be a welcomed and graceful guest
So what should be expected of us as guests?
Add something interesting to the dialogue – Be nice, genuine, behave like an experienced traveler that has bunch of interesting and surprising stories, and is happy to share them with an audience. Your post should be fresh, remarkable and aligned with the values of the group/page.
What I found was always welcomed:
Challenging new ideas (really new or not widely published, I used some local resources, or direct information from authors, etc.),
New approaches to discussed topics – in our case it is an attitude to the craft not just as a guild but rather a public statement (being green, participating in politics, making cities more cozy to live in),
Stories and pictures that stimulate positive emotions and make people smile.
Be polite and respect the host – Don't behave like a spammer who only shouts out his offers and puts links to his own page. You are a guest, so to be interesting to the host, you must be authentic and it will become your small hook, that will catch audience for your page. It's like an elevator pitch where your only one goal is to catch attention and make people want to hear more from you.
Be really generous without any expectations – I would suggest that you think of this activity as a random act of kindness without expecting anything in return. Returns will follow – they did for me, most of the time. But make sure you remember my previous point. Don't do it like – "hi, I like your page, come and like mine"! Be creative! And don't be offended if the moderators don't react to your publications. It's okay, it's part of an experiment.
Step 3. Be always prepared for unexpected guests
Make your own page juicy, interesting and be ready for sudden visitors and reposts. That will bring you the traffic that I mentioned at the beginning of my story. Yes, it's your reward, and maybe it will be anonymous. Just enjoy the results of your hanging out.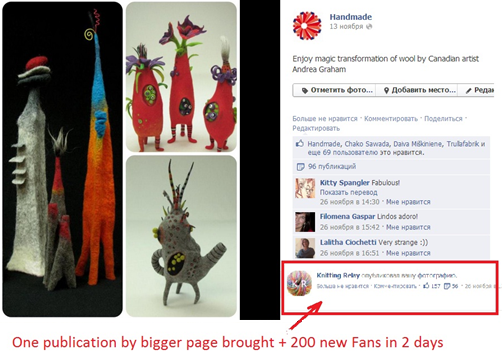 After your several successful "guest" publications (if they collected a lot of likes and shares) you will catch attention of the moderators of the page where you wrote your post, and they will come and return you a visit. If you have a lot of content on your page that is close to what they've already seen in your posts be sure, they will share your publications. And that is a moment when miracle, which I described at the beginning, happened – unexpected buzz and likes.
One nice bonus of this tactics – reactions on bigger pages for sure are more genuine and bring more likes. That will nurture your ego and you will get a necessary enthusiasm to continue with your own page – and continue using Facebook for business.