Party Your Way to Raving Fans and Buyers on Facebook
Once you have published your first book or launched any other audience business, you literally want to shout from the rooftops and share your accomplishment with as many people as possible.
But how do you actually go about building that loyal and engaged audience for your new book, product, or service?
You turn to Facebook, which is one of the best social media platforms to shout from virtual rooftops and reach thousands of new fans and buyers.
But, even with your excitement to launch your page, you don't get a lot of traffic, leaving you feeling as though your page is in a desert.
As an author, longtime Mirasee fan, and one of the recent winners of The Great Online Marketing  Scavenger Hunt of 2014, I am honored to share a marketing strategy that worked for me, and will work for some of you too: Friday Fan Page Parties on Facebook.
A Targeted Facebook Strategy Can Work Wonders
After publishing my first book, The Accidental Caregiver's Survival Guide, in the fall of 2013, I decided to build my author platform and audience through a Facebook Author/Fan Page.  After creating my author/fan page, I invited all of my personal profile friends (about 400 at the time) to like my page.  About 25% followed through and I reached my first 100 likes in about a week.  I was so excited!
Then, the likes stopped coming.  I could hear crickets on the page  instead of Facebook fans. I was confused about how to transform my page into an oasis of activity that my future readers and client prospects would be magnetized to explore.
So, I embarked on research about Facebook marketing and paid advertising but was turned off by the complex campaign strategies and costs.  I had just invested a significant amount of money self-publishing my book and was hesitant to spend more right away before additional revenue came in.
Discovering an Effective Free Strategy
Something amazing happened after several weeks of research into how to grow a loyal audience of engaged Facebook fans.  I noticed other businesses were hosting Fan Page Parties on Fridays.  I started attending them and quickly became hooked as I met some amazing business owners who not only liked my page but started sharing stories of how caregiving impacted their lives.  Some new fans and fellow business owners even freely shared and featured my page on their pages beyond the Friday party day.
Attending Facebook Fan Page Friday Parties is simple. Party attendees get to post links to their fan pages with descriptions of their businesses in the party host's comment thread.  Fellow party goers are encouraged to comment and like one another's fan pages.  Everybody builds more likes, momentum, relationships, and potential buyers of their products/services.  Party hosts generate higher organic (free) post reach and fan engagement.
Hosting a Facebook Fan Page Party
To get started, just find a fan page that posts an image on Fridays promoting the party.  The party host will usually display her/his attendance rules in the image description.  Most of the rules are standard and include:
Liking or sharing the party host page image from your personal profile
 Making a brief post in the comment thread with the party host's page image that includes a brief description of your fan page along with the link to the page
Visiting other pages that are shared in the comment thread and liking those that resonate with you.  You do not need to "like" all.  The more you do the more favor and return "likes" you will gain on your own page.
*Special note – always like pages from your personal profile as they are the only ones that count.  Likes from other fan pages do not appear in the like count.  The reason for this is that fan page posts achieve higher rates of engagement and reach through personal profile newsfeeds.
Is a Fan Page Party Right for Your Business?
All types of businesses are engaging in this strategy including authors, social media consultants/trainers, graphic designers, and product sales/services businesses.  Here are a few of my favorite Fan Page Parties that you can check out and attend:
Boom Social with Kim Garst.  Kim has built thousands of fans to her social media strategy business with the Fan Page Party Strategy in conjunction with her other paid Facebook Marketing and Traffic Strategies.
Lotem Website and Graphic Design. Sarit Lotem offers graphic/web design and hosting services.
Tiffany Brooks – Mompreneur.  Tiffany is one of the newer party hosts and quickly gained over 1,000 fans.
Hosting Fan Page Parties Prove to be a Steady Way to Gain a Following
A little over a month after attending Friday fan page parties and almost tripling my likes, I started hosting my own fan page parties.  I accumulated an additional 1,000 likes within the first 100 days post party launch (see screenshot from the insights on my page in the image below). My fan numbers continue to steadily grow each and every week.  All of this was accomplished without one penny of paid Facebook advertising.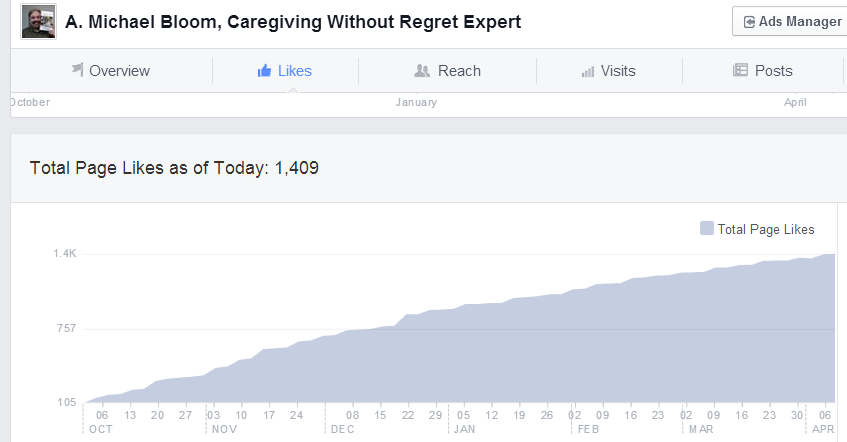 For the record, I am not knocking paid advertising strategies on Facebook and there are many expert strategies in the marketplace.  However, I am enjoying the organic growth of my audience and reach through the Fan Page Party strategy.
In the future, once I have an even stronger foundation of fans, I plan to implement paid advertising so I can encourage more fan growth and buyers.  By building a steady and loyal fan base first, I will successfully implement what Danny Iny teaches in the Audience Builder Masterclass so I can excel in the phases of launching explosively and making profitable offers.
Don't Unadvertised Facebook Posts Only Reach a Few?
In the image below, you can see the weekly bumps in my Facebook fan page reach, all of which are organic (unpaid).  Even with the changes in Facebook post reach algorithms that have decreased the reach of unpaid/non-promoted posts, my Fan Page Friday Party posts continue to reach hundreds (or thousands) of people.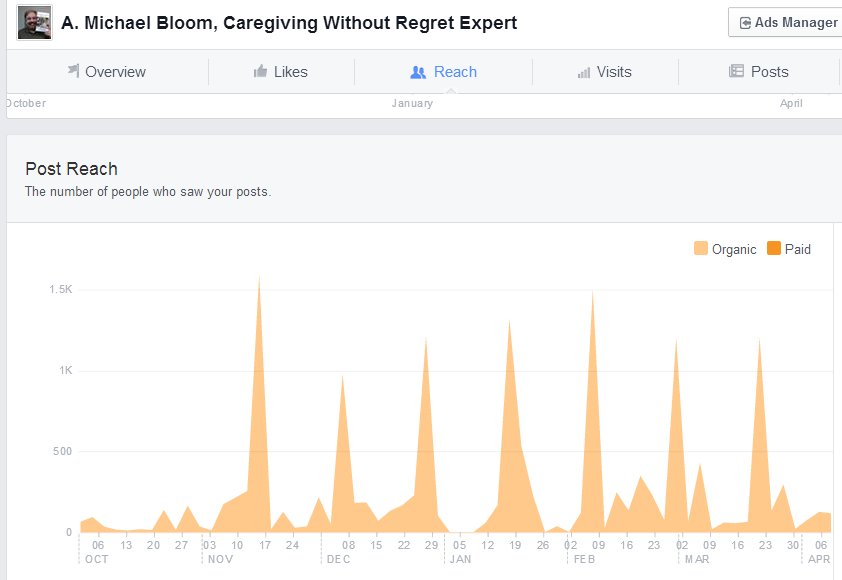 Keys to Being a Successful Party Attendee and Host
First, do not just trade likes with other fan page owners.  It is important to engage and build the relationship. Send a private message expressing gratitude for the new like you have received and ask about that person's business.  Make sure to reply promptly to any messages you receive from new fans who engage you first.  Do not try to sell during these initial messages.  Just focus on cultivating your new relationships so they want to return in the future and engage with you further.
One of my newest fans from the last Friday Fan Page Party experience just shared the following message, "I am a caregiver to my husband.  It's been a very rocky road but our love has never diminished, in fact, it's only grown stronger. I am going to buy your book and look forward to connecting on our pages."  I get many comments similar to this each week and cannot fully express in words the amazing feeling I get when I read them.
Second, create a striking (well designed) Fan Page Party Host Image that puts a little of your personality in the mix.  I am a chocoholic and always bring chocolate to share with my audience at book signings and live speaking engagements.  In fact, I pretty much carry chocolate with me everywhere to share!
So, I had a graphic designer create a virtual chocolate image as my Fan Page Party Image (see image below) and it is easily spotted in the Facebook news feed for commenting and sharing by fans each and every week.  Other party hosts create images with specialty drinks, pets, or favorite hobbies.  Choose something that represents you and make it engaging!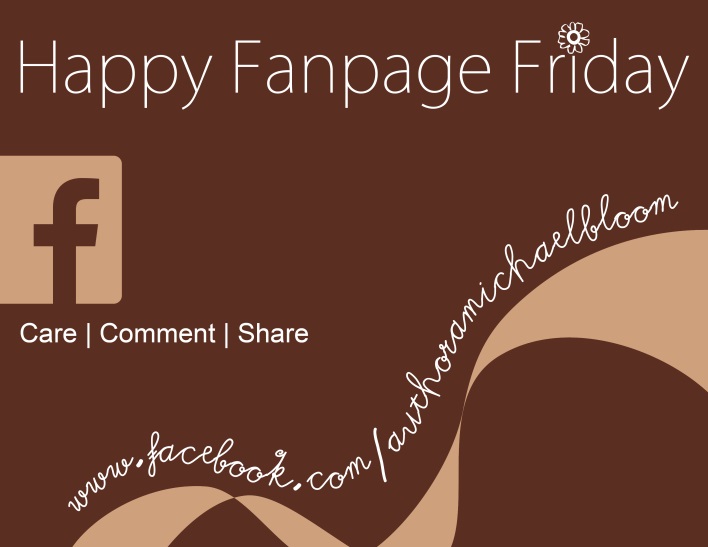 Third, share other great content on your Facebook page so fan page party attendees are attracted to check out and like more posts on your page.  The key is to always be authentic and engaging with everything that you post.
Danny Iny recently shared that "authenticity is about being true to who you are, what you believe, and what you're feeling."  Danny conducted a great interview regarding authenticity on his Connect, Engage, and Inspire Podcast with Marcus Sheridan.   If you "keep it real," on Facebook and beyond, people will relate to you and gladly consume what you are sharing with them.
Finally, it is important to have FUN and encourage the same with your fans. Seek to connect, highlight and uplift those who are following you. Acknowledge people who regularly post on your page and enjoy the deeper connections you will make with many of them over time.  This will encourage others to share raving comments about you and your page and even drive some to become paying customers or clients.
TGIFPPF!
Every Friday, I now shout "Thank God It's Fan Page Party Friday (TGIFPPF)!"  As a result of my audience building strategies and attending / hosting Facebook Fan Page Parties, I have been interviewed by over a dozen media hosts from around the world, invited for a number of paid speaking engagements, and sold hundreds of books.
I wish for you to experience the same "shout from the rooftops" excitement each and every week.  Try it out this coming Friday by finding the virtual chocolate image on my Facebook Fan Page.  Mention that you are visiting after reading this blog post and you will receive an extra warm welcome.  Together, we can party our way to more raving fans and buyers.
Party on, friends!
Over to You
Had you heard of Facebook Fan Page Parties before reading this post?  What do you think of this strategy?  How can you incorporate the strategy into your audience building activities?  I'm looking forward to your thoughts in the comments below!