Event Marketing Done Right: How to Host a Killer Event Every Time!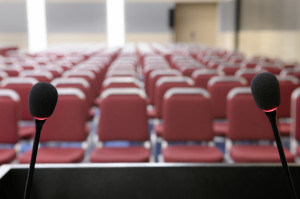 Have you been toying with the idea of hosting an event to create buzz?
Maybe you're a local business considering an open house, customer appreciation picnic, or a workshop series.
Or maybe the nature of your business is already event-based. Perhaps you're a writer or designer with an upcoming launch. You could be a musician who makes the majority of your income from live gigs, or a theater company who does several shows a year. Maybe you enter your films into festivals or display your photography in gallery shows.
Your mission, should you accept it, is to convince people to actually leave their houses to attend, or – if it's an online event or launch – to grab peoples' attention long enough so that they check out your work, read your first free chapter, or watch your latest video.
Because there's always that horrible possibility, right? What if no one comes? What if no one clicks?
So the questions are,
How DO you market an event so that people get off the couch and to your show or event?
What makes people pull out their wallets and buy tickets or merchandise?
How do you set yourself apart from the noise?
How do you get fans & customers to come back? Share what you're doing? Bring their friends?
Most importantly, how do you do all this and not appear spammy or annoying?
After all, shows, events, contests, competitions, and other fan experiences aren't physical products that can sit on a shelf with "for sale" signs. We know intangibles have to be marketed differently, right?
You might think I'm going to give you social media tips, or suggest you put together packages. Or maybe you think I'm going to tell you to advertise and submit event listings everywhere and send out posters and fliers.
That's all important, but it won't work well unless you understand this…
The Power of Experiences
Experiences, memories, stories – these are powerful things, the stuff that lives are made of. After all, how often do you really get excited about pulling an item off a shelf and checking it off your grocery list? But I bet you remember the best concert you've ever seen, your first kiss, and the birth of your children.
Smart marketers are always trying to tap into the power of experiences, events, memories, and emotions to market their products. Car salesmen know this; that's why they always want you to test drive the vehicle. Food vendors want to give you samples.
Just about anything we sell either is an experience, or can be made stronger by turning it into an experience.
It's tricky, right?
You've probably learned some approaches. You know you have to go into a description of the event, "Come to the show tomorrow night at the Old Theater downtown." You give the date, time, address, ticket price and all the relevant details.
It's easy to forget to spell out the benefits to your fans completely, or to tap into the exact things that will excite people about what you do.
"Don't miss it!" you say. "It's going to be a great night! So much talent! So much excitement!"
But that's what everyone says. You have to dig deeper and do better than that.
Realize That YOU Are Your Product
The strongest and longest-lasting loyalties are usually not to brands or items or large faceless corporations, but to people. Think about the first thing you usually do when you need something like a repair service, or a large expense that you only incur rarely (like a roof). Who do you tap first? Probably your friends.
What if you're looking for a romantic evening out at a great restaurant in a town you rarely visit? You could search the internet, but a strong recommendation from a friend who's been there will usually carry much more weight.
It's really not about exposure or networking. Many people treat these as end results. That was a popular view in the 1980's and 90's but it's really only the very first step.
Your goal should be to be a friend – because people buy from friends and refer others to their friends.
Yes, this takes time, but it's powerful. You can start using and benefiting from these strategies I'm about to describe right away, and hone and master your approach over time.
Being friends doesn't mean you have to go to lunch or coffee with everyone or give them your cell phone number. It just means you have to care and connect in ways that mean something to your fans.
"People connect to people. Who you are is more important than what you do" – Tom Jackson, Live Music Producer.
Not sure I'm right? Think about these scenarios:
How many times have you purchased something from an artist or local business because you like them so much as a person and you wanted to show support?
How about when you saw someone screw up a speech or performance publicly, but rather than get angry or self-conscious you all laughed together and it became a "thing" you share? Friends forgive mistakes easily. Mistakes can be very endearing and actually build loyalty.
How much fun it is when friends show connection with pics of you, them, and other fans & loyal customers all interacting.
Our digital message, noise-filled world is starved for real, personal, human connection. Do that for people, both in your work and in your relationship building.
Give the People What They Want
I'm going to riff a little on some great wisdom from my music mentor, but it's really applicable to any of us who are trying to master the powerful, emotional connections that build a loyal following.
1. People want to be captured and engaged by experiences.
Why do people go to shows? Because they expect to have fun. Why do they read books or see movies? To be completely immersed for a while in a great story. To parties? To forget about the pressures of life for a while, to let go and go a little crazy. To the internet? For distraction, funny cats, and inspiration to share. Why do people put photos or art on the wall, or a sculpture on their table? For beauty, memories, and to create a feeling every time they look at it.
Create something that lifts your audience out of the mundane.
2. People want to experience memorable moments.
Give your folks a memory they can carry with them forever – something fun, something touching, something really rockstar-worthy and amazing. Whenever you can create an experience like this for your fans/friends, you have found the powerful stuff that is worthy of keeping, sharing, and revisiting over and over. Next thing you know, they'll be coming back for more and bringing their friends. Ramp up your style, personality, and energy just a bit. Don't be afraid to use controversy or humor – basically, don't be afraid to be yourself.
3. People want to experience life-changing moments.
Now, I'm not talking about major life shifts like finding religion or committing to dropping a bad habit, although these things do happen. More often, it's just about inspiring people to think a little differently or to find the courage to follow their own dreams. You can do that directly by what you say or write, or by just getting out there, doing your thing and being a living example of what you believe in. (If you love these ideas and are a speaker or performer, check out Tom's site at OnStageSuccess.com.)
Tell People That You Have What They Want
This is the tough part, and where so much experience marketing falls flat. Do you have a good tagline? Strong web copy that communicates to people how you will deliver on those three things they want from you?
If not, work on it. Write it in terms of what people will experience with you.
1. Explain what you do that takes people out of the moment and makes them forget about the daily grind for a while.
Examples: "A roof-raising, foot-stomping good time," "Side-splitting, clean family humor that will have you repeating his jokes for days," "When you can't be in the mountains, we bring the breathtaking beauty and serenity to your home or office.
2. Describe the lasting memories they will have after your event. Use details based in senses like sights, sounds, tastes, feelings.
Example: "Festival fun, mouth-watering ribs, and the coolest games that will have your kids begging to go back the next day," "Happy, catchy pop tunes you'll be singing to yourself in the car long after the show," "Authentic 50's nostalgia, laughs, and doo-wop that will bring back memories of the good old days and create new ones of friends today."Can you picture yourself there? That's what we want.
3. Tell stories that your people have shared with you about how you make their lives just a little better.
These are easier because you can gather and use quotes and testimonials in their own words."Last year's show was great, are you going to do it again?" "I'll be recommending you to all of my friends." "I'm so glad I had the chance to make new people with similar interests."
Make it a No-Brainer for People to Find and Buy What They Want
When you give people strong, memorable experiences, they are going to want more. They'll want to come to future events and they'll want to buy merchandise that allows them to relive those good times again and again. So make it very clear and easy for people to find and buy your products and/or sign up for your list.
Thank Them and Keep Developing Those Relationships
Make your people feel like they're part of something special, because they are. Their support of you matters. Keep in touch through email, your blog, social media, and of course in person.
Have you noticed the change? It's not yucky, spammy marketing anymore, is it? Now it's just communicating with and updating your community of friends.
Now What?
Start tweaking everything you do to really emphasize how you deliver on the three things that people want from an experience. Brute force yourself out of your old "announcement" mentality and concentrate your efforts here.
My guess is that you'll feel much better about putting your work out there, and you'll start getting more positive responses from people relatively quickly. Keep at it and it will start to become natural.
Now the pressure's on you to deliver. Don't over-promise, yet don't be afraid to toot your own horn a little bit. And if you're not sure you can really deliver a fantastic experience, then go back and prepare more.
It's a very slight change, but a powerful one.
Start viewing marketing as communicating and sharing experiences with friends.