3 Simple Email InBox Management Hacks to Give You Back 1 Hour a Day
Oh, email. We love and hate you all at the same time. We use you to stay in touch with long lost (or newly made) friends, build our businesses, reach out, learn, grow.
And we simultaneously despise you for interrupting every. single. thought. with your little pop up of new messages dropping in our inbox.
Remember the 90's when the words "You've Got Mail" were so exciting that they were turned into a movie? It's time to bring that love back.
I have 3 simple hacks for your email to give you back (at least) an hour of your day.
Filters: They Aren't Just For Coffee
Setting up automatic filters in your email is one of the fastest ways to reduce what appears in your main inbox each morning. It does mean taking a step back in order to take a huge leap forward, but you'll be so glad you did once it's done. The best part is that filters put email on your terms – the best terms of all.
Since I use Gmail Apps for Business in my own email, the step laid out below talks you through setting up filters specifically in Gmail. That said, most other email systems (Outlook, Apple Mail, etc.) have similar steps to achieve the same result. They may use the word "folder" instead of "filter," but the same idea is there.
Step #1: Inbox Layout
In your settings page (it's the little gear icon on the top right of your inbox), click on Inbox at the top in blue. Choose the dropdown for Inbox type and select "Unread first". Your inbox selections will pop up and should read: 1. Unread. 2. Everything else.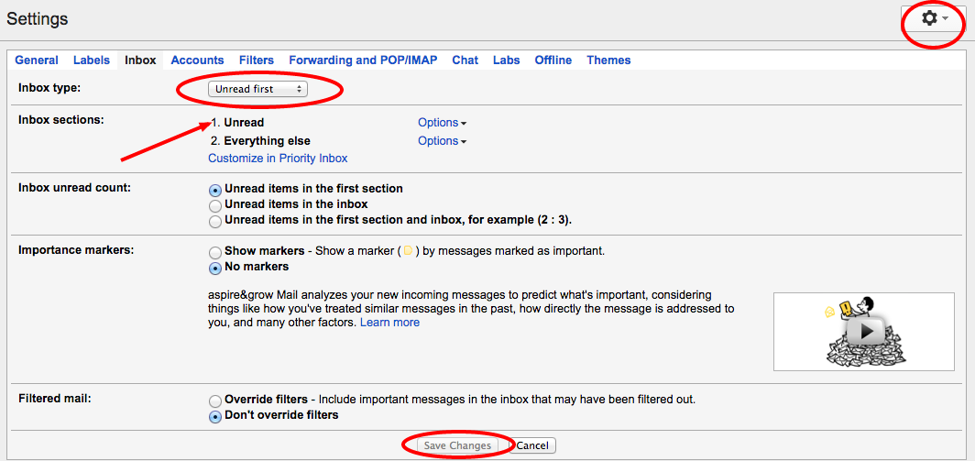 BAM. All of your unread mail will appear on top until you mark it as read. Don't forget to hit Save Changes at the bottom. Step 1 complete.
Step #2: Filter, Baby
Filters are your best friend when it comes to inbox organization. The one thing I hear all the time is "But I'm afraid I'll set them up wrong and lose emails!" The beautiful thing is that, with this system, you have all of your standard emails automatically directed to their appropriate folders (never lost in the mix) and the rest lands in your main inbox.
Say you have a client named Marilyn Monroe. Her emails flood your inbox each morning – dozens she sent from the night before. When you have a filter set up to assign all emails from marilyn@monroeenterprises.com to go to the folder titled "Marilyn", you can read through all of her emails when you are ready to focus on her project. You morning inbox only contains emails from people who aren't filtered already. For me, that leaves just a few people I rarely correspond with and my daily unroll.me roundup.
Here's how I have my filters set up and I (knock on wood) never lose an email. There are several steps here so hang tight and follow the pictures below.
In the same Settings page that we went to in the previous step, choose Filters at the top in blue.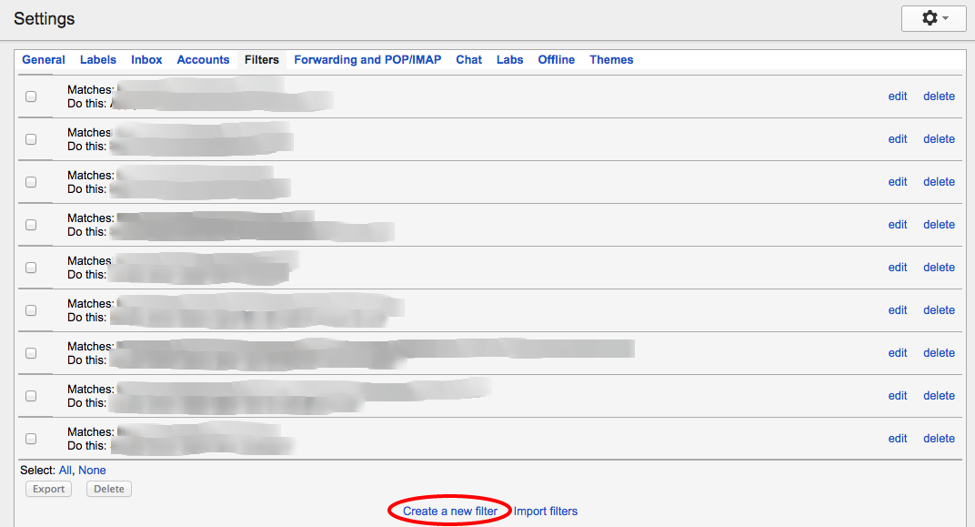 Select Create a New Filter at the bottom (I have over 35 filters and add new ones a few times a week based on my incoming emails).
Enter the incoming email address that you want to have sorted. You can also choose to sort by Subject if you know certain subjects can get categorized. (I sort all of my clients into their own folders/labels so I enter my client's email address. You might have a "Newsletters" folder, a "Family" label, etc. Set it up so it works for you!)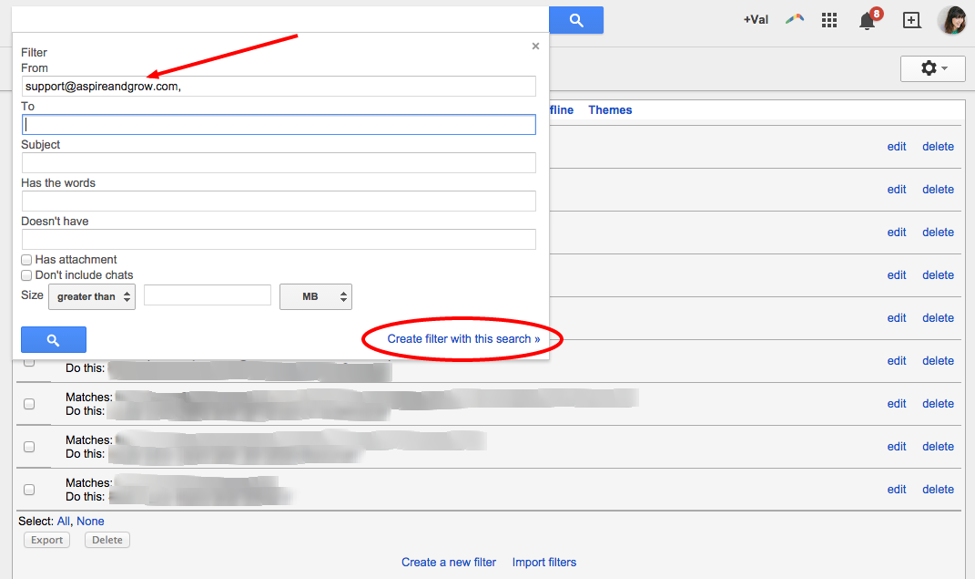 Hit "Create Filter With This Search".
Choose "Skip the Inbox (Archive It)".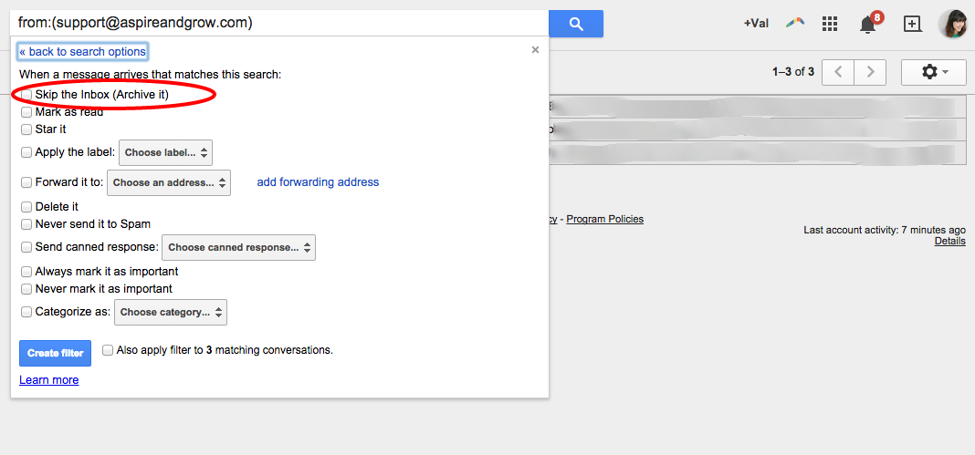 Choose "Apply the Label" and add a new label that works for you. Give the label a new title and hit Create. (Note the check box at the bottom that prompts you to apply this label to past conversations – check that bad boy!)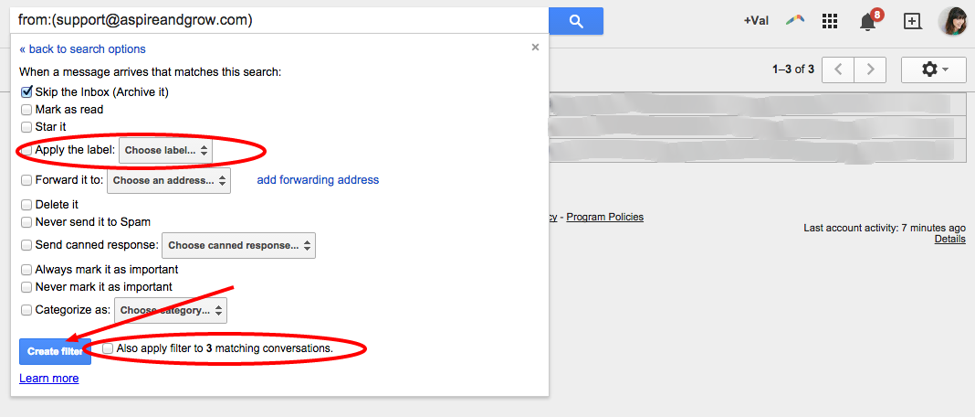 And you're done!
Apply these labels to your incoming emails as well. When you open your email, use the More dropdown box at the top and choose "Filter messages like these". Then you'll go through the process listed above all over again. Like this:

There are a ton of other settings you can add (add color to your labels, use Stars, mark Important Messages) but this is the most basic way to sort out your inbox. Take the time to set it up now. It pays off every time you look at your email inbox. Promise.
Time Management – Yes You CAN!
It seems like an obvious point, but it's worth repeating: we all get waaaayyyy too many emails. And while managing the incoming flow can be done, what is there to do about those replies that need our time and attention?
Here's what happens. An email comes in: "Hi, Val! I just wanted to say thank you for that awesome blog post you wrote yesterday. I have a question for you: how can I make more money in my side job?"
You think (or possibly say out loud to the dog): "Ugh. Really? I have an entire program written around exactly that! Pay for and download the freakin' thing. I'm not replying to this email for the third time this week. That's so frustrating. Clearly she didn't read anything on my website. Also, what am I, a free advice machine?"
If you run a business, teach a course, or in general have an opinion about anything, you're going to get emails wanting more of the you-juice. Here's the trick: you can answer emails like this in under 30 seconds.
How? Canned Responses. It's essentially a "copy and paste" function inside Gmail, where you can save an email template once, and then drop it into any reply email you write in the future.
If you get the same email more than twice in a month, you need a canned response. This is not optional. Here are at least 12 emails YOU never have to type again.
12 Emails You'll Never Have to Type Again
No Thanks – as in, "Thanks for thinking of me but my schedule is super full right now and I can't commit without skipping meals or sleep (which is non-negotiable)". Useful in many situations.
Techy Support – If you get asked the same questions around troubleshooting your membership site, sales page, or anything else, #1 – get that info over to your tech guru. And #2 – create a canned response with the details of how your customers can fix it.
Mentorship – Will you mentor people? Give your advice out to a select few or none? Let them know!
Schedule Reminder – If you find yourself waiting for people to show up for your meetings or calls, set up a meeting reminder canned response and send them out a day or two in advance.
Your Programs or Products – If your offerings answer questions you get regularly, create a response with links to those pages on your site where they can learn more about it.
Payment Info – Getting paid is easy. Something like "Please send your check payment to [such and such] address. Credit cards are accepted at www.yourockemails.com."
Conference Call Details – You know them, but not everyone else does. Canned message it.
Contractual Details – Always telling people they need to initial each page and make sure they sign and date at the end? Never type that again.
Directions – Give directions to your office once. It's always the same.
Which One? – If you get asked all the time "Which product that you offer is better for me? Amazing Abs or Beautiful Booty?" you can reply once and save it as a canned response! (also, BOTH of those made up products are for EVERYBODY.)
Invite to Affiliate – Have an affiliate program for your amazing offerings? Send a canned response to everyone you want to take part.
Push it Off – anything you want to push off for now, give them a nice but firm "I'm up to my eyeballs right now. Can you ask me again in two weeks?"
So there you have it. More minutes of your day saved! Just make sure you don't spend those saved minutes on Facebook wasting time. (Yes, I'm lookin' at you.)
Extend Yourself
Lastly, some of the most amazing extensions and tools have come about in the past several months that save you even more time.
As I mentioned, I use/love GMail for my email. And GMail has an incredible extension called Boomerang.
Here's how it works for me: My days flow a bit more than some others and I'm often working/replying to emails around 8pm after the baby is in bed. Since 8, 9, and 10 pm are not my typical office hours, I don't want to set the expectation that I am available at those times. Enter Boomerang. I simply write my email or compose my response and click the "Send Later" button that Boomerang adds to my email composer. I am prompted to choose a date and time when I'd like to have Boomerang send the email and it's done. My 9 pm on Tuesday email goes out at 8:30 am on Wednesday when I'm not even at my computer quite yet. Fun, huh? Grab Boomerang right here.
Followup.cc is another GMail extension that is also available for other email platforms as well. With followup.cc, I no longer create reminders in my to-do list – I simply click a button and followup.cc drops the email back in my inbox right when I need it. Got an email from someone asking you to check back in with them in a month or so? Let followup.cc manage that with just a few clicks.
While there are incredibly robust software platforms out there to help you manage your contacts and follow ups, Followup.cc is hard to beat at a starting point of just $4/month.
Take Back Your Hour!
Using any one of the hacks above is guaranteed to save you time. All three in combination will make you an email wizard, for sure! And not only is being an email wizard pretty cool in its own right, but you'll also be using your wizardy powers to make more time for the things you love to do.
Now, here's the thing: you can read through these tips and say "I should totally do that!" and then go back to business as usual.
Or, you can stop what you're doing, set a timer for 20 minutes, and crank out at least one of these to make the rest of your day more productive. After all, a system is only as good as its user.
Are you ready to rock your email and get that hour back? What will you do with your new-found time? Let me know in the comments below.
Impress Your Clients!
Get the template to quickly create clean, professional marketing reports.