How to Play Well with Others (Even if You Don't Feel Like It): The Ultimate Guide to Why, When, and How to Deal With People
This post is a finalist in our Ultimate Guides Contest. Show your support for this, or any of the finalists, by commenting, sharing and joining the conversation!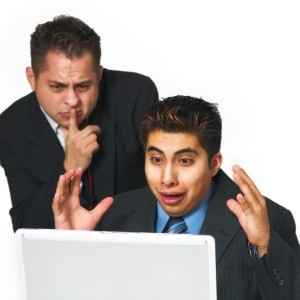 Does dealing with the human race ever remind you of a movie? We all have days when we imagine ourselves as Clint Eastwood and repeat that famous line in our heads: "Go ahead, make my day."
I get it. There are days when dealing with people makes you want to… well… exterminate them. Days when you say it with a visible shudder and a foul look on your face like it's a dirty word… people.
Don't get me wrong. I love people, in general. However, certain people can push even the nicest, most tolerant person's buttons!
In this series of Mirasee contest posts, you will learn tips, tricks, and myriad ways to be an expert at anything. It's the Ultimate Guide book for any business-minded individual, to be sure.
That being said, the most important thing in business isn't how to master SEO or how to set up a killer website. It's – people. It's relationships.
Come on, let's face it. It's not all rainbows and unicorns out there. This is the real world. People just plain suck sometimes.
But, wait! There's hope. Just dial 1-800-take-a-breath.
After many years of working in sales, customer service, and other capacities in corporate America, I've dealt with some very difficult customers, co-workers, and even employers.
The good news is that a ticking time bomb can be defused. Sometimes you are the one in need of defusing. Other times it's a customer, or even a rabid fan you managed to rub the wrong way.
Are you ready, class? Let's begin.
Start with a Solid Foundation. No Guns Allowed. (The Good)
Let's start off easy with "the good." Always make a good first impression and you will likely receive a good response. Prepare yourself as though you are going on a first date. Or, better yet, meeting the parents for the first time.
Make and maintain good business relationships by being confident but not pushy (positive engagement), either in person or online.
Say "Howdy, Ma'am" and Tip Your Hat
Introduce yourself to your adoring public via radio spots and print media, or go meet potential customers face to face. Don't be afraid to ask for a short Skype chat to tell them what you're all about.
Don't try to sell them anything just yet.
Give them a KISS (Keep It Simple, Stupid): "I just wanted to come by and introduce myself and say hello." Sell them on you and you'll sell them on your product later. Make friends and steer clear of enemies.
When I was involved in door-to-door sales (yes, supplemental insurance) and casket sales, that turned out to be the most important move I could make. I wasn't good at a "hard sell." I was good at relationships, which breeds quality over quantity and long-term over short-term investment in product. If I got along well with a customer, I kept going back and eventually they would buy something, even if it was a small order. They liked me, so they wanted to help support my business.
When someone slammed the door in my face, however, or was terribly rude to me, I immediately took the hint and never bothered them again. It isn't worth it to bug them and it isn't worth it for you to endure the abuse. Never pester people.
Remember to smile and look people in the eye when speaking to them.
This is critical! Dress appropriately for in-person meetings and for phone meetings (it puts you in a business success mindset mode, even if you can't see them) and even for Skype.
You can wear pajama pants on Skype and they won't see you. However, make sure your top half knocks their socks off, but not with your cleavage, ladies, unless that's your business (you might be an online dominatrix for all I know).
I once had a consultation on Skype and came prepared. I gussied up like I was going to a job interview. It turned out that the other party's webcam was broken and she couldn't even see me, but I felt like a million bucks anyway and I found that I was more confident in the conversation.
Immerse yourself in multiple streams of social media.
Learn to use Facebook, Twitter, and LinkedIn, at the very least. Pay attention to those who are successful at it. What do they post? How much do they interact? Don't disappear for too long from any platform either. Consistent participation is best, even if you have to schedule it. Twitter on Monday from 3-4 p.m., Facebook on Tuesday, LinkedIn on Thursday for an hour, etc.
I have been offered guest posts via Twitter, joined freelance groups on Facebook who provide job leads, contest opportunities, and learning resources, and I became a published author by being active in a discussion thread in a LinkedIn group.
Be two-faced, in a good way.
You need to interact with your audience, customers and contemporaries online by talking to them, not at them. Don't just post a tweet or Facebook update and high-tail it off the site. Re-tweet others' helpful or interesting articles. Trust me, it works! You scratch their back, they'll scratch yours.
Be Creative and Friendly, Hombre!
Don't just do one radio or print ad and put it on an infinite loop. People will become b.o.r.e.d. with you. Create something new and fresh every few months. And for God's sake, inject some humor! Can't come up with anything? Hire someone who can.
Consider doing a series of radio ads with a common thread, perhaps a storyline to creatively sell your product. I swear I'm going to visit a local furniture store one day, not because I need furniture, but simply because I love hearing their ads on the radio! The radio station writes the ads for them, but nobody knows that. They are so funny and they change the ad frequently so I (adoring public) never get bored. Entertain me and I'm yours, baby. Go ahead, sell me an armchair I don't even need.
Take interest in your customer, employer, or co-worker. What do they like? Do they collect Hummels? Comment on it and then listen to them gush about it. Have you done your research? Do you know anything about them and their "business?" Or have you done nothing but tell them all about you? Come on!
People love to talk about themselves and what they're interested in, so take the time to ask. Then remember what they've told you, even if you have to keep a notebook and refer back to it. Their dog Fido might just be the apple of their eye and the key to a harmonious relationship, but it won't mean doggie doo-doo if you can't remember Fido's name.
Buy the House a Round
Seal the deal by keeping the banter going. Send a personal message (not a robotic auto DM) with a kind word and never mention "sell" or "buy." Just be you. It's your integrity and level of interest that sell your product, whatever that product may be. There is nothing worse than friending someone on Twitter only to receive an immediate DM asking you to buy their book. Really? Please, people. Remember to KISS me first.
Eventually, you can ask them to try out your service or product. Make true friends and they will truly help you out. Find out what you can do to help them out first — and do it! Most of the time, they will be happy to return the favor.
For example, I buy books from authors I've met online just because I like them. I met them online. I created banter with them online. We have a friendly relationship online. I want to support them, so I buy their book, even if it's not quite my bag of tricks. I don't do this with the expectation that they will buy my book, but they might just feel the very same way about little old me.
Remain engaged by being thankful, especially online. Send a tweet of thanks if someone with 50,000 followers re-tweets your article. Show them that you noticed their gesture! At the very least, it puts your name in front of them on the computer screen just one more time. It's familiarization.
Care about people. Is it obvious that times are tough, even through the casual comments of an online contemporary? Give them a shout-out and tell them you care about their predicament and support them. I've received some of the best and most comforting support from online relationships.
This works for individuals and for business associates. Is a business blogger posting about a bad experience they had? Comment about one you've had. We all love to know we're not alone in our miseries.
Has someone done an exceptional job at being your best customer? Send a gift basket of fruit, make a phone call, or send an e-mail or Facebook message and say the following, "I just want you to know that you are truly appreciated. You're a great customer. You give us consistent business, you pay your invoices in a timely manner, and we really value your commitment to us. Thank you. Thank you so much!"
Build 'Em Up – Don't Shoot 'Em Down (The Bad)
Let's move on to murkier waters. Yes, let me introduce "the bad." Even good people can be bad at times. We all have those days when we just don't feel like we are in control of our emotions. Dealing with a tense situation isn't as bad as you might think. Put the gun away, Harry. Let's look at some options. There are things you can do to defuse your dynamite before it explodes.
Oh Crap, There's a Firing Squad
Step up when you realize your company (or you, personally) made a mistake. Don't delay! Call them and say, "I'm so sorry to inform you that our inventory count was off. The cymbal you ordered is not in stock after all. We made a mistake and we want to make it right. Would you like to put the item on backorder or choose another product? I'll be happy to help you find a suitable replacement item." They'll be happy that you called them before they opened up the box to find their order lacking.
Learn to apologize profusely and let the customer know you sympathize. If you want to see some really ticked off customers, do my old job – internet service provider customer service. When people can't get online, they want to kill someone and you are on the end of their lifeline. They will cut you for some internet, people. They will cut you.
I learned very quickly to apologize early and often. "I am so, so sorry that the internet is down, Mrs. Johnson. We don't know where the problem is just yet, but our technician is aware and working on it. I know how frustrating it is and I will let you know the minute I have an update."
The next critical step? Follow through like a boss! If your tech tells you the internet won't be up today, call Mrs. Johnson back and tell her. If she's really hot under the collar, give her credit for one day's service for good measure before she asks for it.
Keep a list (yes, even though it may be long) and call each and every customer who called to complain (not every customer will call to complain) back with a response, some reassurance, and to check and make sure their service is restored.
Is it time consuming? Yes. Is it worth the investment of your time? Yes! During the time I handled that ISP's customer service, the company was voted Best Internet Service in town. The year I left? Mmm, not so much. My co-workers made fun of me for being so overly kind and concerned. They felt it was a waste of time. Ha! Take that, punk! I rocked the customer service and you didn't. I win.
Know When to Hold 'Em, Know When to Fold 'Em (The Ugly)
Sometimes you just need to know how to make that squeaky wheel stop making that awful noise! Yes, enter "the ugly." It's true that one bad apple can spoil the bunch, so learn how to pluck it out of the basket before you shoot him – I mean "it" – dead with your pistol. Sometimes, you have to just back it up a little to get out of a mess.
Recently, I became involved in an attack via Facebook. I knew that pushing back would do more harm than good. I was being shot at. I was already wounded. This could get ugly fast. Heck, I could get ugly fast. I had to do something nobody likes to do. I had to bite my tongue and turn the other cheek. Nooooooo! Yes.
Instead of responding in the angry way I felt, I deleted the post which had sparked the controversy and I left the group without a word. Guess what? I had no backlash, no bullet wounds, and I was the stronger woman for knowing when to exit stage left to avoid further conflict. I didn't look back either. I decided I didn't need the drama, didn't want the conflict, and knew by responding that I would only spark a powder keg. My momma would be proud. I defused myself. Deep breath. Sigh. Done.
Sometimes you have to agree to disagree. Yes, even when you don't feel like it and you know you're right and the other party is wrong. Facebook is a breeding ground for differing views on hot-button subjects. I once was involved in a heated political dispute with a fellow church-going Facebook friend. She would bash, I would retaliate with proof that she was wrong. She would retaliate by bashing something else. I would prove that wrong.
This went on for some time until I finally said something like this, "Jessie, you are a worthy adversary and I have enjoyed sparring with you. I respect that you are passionate about what you believe and it's obvious that you and I could cite reliable sources and stand our ground about our positions until the cows come home. I'm not going to change my mind and neither are you and I don't want to fight about this. Let's just respectfully agree to disagree on this subject."
She agreed to disagree, but not with respect toward my view. She did this with a bit of grumbling, but I countered with, "I value our friendship at church and wouldn't want to jeopardize that by continuing to argue." She could appreciate this over my obviously flawed viewpoint, and she dropped it. I wouldn't have answered anymore prompts anyway. We remain friends today and I've had this fight more than once with more than one person. Tell them you love them, you respect their passion for their ideals, and you don't want to damage the relationship. You can easily translate this to a business disagreement as well.
Compromise!
I recently had a customer ask me for something unrealistic. I have a business where people drive up to five hours one way to pick up their merchandise. A customer contacted me and asked if I would deliver (over a three hour drive, one way). What? No! My time is precious! My initial reaction was to say no due to time restraints, but my husband suggested I meet them half way.
Instead of offering that up front, I indicated that my delivery charge would likely be too high for them to consider. By the time I sent that e-mail and was prepared to counter with the meeting half way idea, they had already sent me an e-mail saying they had made arrangements to go ahead and make the trip. I was prepared to compromise, but didn't even have to in the end. Always have an option for compromise if you disagree with a difficult customer. If they ask for half off and you think that's unreasonable, counter with 25%. Find a way to give them something, anything to let them know you're making an effort to meet them halfway.
For the really ugly – and I mean butt ugly – there is sometimes only one way to deal with them.
Take five. If you're on the phone, tell them you need a moment to consult with a supervisor and you'll call them back. Breathe! Count to ten. Dial 1-800-I-Need-A-Chill-Pill. Sometimes when things get heated and there is yelling involved, just taking a break from each other for a short period of time tends to ease the pain and calm the nerves to where you can speak in civil tones again.
Perhaps you may even need to have your supervisor call them back. I employed that tactic once. A customer was furious at an order snafu (not even my fault) and that man screamed at me until I cried. Yeah, I'm a girl! My very calm supervisor gave him some time to calm down, called him back, and soothed the savage beast he had unleashed on me.
He ended up feeling so bad about his bad attitude, he sent her flowers. He sent her flowers! Oh well, at least he was once again a happy customer.
"Go Ahead, Make My Day."
You can't exterminate the human race, no matter how clearly you see yourself as Dirty Harry. People and relationships are important to your business, your fan page, and your reputation. How you deal with people can make or break your business, no matter what type of business you own.
Put away the gun, Dirty Harry. Everything's gonna be okay.