You Should Be Improving Customer Service Until It's Better Than Your Product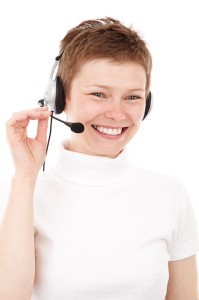 Sounds a little absurd, right?
Why should your customer service rank above your product? After all, if it weren't for your product, there wouldn't be any need to have good customer service skills in the first place.
And let's face it. Your product's the one that's solving problems and making the lives of your customers easier, not your customer service. So with all the product marketing strategies out there, why should you pay close attention to customer service?
Because retaining customers is easier than finding new ones.
And also because 82% of customers stop doing business with a company after a bad customer service experience.
Now, that's an alarming figure. But you know what's more alarming?
The fact that 89% of those customers will take their business to your competition if they're unhappy with the customer service you provide.
So not only are you losing customers because of bad customer service, but you're losing them to your competitors!
Statistics aside, a quick look at any social media network will show you that people typically talk about customer service more than the product itself. And they're more likely to complain about bad service than to say anything else. Before long, other people are pitching in with their horror stories and then the recommendations of alternative options start pouring in – all of which happen to be your competitors.
It isn't just about losing business to your competitors either. It's also about failing your customers and in the long run, your business.
Ineffective customer service fails to identify the needs of the customers. Growth strategies for your business are akin to shooting darts in the dark if you don't know what your customers want.
Can your small business afford the bad rep and loss of business?
Suffice it to say that a business with a merely "good" product but an excellent customer service will perform better than one with an excellent product but bad customer service.
Improving customer service doesn't require a lot. Following just a few simple practices can make a world of difference.

Make it Easy for Your Customers to Contact You
The Oatmeal's comic about calling customer service perfectly depicts the frustration customers feel when calling customer service of a company.
Yes, we get it. Even a one or two person company gets more calls than they can handle if they have a customer service phone number. May be you can't even afford one at the moment. In that case, spread out your points of contact.
Direct your most common customer questions to an FAQ page. Install live chat on your company website to provide support during working hours. At the very least, prominently display an email address and promise to get back within 24 hours.
Figure out whether your customer service needs can be fulfilled by you or if you need to hire someone else. If you're short on funds, hiring a virtual assistant can do wonders.
(Note: go here if you're wondering "what is a virtual assistant?")
The key is to make the entire process as hassle free as possible – for yourself and your customers. A customer should never have to wonder: "how do I solve this problem?" Make whatever changes are necessary to make it easy for your customer to find the help they need.
It's your business at stake after all and nothing creates brand loyalty faster than good customer service.
Master the Art of Following Up
The follow-up to a customer's call is often overlooked by businesses – even those who provide good customer service. It's your one chance to make a lasting impression on your customer. Pleasantly surprise them by calling or emailing them a couple of days later to see how the solution you provided was working out.
It's just a simple courtesy call for you but the client will end up feeling well taken care of. And in case there are any more problems, you'll have caught and dealt with them before it came to you. Either way, you'll have a very satisfied customer on your hands and those really are the best kind to have.
Here's a script you can use as a starting point:
Dear [customer name],

You contacted us a couple of days ago with a problem you were facing with our product/service. This is just a follow up to make sure the issue has been resolved and that you're not facing any more problems.

Is there anything else we can do for you?

Please don't hesitate to reply to this email and let us know either way. Your satisfaction is important to us.
Acknowledge When You Can't Immediately Provide a Solution
There will be times when you won't have a solution to the problem your customer is facing. It could be a bug that slipped past you or a problem unique to that customer alone.
Either way, instead of brushing the customer off or having them run around in circles trying out solutions you hope will work (but know they won't), acknowledge that you don't have a solution and get a team working on it immediately. If you don't have a team – then you should get working in it as quickly as possible.
When Copyblogger launched their landing page plug-in, Premise, some of their customers couldn't get the alignment of their pricing landing page right.
When I contacted them about facing this problem, their first response was to acknowledge the problem and let me know that this was a known issue and that they were working on a solution as quickly as possible. They offered a temporary fix in the form of a custom code in the same email and included directions on where to insert the code.
Once my pricing landing page was fixed, I forgot all about it until I saw the details of their next update. True to their promise, a permanent fix to the problem was included in the next update of Premise.
To be honest, this isn't an example of great customer service. It's just an example customer service done right. And you know you're in trouble if your business can't meet the bare minimum of customer satisfaction. Let the customer know that you're working on a solution and you'll be in touch soon as it's worked out.
Customer Service Isn't a Luxury, It's a Necessity
There's no denying that having the best possible product is important. It's what brought all those customers to your company in the first place. But the product isn't what keeps those customers with you year after year. It's your customer service – so you should be constantly improving it!
So stop making it easy for your competition to succeed by sending your disgruntled customers to them and focus on improving your customer service more than your product.
Install a live chat program like Olark on your website. Use a social customer service tool like Salesforce's Desk to catch customer service complaints from Twitter and Facebook as well as email. You can even integrate Olark with Desk and keep all offline and online messages in one place. There are plenty of other tools that help bring together all your different point of contacts in one place and make it easy to handle customer service. Find the ones that fit your business the best and use them to create an army of loyal customers.
If you're still on the fence, consider this: 86% of customers are willing to pay 25% more for a better customer experience.
So what are you willing to do to keep your customers happy?
(Statistics Source: Customer Experience Impact Report by RightNow Technologies, 2010, 2011)