Ask the Readers: Customer Feedback – When is Enough, Enough?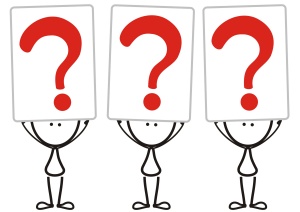 Do you remember back when you were in high school or college, and you got feedback on almost everything you did?
Write a test – get feedback.
Submit a paper – get feedback.
Act-up in class – get feedback. 😉
Then, once you graduate, the feedback – the input on how you're doing, suggestions for how to improve, ideas about other approaches to try – dries up. You have to start figuring things out more independently, or actively seek feedback out for specific things.
Until your start a business, and have customers.
Then feedback becomes a big, important part of your life again.
And for the most part – that's a great thing. Customer Feedback is really valuable stuff, in all areas of your life – personal, professional – you name it.
Feedback is Really Valuable…
As a business owner, you need to solicit customer feedback all the time.
The input about whether or not a product or service does what they need it to, if it was convenience to access, if it was easy to use – all help you make good business decisions.
For the most part, you have to ask for this kind of input, and that can be done in a variety of ways; email, phone, comment cards, surveys, social media – there are tons of ways to get it. And when asked – people tend to like talking about their opinions.
So feedback is important, and we have a bunch of different options for getting it.
But…
Sometimes, the feedback you get… well, it isn't helpful.
But it can be hard to tell when feedback is useful, and when it's just complaining.
Let's look at when that happens.
Maybe you have a few survey respondents saying on a survey that there isn't enough one-on-one support for your product.
Maybe you call someone to see how they're doing with your program and they tell you that the format really doesn't work from them.
Maybe you get an email or two, or three saying that what the received was not what they expected.
Which do you listen to and which do you politely disregard?
There are going to be times when feedback just isn't helpful, or practical, and in those instances, it's better to stick to your guns.
The temptation is there to respond, quickly and thoroughly to feedback because… well the customer is king, and your job is to give them what they want – right?
Well yes – but let's be honest – there are times (we all know them!) when you know better than the customer what they need, what you're able to provide and in what matter.
But that's just one way of looking at things… and this is an ask the readers post – so tell me:
How do you solicit customer feedback?
How closely to you pay attention to it?
When do you act on it, and when do you ignore it?
What goes into making those decisions?
Let me know in the comments!