On Commenting: Does criticism have to be controversial?
If you've visiting after reading either my guest post on Danny Brown's site, or Heather's response on Clever Marketer, then welcome! The "story so far" might seem a bit familiar, but you can just skim that part and continue past it for juicy new ideas. And please, join the discussion by leaving a comment!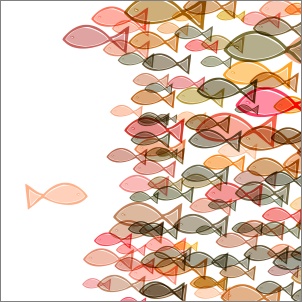 I was very nervous.
There was a moment's pause before I hit "send" – was this definitely the best way for me to handle it all? Did I even have to be in this situation?
I had written what might I felt was a somewhat controversial article, and I was going against the grain – was this really a good idea?
The moment passed, and I sent the message. Events had already been set in motion, and I believed that I had done the right thing. If I didn't send the message, the result could be even worse, and at best I'd just be postponing the inevitable.
But I was nervous – what if it didn't go over well? What if I was burning bridges?
It would take almost 24 hours for me to know for sure…
Ok, let's recap the story so far…
A couple of months ago, my friend and rising star Jon Alford introduced me to Heather Stephens' Clever Marketer community.
In addition to running a great blog, Heather's community allows bloggers to link up in small groups, commenting on and promoting each others' blogs. In theory, at least, it's a great way of discovering and connecting with other bloggers, and getting the word out about your own blog.
My experience with that community was mixed – I made some great connections and discovered some really interesting blogs, but the experience left me skeptical about whether I would really want to do it again.
A short while later, I came across a strong criticism in a somewhat controversial article about the practice of comment swapping by Tito Philips Jr., generously hosted on Tristan Higbee's Blogging Bookshelf. A quick word about Tristan – he introduced the post by saying that: "I do not agree with everything he wrote, but I loved the passion that the he wrote it with. It's something I'd never write, but I do think he makes some great points. That's why I wanted to publish this piece." Voltaire would have been proud.
I could definitely relate to some of Tito's ideas (and there's some great advice in there about how to leave a proper comment that I wish everybody would read), but it seemed a little too harsh to me. After all, I had done it, and while I had mixed feelings, at least a portion of those feelings were positive.
I eventually reached the conclusion that this debate needs to continue further. There needs to be more weighing in on both sides, so that this whole concept can evolve further, and provide more value to everyone within our online community.
I wrote a somewhat controversial article outlining the problems that I saw with the current arrangement, and a couple of suggestions for improvement. I felt that this was an important discussion for the community to have and I wanted to get it in front of a bigger microphone than I have here at Mirasee, so I turned to Danny Brown the social media icon with the best first name that I could find. He graciously agreed to host my guest post – if you haven't read it, it's right here:
Building an Audience with Commenting Communities: Smart, or Sleazy?
Was I burning bridges by doing this?
After the initial elation at having a guest post on Danny Brown's blog wore off, I started feeling nervous. I did my best to be balanced in the post, but I did have criticisms of the type of community that I know Heather had worked so hard to build.
Would she be offended? Wouldn't I, if I were in her shoes?
Most people don't know this about me, and most would be surprised, because I'm not one to shy away from a fight. But the truth is that I'm not at all comfortable with conflict, or with someone having a negative impression of me – especially of my character. I've gone above and beyond for clients in cases where it was probably stupid to do so because I wasn't comfortable with the idea of them being upset with me.
All this to say that the idea of Heather being upset with me was making me very nervous.
Finally, I decided to come clean. I still felt that this was an important discussion and debate for the community to have, but I didn't want it to be adversarial. So I write an email to Heather explaining how I felt, and sent her an advance copy of the post.
And that brings us to where I started this post – feeling nervous as I finally hit "send".
How would you react in Heather's shoes?
You know the saying that before you judge someone you should walk a mile in their shoes? Well, I think there's a lot of wisdom in it – and not just because if they get mad at you for judging them, you'll be a mile away and have their shoes. 😉
Seriously – before I tell you how Heather reacted, stop for a moment and think honestly about how you would react in her position. Because that is the benchmark that behavior should be measured against.
We'd all like to believe that if we were in that position, we would respond graciously, welcome the feedback, and happily join into the debate.
But let's face it – we aren't always as noble as we'd like to be.
More often than not, when a dearly beloved project of ours comes under criticism – especially if that criticism is public – we bristle and feel the need to rise to our project's defense. We all too often see the world in extremes of black and white with no shades of gray, with polarized rationalizations about why we're right, and why they're wrong.
(Small tangent – If you want to read more about this, then pick up Mistakes Were Made (But Not by Me), by Carol Tavris and Elliot Aronson.)
So… how did Heather actually react?
Remember how we would all like to believe we would behave in Heather's shoes (figuratively speaking, of course – I wouldn't actually wear Heather's shoes)? Gracious, welcoming of feedback, and happily joining into the debate?
Well, Heather did all that, and more. She emailed me back less than 24 hours later. Not only was she kind and gracious, but she wrote an entire (really awesome, by the way) post about the same subject to run on her blog at the same time.
Not only was she ready to join the debate, but she was ready to lead it.
Her post isn't a blind defense of the comment trading community idea, either – she honestly and very accurately shares the biggest challenges that she sees with the current structure. She identifies more issues than I had noticed, and has ideas for improvement that are similar to mine, but more detailed and nuanced. Here's the link to it:
Commenting Controversy: Are Tribes Smart or Sleazy?
I think you'll agree that her post is pretty honest, and pretty awesome. Frankly, I think it's quite a bit better than mine, and that makes me very happy. 🙂
Does criticism *HAVE* to lead to controversy?
I had two intentions in writing this post. The first is to give Heather a huge shout-out for being such a class act. Heather, you rock!
The second intention was to talk about controversy. Lately I've been seeing a few people allude to the idea that there isn't nearly as much discussion or exploration of contentious ideas happening online as there could or should be. For example:
I've always believed that people can disagree and grow stronger and better for the experience, together – that's what dialogue is all about. Creating solid dialogue has always been difficult, though, and current digital media doesn't seem to have necessarily made things easier.
That's why I was so encouraged by Heather's response, and by some of the ideas that she proposed – really good ideas that, if implemented, would probably make the comment swapping community idea a lot more valuable to its members, and would make me more than happy to get involved again.
What do you think? Can we disagree constructively in the online world, and come to creative solutions together? If it's hard for that to happen, then why do you think that is? What can we do about it?