The How and Why of Contagious, Viral Content with Jonah Berger (Marketing Insights Podcast)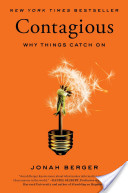 Would you believe me if I told you that it was possible to not only predict, but even control what people talk about and share?
Jonah Berger not only thinks it's possible, but he sat down with Mirasee's Danny Iny to explain why and share some insights about his new book Contagious, which examines why it is that certain things explode with popularity, while others fizzle.
Jonah's work centers around social epidemics, or how products, ideas, and behaviors catch on and become popular. He looks at how and why individual decision making and social dynamics lead to trends.
In his chat with Danny, he explains – with a few witty anecdotes – how and why certain products are more popular than others and how viral content is born.
Click here to download the transcript.
Distilled Wisdom
There are 6 key steps to creating viral content: social currency, triggers, emotion, publicity, practical value and stories.
Triggers are like a tiny advertisement for your brain. They are reminders in the environment; objects or smells or sights that make people think of your product, even if it's not present. Try to think about what your trigger is. What can you tie your message to that is present in the environment and that will remind people of you?
Behavioural residue is the lingering effect of your actions in a public space. People don't just follow word of mouth, they follow what others are doing. If you're trying to figure out whether or not to bring an umbrella with you, you innately look outside to see what other people are doing. It's their behavioural residue that influences your decision.
High arousal emotions like anger or happiness drive sharing. They are more likely than emotions like sadness to make you take action.
If your goal in creating content is to get people to share it and use your service in the future, then it's about creating engaging content that tracks back to you in some form. A story that carries your name or your brand for a ride, not one that overshadows it.
If you had three hours to fill, you should sit down with the Crafting Contagious Workbook and figure out: What is it you're sharing, who do you want to share it with and why? Then, using the 6 key steps, you can identify things like: What are the triggers? What are the emotions? What's the practical value? How can I make it public? And you can start to identify how you can get people to start talking about you, and sharing your content.
Remember: When it comes to creating contagious content, you don't need a giant marketing budget. All you need is some time, some good thinking and some resourceful and creative work.!
And don't forget that you can also download the transcript of this podcast.
Resources
If you're hooked on analyzing viral videos and creating triggers, you can pick up Jonah's book, Contagious: Why Things Catch On.
Don't forget: Jonah Berger will be hosting a training webinar on July 18th at 3pm called "Contagious Marketing – Creating Campaigns and Ideas That Go Viral" -If you haven't already,  you should register for it today!
I'd love to hear from you  all in the comments of this post – have you ever had any content go viral? Was it intentional, or did it just happen and take you by surprise?