Did Skipping That Cup of Coffee Just Cost You a Million Dollars? (How to do Business Networking)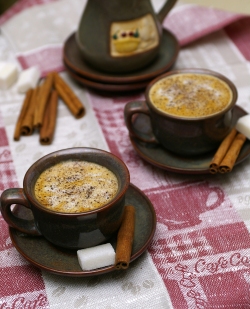 "I bet I know someone who could totally use your help."
We've all heard this line from colleagues, friends, and family, but what does it really mean to us as we try to market our product or service to the world? Simply, that there is someone out there who could use our services, that someone we know has access to.
I know what you're thinking: "Business networking is a hassle, never works out and takes valuable time away from the ten million other things I have to do." All of those meet and greets, cocktail hours, and exchanged business cards seem to merge into one long, boring memory.
All you ever do is just say "Hello" to a bunch of people you're never going to talk to again. You leave swearing you're not going to be just another warm body in a room full of robotic schmoozers ever again.
The time spent "business networking" was totally wasted. No new business was generated, no new contacts made, no great inspirations had or partnerships considered – what a brutal way to spend an evening. And why is the wine always terrible?
It shouldn't have to be this way.
Someone's Got to Do It
Sure, spending part of an evening networking means you can spend those hours on an existing project, but is another 45 minutes agonizing over your website font choices going to help you bring in more clients, expand your reach and strengthen your relationships?
Not likely. And definitely not as much as meeting a new client, or new person who might know many potential clients?  You may feel like you're too busy for business networking – we've all been there, but it's a lot like marketing – if you don't have time for it now- you'll have plenty of time for it later. Those projects that feel so pressing right now aren't going to last forever, so you'd better have something to replace them.
The world revolves around connections. Everyone has them no matter what position they're currently in. People are interconnected through friendship, family, work and social groups, and we thrive on our relationships with other people. When you stop to think about it, and consider all of the people you interact with on a day to day basis, you have tons of people who would probably be thrilled to help us out, if we only ask.
But that's the problem isn't it? Sometimes we don't feel comfortable asking others for help, especially those that we are closest to. We don't want to give the impression of being incompetent, or desperate. But the truth is- no one can build a business all by themselves, other people will always be involved. We are here to help each other succeed, and the people closest to you want you to be successful.
Success is what everyone strives to achieve. If we simply tell others about our goals, where we need to go in business, and what we need help with, they will, more likely than not, gladly lend a helping hand. No one wants to see your business failing! Just the opposite, especially when it comes to your close friends and family.
Now, not every single one of your connections will be able to help you directly, but I guarantee that somewhere close within your network You will find at least 1 person who has a fantastic lead for you.
When I'm talking about connections in this regard, I want to make sure you have a complete idea of what I mean. I don't mean just the people you have dinner with once a week, or buy birthday gifts for! It doesn't have to be that close to be useful. Super-valuable connections can be anyone from your best friend's boyfriend, your personal trainer's sister's boss, your local butcher. There are tons of possibilities of connections. Basically, if you'd be comfortable asking a person for a good restaurant recommendation, you can tell them you're looking for more business.
Here are the Steps to Find your "Golden" Connection:
 1. Reach Out to Those Closest to You
Your closest friends and family are the ones who, after yourself, care the most about your success. They want to see you be the best that you can be. These are people who will fall over themselves trying to send business, not to mention encouragement and ideas your way. Save them the heart palpitations and ask outright.
Go out to lunch with a friend or family member and ask if they happen to know anyone in the industry that you are trying to connect with. Tell them exactly what you're looking for so they can sort of "pre-screen" people for you. The more they know about what you need from them, the better they will be able to help you.
You want your connections to get contact information and permission for you to use it from the people they think are right for you.
2. Screw Your Courage to the Sticking Place and Call
Your network of friends and family has set you up to succeed by giving you the names and contact information of people they think can make use of you. The ball is now in your court to make things happen. Compile all of the information you've received and start contacting people! Make phone calls, or send emails requesting an in-person meeting.
3. Get your Coffee On!
Or tea, or fruit juice, or snack. Where you meet isn't that important – as long as you meet! Be flexible about where and when, because these strangers could become important parts of your business. Networking can happen anywhere and everywhere, and you can use the first meeting as an opportunity to find things outside of work that you and your new connection have in common.
For example, I have had networking meetings at the gym after a spinning class that both the connection and I happened to attended.
4. Don't Rush This
Now that you have set your appointments, it's time to shine. Do not think about it as just another networking event, or as just a social thing. This is so much more than that.
There are a few things on the line here. Not only could this person forma  new and important part of your business, but someone who cares about you and your new contact put themselves out for you – you need to make them look good! This is not an instance where you are saying: "Hello, how are you? Want to buy my stuff?" You should be truly connecting and learning about another person.
Let the conversation happen as naturally as possible. Spend time finding out about your contact's needs and open up about what you have to offer, and how it can benefit your contact. How you can help them achieve their goals, and how that fits in with your business.
 5. Mind Your P's and Q's
After the meeting you want to follow up and thank both parties. Send a nice e-mail, pick up the phone and call, or even send a hand written note thanking both your trusted connection and the person they hooked you up with.
So What is the True Value of This Cup of Coffee?
In my opinion, it could be worth millions of dollars. "Wait," you say, "how can one cup of coffee be worth millions of dollars?"
When we meet with others, we need to be in the mindset that this is a million dollar client, and he should therefore get our full attention. I can guarantee you that if you knew that he were a million dollar client, you would be more than happy to give him one hundred percent of your attention to him!
The client you meet tomorrow may not cut you a check for hundreds of thousands of dollars on the spot, but they could become a long term, satisfied customer who always pays on time and refers their friends and colleagues to you. Treating them like the precious resource they are will ensure that – if it's a possibility – it will become a reality.
For example, while working at the NCAA Men's Final Four a couple of years ago, I met some friend's friends at a local bar. We talked about my future in terms of work, and I learned more about how their lives were going and the work they were doing. They just happened to be CEO's, VPs at high-ranking companies, and lawyers. They immediately took me in and invited me out the next evening to meet the rest of their friends who were in town. Now, I have developed a close friendship with many of these people and each of them has helped me develop my own business and help generate new opportunities with contacts all over the world. Over the coming years – who can say what that will mean for my business financially or otherwise?
So that cup of coffee isn't taking an hour away from your desk. It could be a chance to meet that "golden" connection.
Let's Take Another Look
For instance, if I were looking to break into the sports event marketing industry, I could ask my mother, who works at Starbucks, if she happens to know anyone. It just so happens that Sarah Fisher, an Indy Racing League (IRL) team owner, goes to my mother's store almost daily when she is home here in Indianapolis.
My mother could, over a latte, simply ask Sarah Fisher if she knows anyone who might be a good person to discuss sports marketing with in the IRL. Sarah could very well be in need of such a connection as well – or know someone who is. It's that easy to make valuable connections through your personal and extended network every day!.
The most important takeaway message here, is that one connection can lead to another and another."
With this type of networking and connecting, you are potentially gaining new business with each conversation that you have. The person that you are speaking to at the moment may not need your products or services, but he has a whole contact list himself of people who Might be looking for just that solution.
So forget boring wine and cheese events and, and forced conversation at meet-and-greets. Today, you're having coffee with your highest paying client.