Armed and Dangerous: 7 Common Marketing Myths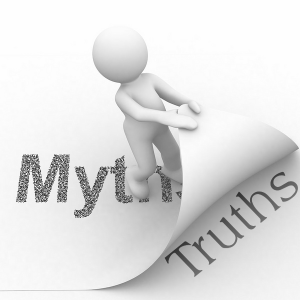 Reading marketing blogs can give you a pretty twisted idea of what marketing and business are like.
Even if you avoid the most blatantly hype-y make-money-quick sites, you still run into a fair number of myths. Some of them might be obvious to you. But few people recognize them all.
And when you're distracted – even if just a little – by some myth, you forget to focus on what really makes the difference in your marketing: understanding why people should buy from you, and making sure your marketing conveys those reasons.
So, let's take a look at seven myths that plague the marketing world. Some of these can take credit for the downfall of thousands of entrepreneurs in recent years. And some of these have riddled the world of business for decades.
When you're aware of the myths, you can look at marketing advice much more objectively and discard the stuff that doesn't really help you succeed.

Myth#1: "Anyone Can Make Money Online"
Many of these myths are technically truths. But there are so many caveats that calling them "truths" would take some creative use of the word.
"Anyone can make money online" is one of those myths. Sure, it's technically possible for practically anyone to make money online. But not nearly everyone is cut out to do it.
A lot of people don't have the dedication to do the work necessary to actually make money online.
I know that sounds harsh. But let's put it another way: "Anyone can make money online" should be "Anyone who's willing to do the work, can create/do something plenty of other people want to pay for, and is damn resilient can make money online."
I'll say it again: a lot of people don't have the dedication to do the work necessary to actually make money online.
Sure, it's completely possible to make plenty of money with relatively little effort. But that's making some assumptions about the person who's going after the online dream.
If your greatest talent is picking your nose while whistling your favorite TV show's theme, you'll struggle to build a business. But if you've spent countless hours studying something and you can help others with that knowledge, or if you sell something genuinely useful, you can very realistically turn it into reliable income.
Since you're reading Mirasee, I'm quite sure you fall into the minority of people who can realistically build an online business in a reasonable time. But that doesn't make the myth any less of a myth.
Myth #2: "If You Try Enough Tactics, Something Will Work"
Let's say you could theoretically try 10,000 different marketing tactics. And let's say it takes a year to try each one. Even if 50% of those tactics would be great (which is a *very* optimistic view), it could take you 5,000 years to get around to trying any of them.
In other words, if you just "try everything until something works," there's no telling how long it will take for you to see results.
Even more unfortunately, many people try several tactics at a time, so they don't really learn any of them. They don't see results, so they move on to other tactics – even though the problem wasn't necessarily in the tactics, but rather in their knowledge of how those tactics work.
I'd never urge you to use more than a very select few marketing tactics at one time. Sure, if you have a marketing system that already works, and you have time and resources for building another marketing system, go nuts.
But until you really have the time/money/skill to build multiple marketing systems that work in parallel, don't. Build a single, simple marketing system that works. Study it, improve it, and master it. The green grass will always look greener on the other side, so fight the temptation to switch tactics prematurely.
Myth#3: "[Blank] is The Best Marketing Tactic"
Practically every marketing professional has a favorite marketing tactic. And there's nothing wrong with that (mine is guest blogging).
But when they suggest that their favorite tactic is "the best," they're either amateurs or liars. They're amateurs if they believe what they're saying and they're liars if they know the reality.
There's no "best" marketing tactic. Sure, there are truly great tactics for specific situations. But people love to generalize.
There's no "best" marketing tactic for online businesses. Or online information businesses. Or online information businesses that sell horse training products for new horse trainers. You'd have to be much, much more specific than that to be able to determine what's the best marketing tactic.
So, the next time someone tries to convince you of a marketing tactic's benefits, consider how well it really fits into your business. They might present great case studies, but do any of those case studies feature a business exactly like yours?
Myth#4: "The Customer is Always Right"
Yeah, you've heard this one in many ways. But if you just take it as it is, it's plain wrong.
Especially if you're in a coaching/training business, you have to remember that your clients aren't always right. Your job is actually to point out how they're wrong, and then help them fix it.
For example, let's say you're an executive coach and your CEO client says, "We're going to discontinue XYZ product." You know it's a huge mistake, and your job is to tell them that they're about to make a big mistake. Sure, they might fire you if their ego is too big to handle the criticism.
But in most cases, pointing out your customers' (or even prospects') mistakes is a great reason for them to want more from you. That is, you're the one who was able to point out how they'd get better results and/or avoid costly mistakes.
Pointing out that your customers are wrong makes them hooked to your advice.
That's true in many other types of businesses, too. However, when it comes to personal taste, the customer is always right. So, if your customer definitely want a carpet, but they prefer a red carpet to a blue one, don't try to sell them a blue carpet instead  – no matter how stupid you think the red one is.
Myth #5: "Your Customers Are On Social Media"
*Social media "experts:" We'll meet in the comments section.*
Okay, for a lot of businesses this is true. But I still call it a myth.
"Your [potential] customers" usually means people who are currently interested to buy what you sell. Depending on what you sell, there's a really good chance people aren't interested to learn about it through social media. In other words, when they're at Facebook or Twitter, they're not potential customers at that time.
The "your customers are on social media" idea isn't, strictly speaking, a myth. But it's a misleading concept.
In most situations, social media marketing is a very ineffective tactic compared to other options.
Yes, I've seen plenty of case studies about the "incredible" and "fast" results social media can create. But I've seen no case studies that would point to consistent results for various kinds of businesses.
If you have the proof, let me know—I don't mind.
But until I see a reliable study that proves otherwise, I consider social media a marketing tactic that can work for various kinds of businesses but lacks consistency.
Myth#6: "Content Is King"
Yes, content marketing can create good results. It's actually one of the most consistently reliable marketing tactics.
But that's not what "content is king" implies.
"Content is king" implies that content in itself would be enough.
Even great content isn't nearly enough to create good results – or any results, for that matter.
Content, regardless of its quality, is only a piece of a marketing tactic. That's something we, and especially many new bloggers, forget: just creating content for the sake of having it on your website or blog doesn't help your marketing.
And that leads us to the last – and maybe the most prominent – marketing myth.
Myth#7: "Build It and They Will Come"
Start a website. Create great content. People come to read it. You make money.
Nope.
Almost regardless of your topic, there are plenty of other sites with similar content. People don't automatically find your content  – no matter how good it is.
You need to market your content.
But let's say you do a good job marketing your content and plenty of people find it. There's no guarantee they'll ever come back, let alone subscribe to your email list for updates.
The only reason they'll come back is if you stand out from your competition in some meaningful way. You need to give people good reasons to want more from you.
If you don't know what are the best reasons for people to pay attention to your stuff (I call this your value proposition), you can't persuade them. Just hoping people will like your content enough to want more is never enough – there's too much great content around.
Armed and Dangerous
Now that you're aware of the big myths in online marketing, you're ready to wade through the advice out there and figure out what works best for you. Figure out the best reasons for people to pay attention to you and want your content (and products), and make those benefits immediately clear to your audience when they reach your site. And don't get distracted by the myths (and the endless list of things you could try).
You can discover the best reasons for people to pay attention to your stuff with this quick 5-step exercise. It lets you evaluate your ideas with perhaps uncomfortable honesty, but it's well worth it to know what makes you stand out from the competition.
If you have any questions about how to make people interested in what you do or about the myths, ask away in the comments 🙂