Building Engagement by Doing What Scares Me (Taking Business Risk)
The following post was an entry by one of our spectacular finalists in our Awesome Engagement Strategies Contest. Finalists showcased their ideas, and whoever got the most traction (i.e. comments and social shares) within five days of publication was crowned the winner. Check out this post for the complete list of Engagement Strategies Contest finalists!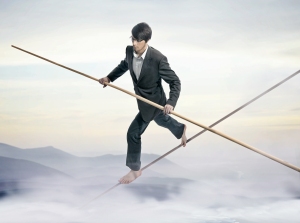 So, I've been making money online (here and there) for 5 years now – going on 6.
I started as a freelance writer, decided I didn't like that. Then I moved into IM, and focused on product creation. While it "worked" to a degree, I never saw the amount of money that I knew I could be making. (Like a car that only gets 5 miles-per-gallon when it should get 30.)
Something was very wrong with my business and I wasn't sure what. I took a big step back and asked myself if I was really cut out for this business entrepreneurship thing . . . The answer was yes. I loved it. I needed it like I need air, food, and my husband. But it wasn't working the way it should.
I started the search for answers, and in the meantime bought more domains, put up more sites, made my products even better, expanded my topic base. And nothing changed. I knew the money was there to be made, but I also knew I was missing some crucial "thing."
Then, thanks to a few marketers and bloggers, Danny Iny and his team being some of the most influential, I realized that I had no audience!
There was absolutely no engagement on my part. People weren't finding me – and how could they? The issue wasn't with the business plan (for the most part,) the problem lied with me – or the lack of me that there was online.
I was lost in cyberspace, and holy crap I had no idea what to do about it!
Fast forward through reading Danny's books, being on lots of webinars, redesigning my blog, and overhauling my online image.
Now I actually have an engagement strategy! Go me!
A lot of it revolves around doing things that force me into the open, that make me a little bit (or a lot bit) vulnerable to the world, and making sure I stay unapologetic for being me.
It isn't perfect, and it isn't truly finished – but if I said it was perfect you'd know I was lying, and you never finish something like this. Ever. No battle plan survives contact with the enemy, and no engagement strategy ever survives contact with the cynical masses.
But here is my plan for right now…
1. More Epic Shit
To borrow the phrase, I have been doing my darndest to create epic shit for my blog, and I will continue to do so. I know I'm good at writing, and I love writing on topics that are of interest to me. I realized that I need to leverage that more. I need to outsource the creation of my products (since working on the nuts and bolts just sucks the life out of me) and focus more on being me – and writing about it.
Something that I really think helped me be able to do this was all the personal writing I've done in the past. I used a journal a lot growing up – sometimes multiple times a day, and sometimes once a month – and I still do. I have a row of journals and notebooks on my desk, ready to write in. I've also written a lot of fiction, which in my mind is just a demented form of journaling.
If you need to find your "voice," I recommend using a journal. Work on your blog and your journal, and just be you – you'll hammer it out and get more confident as time goes on. (And by the way, journals can be everything from expensive leather-bound books to spiral notepads that fit in your pocket and cost $1.)
2. Perfect my "Brand"
After looking at Mirasee, Ana Hoffman's blog, and the sites of other marketers that I look up to, I realized that I didn't have a brand. There was no "look" or "feel" to my site that people couldn't find anywhere else. But I dislike having my picture on my sites in anything more than a thumbnail.
I got around this by hiring someone to capture me in a caricature. I went to my husband, my mom, and my best friend and asked them to describe me in a way that would burn my business image into the minds of people who saw it. I boiled down what they came up with to "Smart, sassy red-head who does what she wants, says what she wants, and has a wicked sense of style that's all her own. Oh, and who is the physical embodiment of the word 'intense.'"
Thus, my persona was nailed down. I want to point out that I didn't "make it up." I've always been like that, but for a long time I was trying to tone myself down – be more acceptable. (Acceptable to whom, I don't know.) I finally realized that was a silly thing to do, and decided to just run with who I am. It's better that way, and people – a lot of people – are noticing me now.
Also, I need to give a shout out to Laura Leigh Clarke's guest post on Mirasee that discussed finding your Secret Agent Marketing Type. That post right there is one of the main things that sped me down the engagement road I'm on right now. (If you haven't read it, do. It should be required reading for IMers.)
Perfecting your brand is something like finding your "voice." It may take a little time. But you can ask for assistance with this. Query those closest to you – particularly those who can be honest and point out your not-so-charming traits. Distill everything until you come up with the few traits that you like most and that come up most often. For me, I loved "smart" and "stylish," but there were a few words in there that weren't as flattering, and they got turned into "sassy" for the sake of propriety. ("Slightly bitchy" doesn't convert well onto a blog.)
Then package together what you come up with and see what happens. Get a few professional photos, or find someone to create a caricature that you love. (I got mine on Fiverr!) This will give you a look, and a brand that you can put everywhere.
People will love you, people will hate you – in the words of Jack Sparrow: "But you HAVE heard of me!"
3. Expanding My Reach and Mediums
I love blogging. It is so much fun, and it is in the medium I am most comfortable with: writing. But I know that in order to make 2013 truly epic, blogging for myself wasn't going to be enough. I needed to find other things that would take my audience reach to the next level and beyond.
Guest blogging is high on my list for 2013 – I know there are a lot of eyeballs to be nabbed with guest blogging, and I'm making a list of topics and contacts.
Podcasting is another thing I'm about to launch into. More and more people are getting into listening to podcasts, and I realized that I needed to grab a slice of that. As of this writing I'm hopefully only a week or two out – still hammering out my audio, but all systems are go other than that.
Once I have an established podcast, I'm going to start interviewing experts in making money online, marketing, entrepreneurship, and success. This will not only give my listeners an amazing amount of value, but will also boost my reach even more.
Finally, I'm actually learning how to use Twitter, Wooxie, Facebook, and other social media platforms the right way.
I always tell people to try new things. New social media sites, new mediums, new everything – you never know what is going to work brilliantly for you.
4. Giving People More Options
While I know I can't overextend myself, something else that I'm doing right now is branching out to give people a lot of different things that they can choose to read, look at, or listen to.
I'm currently running two blogs that have different but related topics, I'm about to launch a podcast, I have profiles on many social media sites, and I have a lot of products that people can buy. But I'm also adding in more freebies that people can get, more honest reviews of other people's products, and I've even branched into Fiverr with some of my digital products.
That way if people don't want to jump into my $20 product, they can see what kind of value I offer for $5. Fiverr also drives traffic to my website from my products. It's a great little two-way street.
While providing more options takes some thinking outside the box, it is just one more way to get yourself in front of a lot of people and keep attention on yourself. Have you looked around your business lately to see what you can do to give your prospects more and better options?
5. Scheduling My Time (Bear with Me…)
Something that I have not done enough in the past, and that I think a lot of entrepreneurs don't focus on enough, is scheduling. It is really difficult to be awesome and epic if you're constantly running around like a chicken with your head cut off.
I fought against schedules of any kind most of my life and I have finally realized that I'm not doing myself any favors. While this may not seem like an "engagement" strategy, it really is relevant. Because how are you supposed to be a great guest blogger if you never schedule in time to write your posts? How are you supposed to use social media without getting sucked into it if you don't write in a couple 15-minute blocks of time for it each day, and set a timer to make sure you get in, get the job done, and get out?
Epicness has to be scheduled – otherwise you'll never get around to it. Which is why my dayplanner is my awesome engagement tool on the physical home-front.
There are a great many ways to schedule your time, and some work better for others. My dayplanner and a timer are what I use. Other people can use their phones, calendars, or simple notepads to keep themselves on track from day to day.
6. Doing What Scares the Living Hell Out of Me
And we're ending this post with my beginning statement.
The most important part of the whole plan is doing what scares me the most. Because I discovered that I avoid things that frighten me, and I would bet money that most other marketers do too – so if I buckle down and do the scary "risky" things, I'm going to be the one getting attention.
Everything under point #3 scares me to DEATH!
For a long time I didn't want to make videos, do webinars, think about podcasts, or anything of the "talking" sort – because I have a lisp. Not a regular lisp either. (It's a special sort of frustrating thing for me.) So I was very self-conscious about my voice and I didn't want anyone hearing it. I certainly didn't want to broadcast it to the whole dang world!
But I was finally told by someone that I had a very UNIQUE voice. That person had struggled through years of having a stutter, and went on to do professional voice-overs. That put a whole new spin on it for me. Recording and speaking still scares me to death, but I'm going to do it – because I can, and because people will remember me for it.
If an engagement strategy scares me in 2013, it will be my next stop on the road to Awesome-ville. Because if it scares me it's probably because it will make me get out of my comfort zone and get even more attention.
Keep in mind that nobody remembers you for doing the same things that every other marketer does. What made Danny Iny stand out in your mind? What about marketers like Ana Hoffman, Liz Tomey, or Robert Plank? As a matter of fact, what makes ANYONE stand out about the crowd in your mind?
What are YOU doing to stand out? Are you getting out there and doing things that are a little scary and that will get you remembered? Or are you playing it safe and keeping to the shadows? As for me, I'm through with the latter – thanks much.
It may not be the newest, shiniest, most epic strategy out there, but it's mine – it's do-able, changeable, and I've seen proof provided by Danny and others that sticking to these points will work.
One thing I've learned through all this is that the best engagement strategies are moldable. They have joints in them that will bend and give when certain pressure is applied. If I hit a wall in one place, I'll bounce back and try another – this will keep me from getting stuck when something goes awry with my strategy. Which I'm sure something will, but five minutes later I'll be back in the game.
Because that's how epic-ness works. 😉
Lindsey Rainwater (@LindseyRD3) is a passionate internet marketer who has her own ideas about what entrepreneurs look like and how they act. She does things her way, from the way she dresses to the way she runs her business, and spends a great deal of time teaching others that being themselves is the very best way to be successful in business and in life. When she isn't blogging at LindseyRainwater.com she's creating new products and memberships to help people make a living on the internet.