7 Quick Tips to Becoming a Hollywood Star in the Eyes of Your Prospects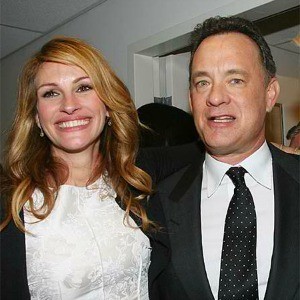 Most actors, unless they're up there with Tom Hanks or Julia Roberts, must audition for roles they get in the theater, movies or television.
They have to find ways to set themselves apart from all the other hopefuls and convince a casting director that they're right for the part.
As a salesperson, you have a lot in common with actors. The difference is that your stage might be social media, a video conference, or a cold call. But you must still convince your audience that you're right for the part.
In her book Act Like a Sales Pro, Julie Hansen adapts tried-and-true acting and improv techniques for sales professionals. Here are seven lessons from the world of acting that she suggests will help you become a star in the eyes of your prospects.

Technique#1: Start with a Warm-up
A good actor would not appear on stage or before a camera without warming up first, both physically and vocally. So, in advance of a call with a potential new client, practice proper breathing, release tension and energize your body. Use vocal exercises so that you can project your voice and add variety. A quick daily warm-up will help you communicate at your best.
Technique #2: Make Strong Choices and Commit
Would you pay attention to a movie in which the main characters look like they are just going through the motions? Ever heard a critic say, "He phoned it in"? The best actors make strong creative choices. You can emulate this by choosing strong, active words that motivate action.
Rather than telling a customer you want their business, tell them you'll fight for it. Instead of making a point, prove one. Strong, active verbs get buyers engaged, and they help keep you focused and committed, too.
Technique #3: Raise the Stakes
In Hollywood thrillers, the hero needs to find the villain by midnight, or else the bomb will detonate, destroying the city and triggering all-out war. Scripts turn the screws, raising the stakes using emotional triggers connected to potential (and scary) outcomes. In sales, something is always at stake. Remind your prospects what it is.
Technique #4: Use Unpredictability to Your Benefit
Top stars are always reinventing themselves. What will they do next? Who knows? But it's a safe bet people will want to find out, and tell others about it. You may find it comfortable to do the same things the same way day after day, month after month. But it's unpredictability that will likely get your calls taken or direct more traffic to your web presence. Do something old in a new way.
Technique #5: Welcome Obstacles
The essence of drama is obstacles that must be overcome. That's what keeps an audience involved and things moving forward. So it is with sales. Facing obstacles head on is a key element in moving a sale forward, and discovering new ways to overcome them helps you in the long run, because it sharpens your craft and belief in your own ability.
Technique #6: Use Your Mistakes
There's a rule of thumb stage actors follow when they drop a line or a prop: Use it or lose it. They may find a way to work around it, use it to get a laugh if it's appropriate – or move on without it. The last thing you want to do is draw unnecessary attention to mistakes, because it takes the audience out of the story. Similarly, if you stumble over a word or skip over a PowerPoint slide, don't make a big deal out of it. Keep your audience engaged and in the moment. Who knows – they might even be more interested once they've seen how you can roll with the unexpected!
Technique :#7 Treat Objections as Improv
There's an improv technique actors use called "Yes, and…" where one actor takes another's riff in a new direction. You can use this technique to defuse objections and collaborate on new solutions. Saying "yes" to your audience and prospective client acknowledges their perspective on the issue. Adding "and," followed by your suggestion, opens up new possibilities (in contrast to "Yes, but … " which is adversarial in nature.)
Rising to the A-List
Using these tips from top stage and screen performers can help you rise to the A-list. A benefit of these communication techniques is that they translate to a variety of mediums, from prospecting calls to blog posts.
Ultimately, it's up to you to connect with your audience to drive sales and define your brand. Differentiate yourself with these seven lessons and you may just end up in a blockbuster.
Which of these seven techniques have you tried? Let me know how it went in the comments below!