8 Powerful Book Marketing Lessons
I've got a story to share with you today, with 8 powerful insights about book marketing along the way.
This post is a bit on the long-ish side, but it'll be worth your while, I promise. 😉
This story starts in February of 2006, when I was 23 years old, way before Firepole ever existed. That was when I published my very first book—about writing.
Now, if you're thinking that you didn't even know I'd written a book about writing, I'm not surprised. Because it was a total flop. I'd have to dig up the sales records of the last decade to know for sure, but I doubt very much that it sold even 100 copies.
Fast-forward a decade and I've definitely learned a thing or two about book marketing!
(Or at least, it sure looks that way from the two best-selling books that I've published, and between the two 303 five-star reviews on Amazon, and have been downloaded more than a hundred thousand times.) 😉
This story is about how I got from that first failed book to where I am today and the lessons that I learned along the way.
Back with that first book, just like most first-time authors, I naively believed that the hard part was actually writing the book. And if you just do a good enough job with the book, it would "sell itself."
Now, obviously, that just isn't the case. I didn't have any marketing plan at all other than to publish the book and get it onto Amazon which is why it never sold.
Book Marketing Lesson #1
Books don't sell themselves, no matter how good they are.
This was a hard lesson for me to learn. Especially as I encountered book after book that had dozens of five-star reviews that frankly were disappointing once you started reading them.
But it's how the world works; the marketing will do a lot more to determine how many people read the book than the ultimate quality of the book.
(A caveat about that, though: it's *very* rare for a book to become very successful if it isn't very good. So while the marketing is what will ultimately decide how successful the book is, the quality of the book is still a limiting factor – so don't take this lesson to mean that you should compromise the quality of your work!)
I learned from that early experience, and this was actually part of what brought me to the understanding of how important marketing is in general. When I started thinking about writing another book, about engagement in online business, I realized that I'd need a strong launch plan to get it off the ground.
So I started paying very close attention to other book launches.
The big titles launching at the time were Tim Ferriss' 4-Hour Body, Guy Kawasaki's Enchantment, and Jonathan Fields' Uncertainty. I watched all of those launches unfold and took careful notes about everything that I could see them doing.
In essence, this was the beginning of my book launch "swipe file."
Book Marketing Lesson #2
Don't reinvent the wheel; watch what other successful authors are doing.
Most of the things that I did in that launch came from watching what others were doing, and I also spun off a few of my own ideas. Some of the things I tried were having a book trailer (two of them, actually—more on that in a moment), a massive blog tour of guest posts, and a special contest themed to go with the content of the book.
Some of that went well, and some of it… well, not so much. 😉
The blog tour was fantastically successful, largely because I had built relationships with all the host bloggers over the past six months (and, in fact, many of them were contributors to the book). The huge lesson here (whether you're actually featuring people in your book or not) is to…
Book Marketing Lesson #3
Build relationships before you need them, because if you reach out for the first time with your hat in hand, it probably won't go your way.
That's why most successful book launches are planned 3-6 months in advance; that's usually the minimum amount of time that you need to build the relationships that you'll need to support you.
The book trailer, while a great idea, was so much of a flop that I ended up having to redo it.
See, the inspiration for doing a trailer was this *amazing* trailer that Tim Ferriss created for the 4-Hour Body (59 seconds long):
https://youtu.be/LIVmsIJyj3A
Pretty awesome, right?
Now, here's the thing: Tim spent $12,000 to have that trailer put together, and I didn't have anywhere near that budget, or the skills to create good video myself.
So I did my best, working with an assistant, getting some custom music written, and stitching together stock video clips. Here's the result (50 seconds long):
https://youtu.be/HLC12qx7keE
Not nearly as impressive. 🙁
(Even though I did end up spending close to $1,000 on the different pieces which I really couldn't afford at the time!)
I eventually decided to give the trailer another go and instead of trying to compete in the arena of top-tier video production (where I was waaaay out of my league), I made a different kind of video.
I took still images of my author contributors, quotes from their chapters, and added a nice music track.
The resulting video performed much better. It only took me an afternoon and less than $50 to assemble (just under 3 minutes long):
https://youtu.be/3YOH-t2Ar5k
Book Marketing Lesson #4
Box in your weight class; it's much better to apply simpler strategies that you can execute well than to copy flashier strategies that you can only implement poorly.
The last thing that I did was a contest to build engagement around the topic of the book (which was engagement; very meta, I know). And this *might* have been a good strategy, but I'll never really know because I bungled the dates for it.
Now to explain this particular mistake, I should share two things about myself:
I tend to be pretty oblivious to the timing of just about any kind of holiday; I know that Christmas is in late December but other than that, I've scheduled business events on just about every major holiday because I forget they're even happening.
To make matters worse, I'm Canadian, which means we celebrate Thanksgiving at a different time from Americans (ours is in October). Not that I'd remember the Canadian date, either.
I think you can see where this is going: I scheduled our "Engagement Superstar" contest for Thanksgiving weekend, which drove participation into the ground.
Sigh.
Oh well, it was fun for those who did participate. 😉
Book Marketing Lesson #5
Before scheduling your launch timeline, check a calendar of major national and religious holidays (even if you aren't as oblivious as I am, it's better to check and make sure you haven't missed anything).
Now, despite several screw ups (learning opportunities), the book launch was a big success—especially from where I was sitting at the time—with hardly an audience and no money to invest:
More than 100,000 downloads from publication to present day
More than 175 five-star reviews on Amazon and an average rating of 4.7 stars
It has directly driven hundreds of thousands of dollars in sales for my business
(There's something magical about holding a physical copy of your book in your hands for the first time. But it's even better when you know that you're not the only person enjoying it!) 😉
As happy as I was with that book launch, there were a lot of things that didn't go as well as I'd like (see book marketing lessons #3 and #4, for example), and I knew I still had a lot to learn.
So, even though I didn't have specific plans to publish a book, I continued to pay very close attention to other book launches to grow my swipe file.
And I worked hard to make that swipe copy as detailed as it could be; whereas in the past I would just capture notes. I got into the habit of taking screenshots of every page and email involved in a book launch process so I could refer to it later. I even got transcripts of the videos.
In this way, I studied and deconstructed more than a dozen book launches; some done by my friends like Jeff Goins, Sean Platt, Jeff Walker, Josh Turner, Ryan Levesque, and Mitch Russo. And some by people I respect like Tony Robbins, Peter Diamandis, Arianna Huffington, Russell Brunson, Brendon Burchard, Dave Asprey, and others.
And whenever possible, I went a step further and reached out to the authors to discuss why they did what they did, what worked, what didn't, and what they learned from the experience.
Book Marketing Lesson #6
The more detailed and thorough your swipe file is, the more you'll have to work with when you plan your own launch. And you can talk to many authors without already knowing them; just ask for an interview about their book launch!
In parallel with growing my swipe file, I noticed something interesting happening with the sales of Engagement from Scratch!—they spiked when I was busy promoting the book. But after I stopped, a baseline of sales remained and continued to grow.
After I dug into the numbers on Amazon, and reached out to a few of my colleagues, I arrived at an interesting conclusion: one of the most important drivers of books sales is the "Also Bought" recommendations… you know, where it says that "customers who bought this book also bought that one", like this: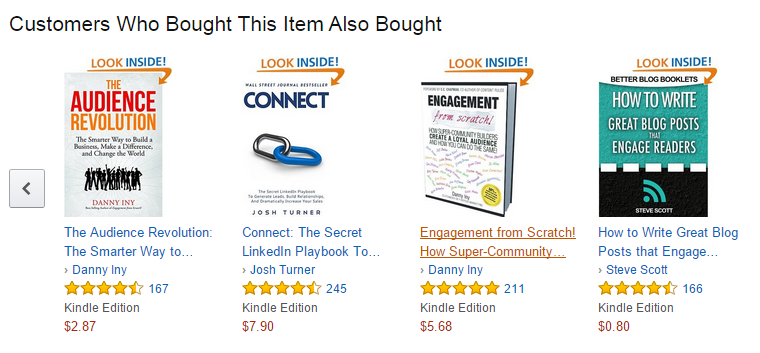 The more people downloaded Engagement from Scratch!, the more fed into the "Also Bought" engine, the more continued to discover it and download it.
Book Marketing Lesson #7
Amazon's "Also Bought" engine is a very important source of new readers discovering your book for the first time.
I decided that I wanted to harness the "Also Bought" engine for my next book, which is why we took a very different approach with The Audience Revolution that I published back in April.
Rather than do a big, elaborate launch, I chose to make the book free on Kindle for 5 days. Then I did everything I could to get the word out (emailing my audience, and asking my colleagues and partners to do the same).
This was different from what a lot of my colleagues were doing at the time, but it fit very successfully with my goals for that particular book; it was downloaded more than 10,000 times in the first week, and already has more than 165 reviews with an average rating of 4.6 stars.
And most importantly, within the first month of being published, it had already driven more than a quarter of a million dollars in new product sales in our business.
Now, here's the most important lesson that I learned from these two launches (that first one that totally flopped, a few more that I've been involved in, and the dozens of launches that I've watched closely over the years).
Depending on what you want to achieve such as:
Hitting the New York Times or Wall Street Journal lists…
Selling a lot of books…
Growing your lead base in your business…
Establishing yourself as an authority…
Kick-starting a speaking career…
And depending on what constraints you have such as:
How much money you can invest…
How large of an audience you've already amassed…
What relationships in your industry you can bring to bear…
How much time you have until the book launches…
And a whole lot more…
Your book launch plan will be very different; but if you know what all the different options are, and how to make them fit together, you can absolutely put a launch plan together that will work wonders to achieve all your goals.
Book Marketing Lesson #8
There's no single best launch plan, but rather plans that fit best for your specific goals.
And there you have it. Eight powerful book marketing lessons to get you started with your own book launch.
But don't stop with just these lessons. As I mentioned in the lesson 2:
Most of the things that I did in that launch came from watching what others were doing, and I also spun off a few of my own ideas.
As with anything you do in your business, come up with your own ideas and test those along with what I've shared today.
So what do you think? Do you think you can take the lessons here and implement them? How about any questions you might have? Leave your thoughts and questions in the comments below!