Why Those Borrowed Big Gun Blogging Tips Aren't Working For You
"As to methods, there may be a million and then some, but principles are few. The man who grasps principles can successfully select his own methods."  – Ralph Waldo Emerson
As content creators, we get mired down in the details way too often. I'm not saying that detail is a bad thing. It's not. In fact, I'm a firm believer that paying attention to the little things is one of the keys to success in any endeavor.
But out of sheer desire it's very easy to turn a method into minutia: Small, insignificant details that don't really benefit you or push you forward.
It's much more valuable to learn the principles of creating a something successful online. Then, as Ralph Waldo Emerson suggests, select or create your own methods.
A principle is a fundamental or general truth. And most of the online authorities out there are pretty generous about sharing blogging tips and the principles of how they do what they do so successfully.
Why then do we as up-and-coming bloggers get tangled up on trying to replicate other people's blogging tips and the minutia that comes along with it? What's the real problem?
Time To Check The Mirror
Consider the fact that your lack of progress may be because you're not focusing on the principles that will propel you forward. Maybe the problem is that you're seeking out a tactic, short cut, or magic pill.
I'm not scolding anyone here. I do the same thing at times. It's human nature. On the surface, "right now" always sounds more attractive than "in six months", doesn't it?
But the truth is that more often than not good things – significant things – need time to develop and grow.
There are two ways to look at this: In Danny's famous post about why guru strategies don't work, he rightly makes the point that you have to execute the right strategies that are appropriate to where you are in your development – not something that worked for Guy Kawasaki when he hit the 100,000 subscriber mark. It's apples and oranges. It doesn't translate.
But even when you are executing the right strategies at the appropriate time for you – it's tempting to look for the boiler plate solution – to copy someone else's methods. That's a mistake. What you really need to be thinking about are principles more than methods.
What Your Nephew and The NFL Have In Common
Principles are basic fundamentals – and fundamentals are vitally important. That's why football teams full of 7 year olds and NFL teams full of professional athletes both do tackling drills in practice every day. They're that important.
Even though so many of our online heroes share the principles of their success with us freely, many new or emerging bloggers… well, frankly – screw up the intended message by focusing on their methods instead.
Beware the "How" and "What"
Tactics often answer the question "what?" or "how?" – while principles answer the much more important question, "why?"
Let's face it. If you don't fully understand the "why" of the principle, you can't very well expect to effectively pull off the "what" and "how" of the tactic.
Let's take a look at three examples of what I mean.
Derek Halpern – Social Triggers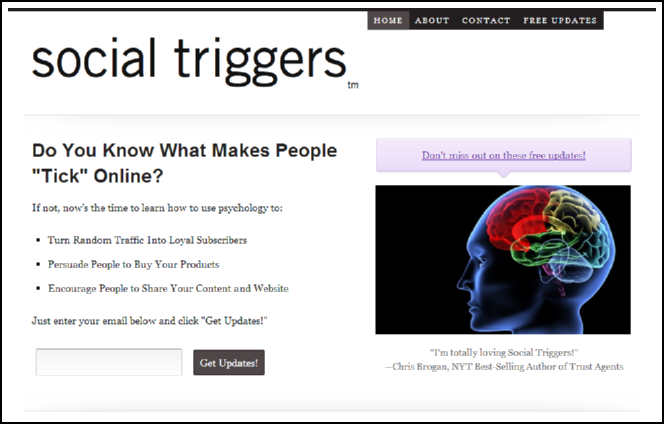 A lot of people use Derek's home page as a good example of what a landing page should be. What is it that we, as students of online marketing, should be learning from this home page?
That your logo should be in all lowercase letters?
That you need a human head on your home page to convert more visitors?
That purple is the secret link color that drives more people to subscribe?
No, no, and no.
And yet I've seen several sites knock off those exact things. What are the odds that copying the way Derek constructed his home page will produce the same results he has enjoyed? Pretty slim. If you're copying those methods without understanding why you're doing it, you're focusing on the wrong things.
Now let's discuss why I think this is one of the best landing pages around. If we look at the principles behind Derek's landing page, we can actually learn quite a lot about why it works so well for him.
Simplicity works.
White space is friendly and easy on the eyes.
A short, simple message is more easily understood than a long, complex one.
A testimonial from a respected figure above the fold provides powerful social proof.
Having two ways for someone to subscribe above the fold is a good idea.
A compelling graphic that points (in this case, the nose) toward the action you want the visitor to take calls attention to that action.
Put those principles into play and you're on to something.
Let's look at another…
Danny Iny – Mirasee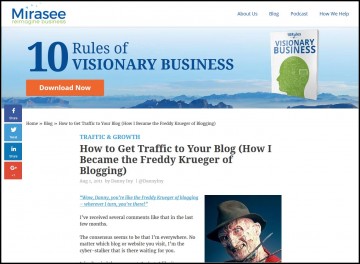 It's not news to any of us that Danny's widely known for being a guest posting machine – especially in his first year of blogging. As you probably know, his guest posting tear of over 80 guest posts during that first year earned him the nickname, "The Freddy Krueger of Blogging."
Some time ago, Danny released a course called Write Like Freddy that very clearly teaches the guest posting principles that worked for him. He's even shared a good number of those principles for free outside the course. And yet, you don't have to look very hard to see people trying to execute the "what" without understanding the "why" behind it.
So as casual observers of Danny, what lessons are we to take from his success?
That once you write 80 guest posts, you're "in?"
That the point of a guest posting campaign is to be seen in as many places as possible as quickly as possible – on any blog?
That the quantity of guest posts you write is at least as important as the quality?
Again… a swing and a miss on all accounts.
The truth about how Danny executes and teaches guest posting is based more on the following principles, among others…
Writing many guest posts is a good thing, but fewer posts pitched to strategically targeted blogs is much more useful than throwing pitches out there willy-nilly to anyone who will accept them.
The number of guest posts you write isn't as important as the quality of what you write.
You need to constantly work hard to become a better writer or your blogging career will be a short one.
Those are some of the real attitudes behind Danny's blogging success and stellar guest posting reputation. Simple but valid principles that we can all put into play.
And lastly…
Corbett Barr – ThinkTraffic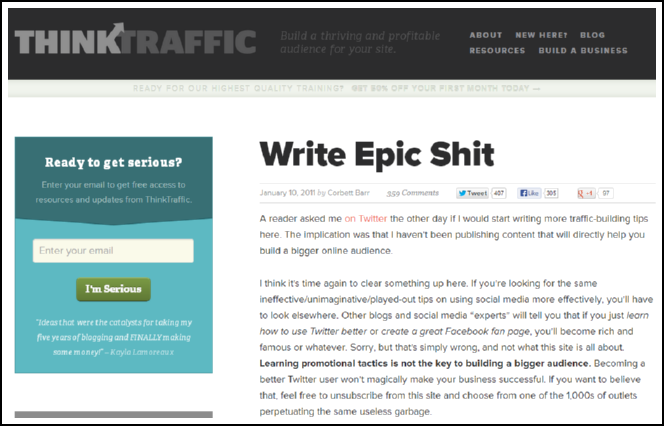 This is another classic blog post that makes a great point, but at the same time is often taken out of context by the very people Corbett intended to help when he wrote it.
You've seen people write about epic content all over the blogosphere ever since Corbett coined this phrase. But have you noticed that often the message has changed?
Some of the misconceptions include…
Epic means it has to be long.
Epic means it has to be jam-packed with statistics, graphs and other data.
Epic means that it needs to be edgy and peppered with curse words.
Not so. In fact, to make my point I'm going to steal some lines straight from Corbett's famous post.
Epic makes people think, inspires, changes lives, creates value and blows them away with usefulness.
Epic doesn't mean long (a sub head from the post).
Epic comes from experience.
That's it in a nutshell. Those are the principles of Corbett's epic shit.
So why does this post get taken out of context? It's not because it's poorly written or confusing. It's pretty straight forward and easy to read if you ask me.
Again – the problem is with the student, not the teacher.
Stop Looking For Magic Methods and Silver Bullet Tactics
Focusing on the one size fits all blogging tips and methods has to do with a tendency to seek out quick and easy answers.
Stop wasting your time and effort looking for the magic method or tactic that is going to change everything today. It doesn't exist.
Derek's landing page works because it is based on solid marketing principles – not because there's a human head on his home page or because his logo is in lowercase letters.
Danny is a prolific guest poster because he used intelligent business principles to plan his guest posting campaigns and worked insanely hard at becoming a better writer – not because he just shot proposals all over the blogosphere.
Corbett Barr's epic shit works because it's based on the principles of writing great content and providing tons of value – not because it's excessively long. It's barely over 1,500 if you've ever wondered.
Always Start With "Why"
So by now, you're probably assessing whether or not you're spending your time implementing useful principles… or whether you're spending it trying to duplicate pieces of someone else's methods and obsessing over minutia.
If you find yourself executing blogging tips and details without really knowing the why behind it, you might be headed for trouble.
But, as Ralph Waldo Emerson points out – once you understand the principle (the why) your chances of executing methods and tactics successfully increase substantially.
Time to share your experiences.
How do you use the tactics, methods and principles you learn online? Have any tips to share? Let's discuss it in the comments.